Duterte affirms partnership with China amid Beijing's trade tiff with Washington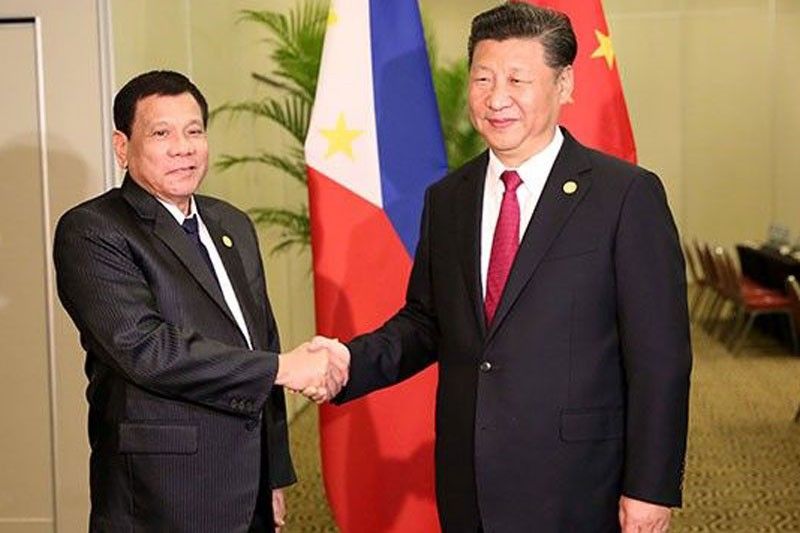 HAINAN — President Rodrigo Duterte on Tuesday reaffirmed the Philippines' partnership with China as the Asian superpower is embroiled in a trade tiff with the United States.
Speaking during the opening of the Boao Forum for Asia here, Duterte said the Philippines and China stand "shoulder to shoulder" in the campaign against terrorism, a phrase also used to describe Manila's security cooperation with Washington.
He also cited the Philippines' cooperation with China in building infrastructure and combating crime and illicit drugs trade.
"Bilaterally, the Philippines is showing how complex relations are not a bar to a positive and mutually beneficial engagement. With China, we stand together in the war on criminality and the illegal drug trade. We are shoulder to shoulder in the fight against terrorism and violent extremism. Make no mistake: there can be no progress without stability in Asia's lands and waters," Duterte said.
"As sovereign equals, the Philippines and China are partners in the building of much-needed infrastructure, which are building blocks and bridges of greater understanding between our peoples. We are working together on strengthening economic complementarities," he added.
While the Philippines is pursuing closer ties with China, Duterte said the Philippines, a traditional ally of the US, is prepared to work with other countries in the region.
"Let me say it again today: the Philippines' destiny is in Asia," the Philippine leader said.
"The Philippines is ready to work with all nations in the region who seek friendship and cooperation," he added.
Duterte made the comments in the face of concerns over a simmering trade tensions between the US and China, which is threatening to derail the Philippines' growth momentum.
US President Donald Trump has imposed tariffs on $50 billion worth of Chinese goods to punish China's alleged intellectual property violations. China responded by slapping $50 billion worth of tariffs on American products. Trump retaliated by announcing a possible imposition of additional $100 billion in tariffs on goods from China, a move seem to hamper free trade and hurt the economic prospects of some countries including the Philippines.
The Philippines, through its ambassador to China Jose Santiago "Chito" Sta. Romana has expressed concern over the trade tension and has urged the US and China to resolve their issues through negotiations. China is the Philippines' top bilateral trading partner, with Manila's exports to Beijing increasing by 8.4 percent last year. China was also the fourth largest market destination for Philippine exports in January, with Manila sending $591.91 million worth of goods to the Asian superpower.
'Reject Cold War mentality'
In his keynote address for the Boao Forum, China President Xi Jinping called on nations to reject Cold War mentality as he stressed the need for greater cooperation in the region.
"In a world aspiring for peace and development, the cold-war and zero-sum mentalities look even more out of place," Xi said.
"We must refrain from seeking dominance and reject the zero sum game. We must refrain 'beggar thy neighbour' and reject power politics or hegemony - the strong bullying the weak," he added.
The Chinese leader did not elaborate his remark, which was made after Trump complained about what he described as "stupid" trade between the US and China.
Xi said countries should work together to promote common prosperity and development while respecting each other's core interests and major concerns. He also called for a new approach to state-to-state relations that favors dialogue, not confrontation and partnerships instead of alliance.
"Human society is facing a major choice to open or close, to go forward or backward," the Chinese leader said.
"Openness lead to progress while seclusion leaves one behind. The world has become a global village with interests intertwined and our economy and social progress interconnected," he added.
Duterte said member countries of the Boao Forum for Asia should do their share to achieve the common goal of achieving prosperity in the region.
"We all have a stake as well as responsibilities in the forging of a more prosperous continent and world. This is what nations – big or small - should act on collectively when we leave Boao: Cooperate, coordinate and collaborate. So we can achieve our shared dream of prosperity for all," the President said.
Duterte cites Philippine gains
In the same event, Duterte highlighted the priorities of his administration, including its development agenda and security efforts.
"For far too long, the Philippines has nurtured the dream of a comfortable life for our citizens. We want a society where there are opportunities for all.We want a nation where the hard working, the talented, and the law-abiding can advance together and move up the socio-economic ladder," the Philippine President said.
"We are slowly making the Filipino dream a reality. As we strive to push our economy forward, we encounter challenges. But we will not be deterred. We seek to partner with responsible businesses - home-grown and foreign based – to drive the progress we envision," he added.
Duterte said his administration has improved the Philippines' peace and order situation and sustained the battle against corruption. He said efforts are also underway to strengthen the policy framework for businesses to thrive.
"To me, along with the illegal drug trade and terrorism, corruption is a pernicious and rotten social disease that devours my country. I have said it to my countrymen and I will say it again here: Corruption will not have any place in my government. Not under my watch," he said.
"With Good Governance as basis of our sound economic policy, the Philippines will do more to increase investments in the country, particularly in infrastructure, innovation and interconnectivity," he added.
Duterte said his administration would spend an equivalent of five to seven percent of the Philippines' gross domestic product (GDP) on infrastructure and would work to reduce poverty incidence from 22 percent in 2015 to 14 percent by 2022. The Philippines also aims to achieve an economic growth of seven to eight percent every year until 2022, the President added.
Duterte said his ambitious "Build, Build, Build" infrastructure program would provide the "solid backbone" for the country's growth.
"We have started a three year rolling program amounting to over US$69 billion until 2022," he added.
The President also expressed hopes that the Philippines would be included in the upper third of the Global Innovation Index by the time he steps down. To achieve the goal, the Philippines is planning to improve the competitiveness and productivity of micro, small and medium enterprises, which contribute more than half of the country's employment.
"With greater access to technology and financing, we will apply Science, Technology and Innovation in agriculture and the service industries. We will invest in improving research and development and intensify international cooperation in this key area. We are willing to learn from others," Duterte said.
Duterte also reaffirmed the Philippines commitment to promote interconnectivity and to deepen engagement and cooperation with friends and neighbors.
"As ASEAN (Association of Southeast Asian Nations) Chair, we helped in the building of a rules-based and ASEAN-centered regional architecture. We will continue to pursue this goal," the President said, referring to the Philippines' chairmanship of the bloc last year.
Duterte expressed optimism about the prospects of Asia, citing the region's growth and contribution to the global economy. He said Asia is "poised to make a larger footprint on the global economy."
"There is reason for hope: Asia is projected to continue its growth through the year 2050. By then, our region is seen to account for more than half of the world's GDP," the President said.
"The building blocks are there: Asia's major economies are providing models from which smaller ones can learn. Developing economies are slowly hitting the demographic sweet spot. They are also making steady strides in economic growth and human development."