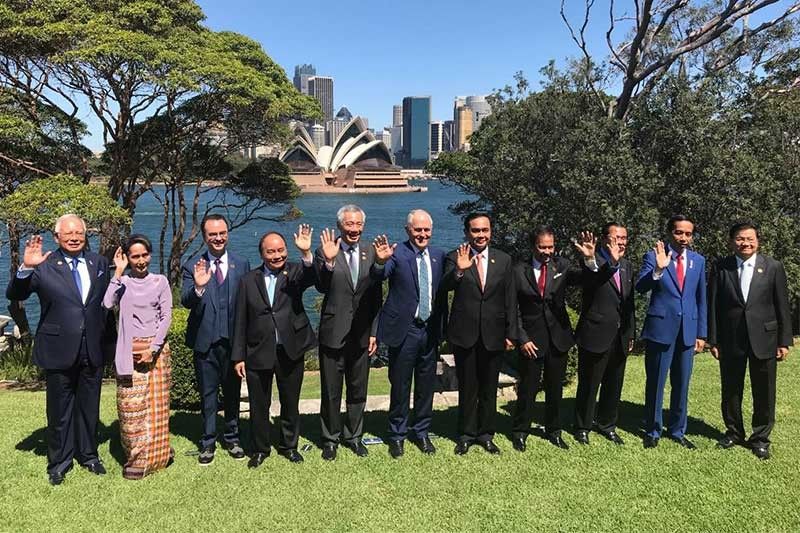 Foreign Affairs Secretary Alan Peter S. Cayetano joins Australian Prime Minister Malcolm Turnbull and Southeast Asian heads of state at the Leaders Plenary of the ASEAN-Australia Special Summit in Sydney on Sunday. Secretary Cayetano is representing the Philippines in the two-day leaders' dialogue.
DFA/Released
ASEAN, Australia reaffirm South China Sea code
MANILA, Philippines — Member states of the ASEAN and Australia expressed support to an early conclusion of the Code of Conduct in the South China Sea.
The statement comes at the end of a two-day special summit between the 10-member regional bloc and Australia.
Foreign Affairs Secretary Alan Peter Cayetano represented President Rodrigo Duterte at the special summit. Duterte was the only head of state who did not attend the meeting in Sydney.
In the "Sydney Declaration" issued after the ASEAN-Australia Special Summit, the countries emphasized the "importance of non-militarization and the need to enhance mutual trust and confidence, exercise self-restraint in the conduct of activities and avoid actions that may complicate the situation.
The joint statement, however, did not specifically mention China despite its installation of military capabilities on the Spratly Islands in the South China Sea.
The Southeast Asian countries and Australia stressed the importance of maintaining peace, stability, maritime safety and security and freedom of navigation and overflight in the region.
"We reaffirm the need for states to pursue the peaceful resolutions of disputes, in accordance with universally recognised principles of international law, including the 1982 United Nations Convention on the Law of the Sea, and to comply with the relevant standards and recommended practices by the International Civil Aviation Organization and the International Maritime Organization," the joint statement read.
The countries also expressed support for the full and effective implementation of the Declaration on the Conduct of Parties in the South China Sea.
Last year in Manila, the ASEAN adopted a framework, which would be the outline of the Code of Conduct in the South China Sea.
Singapore Prime Minister Lee Hsien Loong, chair of the ASEAN this year, had confirmed that the negotiations on the code of conduct would begin this year.
Aside from the South China Sea issue, the ASEAN and Australia also expressed concern over the escalation of tensions in the Korean Peninsula following North Korea's ballistic missile tests.
"We reiterate our support for the complete, verifiable, and irreversible denuclearisation of the Korean Peninsula in a peaceful manner as well as initiatives towards establishing peace in the Korean Peninsula," the Sydney Declaration read.