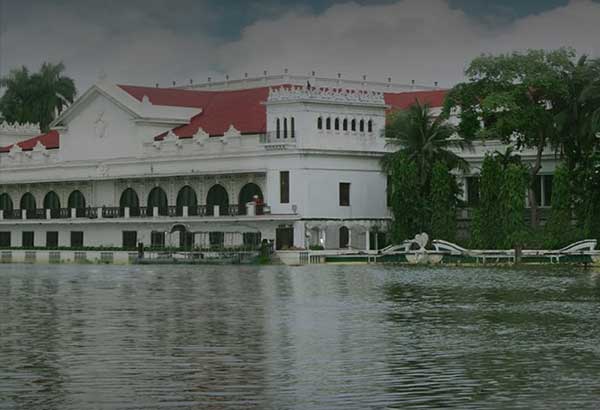 The Malacañan Palace river façade circa 2013. File
Duterte to meet Saudi prince on Monday
MANILA, Philippines — President Rodrigo Duterte will meet with Saudi Arabia's interior minister on Monday as the Philippine government calls for better working conditions for Filipino migrant workers.
Saudi Arabian interior minister Prince Abdulaziz bin Saud bin Naif will call on Duterte in Malacañan, where they are expected to talk about the relationship between Manila and Riyadh.
Malacañang did not provide specifics on the topics to be discussed.
The Saudi Arabian prince's visit came as the Duterte administration is taking steps to promote the welfare of overseas Filpino workers, whose dollar remittances are keeping the Philippine economy afloat.
Prince Abdulaziz will end his official visit with a merienda cena or snack to be hosted by Duterte in Malacañan.
The Saudi Arabian prince arrived in the Philippines last Saturday at 6:45 p.m. He was joined by Saudi Arabia Interior Undersecretary Nasir Abdulaziz Al Daood, Deputy Minister of Interior for Security Affairs Abdullah Abdulkarim Alessa, Protocol Director Ahmed Al Sudeiri, Saudi Embassy Deputy Head of Mission Majed Bin Showeil, First Secretaries Ibrahim Alzahrani and Majed Al Jameel, Attaches Mohameed Hamed Al Baraikan and Mohammad Alhamhum, Third Secretary Mohammed Al Otaibi, and embassy official Faris Almutairi.
The Saudi Arabian delegation was welcomed at the Villamor Airbase by Chief of Presidential Protocol Robert Borje, Saudi Arabia Ambassador to the Philippines Abdullah Bin Nasser Al Bussairy, interior and local government officer-in-charge Eduardo Año, Philippine Ambassador to Saudi Arabia Adnan Alonto, Hjaaycelyn Quintana of the Office of Middle East and African Affairs and Air Force chief Lt. Gen. Gerard Kintanar, Jr.
Prince Abdulaziz was set to meet with several Philippine officials at The Fort yesterday.
The labor department has banned the deployment of OFWs to Kuwait following the deaths of eight Filipinos who were allegedly abused by their employers.
President Duterte has instructed the foreign affairs department to secure a commitment from Kuwaiti officials that they would protect Filipinos working in their country.
The president has also threatened to expand the deployment ban to other countries that are not providing enough protection to Filipinos.