Facebook executives: Fake news hard to address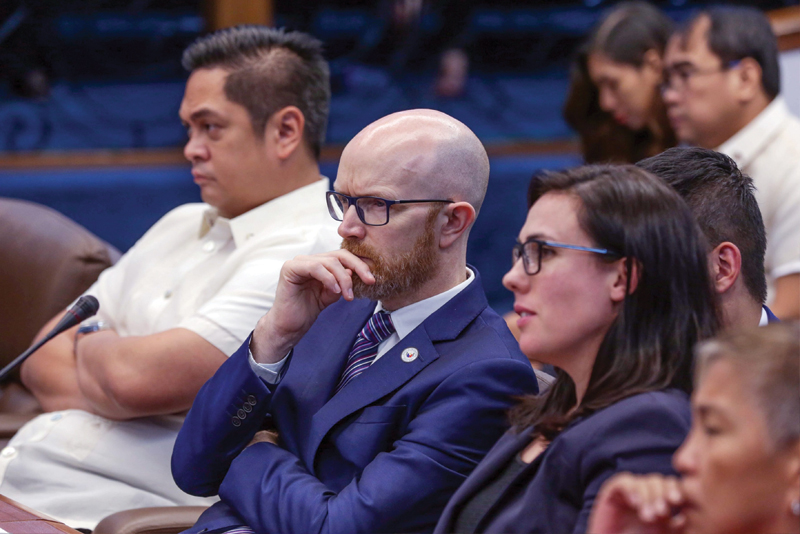 MANILA, Philippines — Fake news, as it turns out, is harder to spot and stop than posts supporting terrorism, according to an executive of social media giant Facebook.
Appearing for the first time at the Senate committee on public information and mass media's hearings on the proliferation of fake news, Facebook vice president for public policy for Asia Pacific Simon Milner admitted yesterday that fake news is a complex phenomenon that the company is trying hard to address.
He said Facebook is trying to find a balance between how to help its users in accessing accurate information and disrupting the purveyors of disinformation and fake news, all without undermining freedom of expression.
"And that is why this is an issue which is more difficult, frankly, than other issues we try to tackle including bullying, harassment, terrorism and other problems. This is a more complex issue. It's one that is much more nuanced… what we can be absolutely certain of is there is no silver bullet, there is no one solution that will fix this problem," Milner said.
He added that Facebook has put a significant number of people to work on this effort, which uses a multifaceted approach that they call the 4 Ps.
The 4 Ps involve having in place policies to disrupt the proliferation of fake news on Facebook; addressing the products offered on its platform; educating people on how to spot false information and strengthen their critical thinking and empathy; and entering into partnerships with government and non-government organizations to help spread all the necessary information.
Milner acknowledged that there are Facebook users whose intent in spreading false information is to sow division, but stressed that the company is taking steps to stop them from using the Facebook service. These steps include disrupting the economic incentives behind these activities.
Much of the fake news and misinformation items, he pointed out, are not political but economic.
A lot of these false information is spread and accessed on the news feeds of Facebook users, many of which are not from the friends, relatives or content trusted by the users.
Milner noted that Filipinos have wide exposure to these news feeds, considering that 66 million of them have Facebook accounts.
He said traffic congestion in the country might have contributed to the amount of time spent by Filipinos on Facebook because they tend to access their favorite social media sites when they are stuck in traffic.
In relation to this, he said Facebook is working on ensuring that its users would see only high quality content on their news feeds.
"We do recognize we have not done a good enough job. We should not be a service where you have to rely on the fact that you have a relationship with somebody in Facebook to try and get a problem like this fixed. We have to do better and indeed that is absolutely what we are determined to do," Milner stressed.
He added: "We hope in a year's time you will see really significant improvements. We'll have fewer mistakes, never zero I'm afraid, but fewer mistakes and an increasing sense that Facebook is getting much more right than it gets wrong."
Sen. Grace Poe, Senate committee on public information and mass media chairperson, said a committee report would be prepared to define the parameters of what is considered fake news and the penalties prescribed for its dissemination.
While there are many interpretations of what is deemed fake news, Poe said that she tends to agree with De La Salle University professor Cheryll Soriano that the intent of the article is to deceive because it is rooted in malice.
Presidential spokesman Harry Roque, who clarified that he was at the hearing in his personal capacity as a lawyer, said that any law that will criminalize fake news will violate the constitutional provision which states that there should be no law abridging freedom of expression.
He cited a US Supreme Court ruling, which stated that fake news is not necessarily antithetical to freedom of expression.
Quoting from the ruling, he said that "even a false statement may be deemed to make a valuable contribution to public debate since it brings about the clearer perception and livelier impression of the truth produced by its collision with error."
"Here the emphasis is we must protect the free market place of ideas because, ultimately, the true test for truth is power of an idea to be accepted in the free market place of ideas, the assumption being the people can discern the truth from what is false and there's in fact jurisprudence that the truth cannot be known without being told falsities because it's only in the face of falsities that we can tell what the truth is," Roque added.
He believes that "beyond this theoretical framework and beyond the proscription, any criminal law penalizing fake news would also suffer the infirmity of what is being called as void for vagueness."
Roque also took the opportunity to take a shot at Senate Bill 1680 filed by Poe, which seeks to amend Republic Act 6713 or the Code of Conduct and Ethical Standards for Public Officials and Employees in order to subject public officials to higher standards of proper conduct, particularly in their usage of social media and other platforms of information dissemination.
He argued that government officials could not be singled out in terms of accountability for spreading fake news as this would infringe on the equal protection clause of the Constitution.
Poe pointed out that while Article 154 of the Revised Penal Code already punishes unlawful publication of false news, her proposal was put forward because public officers, whether elected or appointed, are held to a higher degree of responsibility.?The bill though was not part of the coverage of the hearings because it was referred to the Senate committee on civil service and government reorganization.