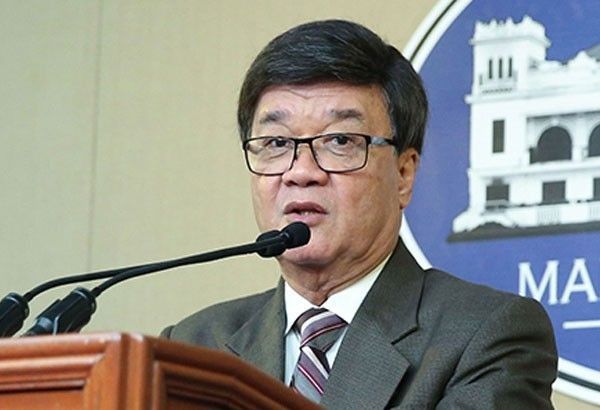 Sen. Richard Gordon said it was surprising that Espinosa was cleared when he admitted to being a drug trafficker, apart from the evidence revealed at a Senate inquiry in 2016 into the Duterte administration's war on drugs. Philstar.com/File Photo
Senate may summon Justice Secretary Vitaliano Aguirre II
Paolo Romero
(The Philippine Star) - March 14, 2018 - 12:01am
MANILA, Philippines — Justice Secretary Vitaliano Aguirre II will have a lot of explaining to do in the dismissal of drug charges against self-confessed drug dealer Kerwin Espinosa and 20 others, senators said yesterday.
Sen. Richard Gordon said it was surprising that Espinosa was cleared when he admitted to being a drug trafficker, apart from the evidence revealed at a Senate inquiry in 2016 into the Duterte administration's war on drugs.
"I condemn that to the highest level. I don't know what entered their heads," Gordon said, referring to the dismissal of the charges by prosecutors of the Department of Justice (DOJ). "Maybe Kerwin will be used as a state witness for some bigger cases, I don't know."
"Why are we waging a drug war if the cases against the big fish are dismissed? I don't know if the President is aware of it, he must be aware of it. And I don't know if he has a bigger game plan," he said.
Gordon advised Aguirre "to act like a lawyer" when reviewing the case, considering the evidence against the drug lords was overwhelming.
He pointed out Espinosa detailed to the Senate his drug operations with his father, the late Albuera, Leyte mayor Rolando Espinosa.
The elder Espinosa was killed inside his jail cell in Baybay, Leyte by police officers out to serve a search warrant.
Senate Majority Leader Vicente Sotto III said he could not understand the DOJ's dismissal, which he described as "bad for our prosecution thrust against illegal drugs."
Sen. Joseph Victor Ejercito lamented the DOJ was on a "clearing spree" and warned the resolution clearing Espinosa, Peter Lim and 20 other alleged drug lords could weaken the Duterte administration's campaign against illegal drugs.
Sen. Grace Poe said she was disturbed by the basis upon which the DOJ panel made its recommendation to dismiss the drug charges against Espinosa and others.
"How a self-confessed drug lord like Kerwin Espinosa can be exonerated by the state is perplexing. It reflects the sloppiness of the police's investigation and case buildup against these drug lords," Poe said.
Poe warned that once the decision is affirmed by Aguirre as justice secretary, "this would be an insult to the brave policemen who have died in legitimate anti-drug operations."
A fake drug war
Sen. Antonio Trillanes IV said the dismissal was yet "another proof that what Duterte unleashed upon us is a fake drug war."
"If you're poor, you'll be killed – no questions asked. When it comes to drug lords and a friend of Duterte, you'll not only have due process, but also cleared of drug charges," Trillanes said.
Trillanes cited the case of Sen. Leila de Lima, who was swiftly charged and detained based on what he called "scripted" and "conflicting" testimonies.
"Mr. Duterte, you're duping our countrymen," Trillanes said.
Sen. Paolo Benigno Aquino IV described the dismissal as a grave injustice for the thousands of victims of drug-related extrajudicial killings.
"What's the point of killing thousands of our countrymen if the sources of drugs are freed?" Aquino said, adding the dismissal also cast doubts on the administration's war on drugs.
Congressmen also agreed the clearing of Espinosa and Lim, who are both in President Duterte's drug list, means that the President's listing "is inaccurate, unreliable and therefore useless for criminal prosecution."
"Just imagine how many other innocents were forever damaged by that list, including Sen. De Lima," Ifugao Rep. Teddy Baguilat said.
Baguilat said the DOJ ruling on the younger Espinosa and Lim has weakened drug-related cases against those named by Duterte.
He noted the PNP has tagged Lim as a big Visayas drug lord "but who has also been cited as President Duterte's friend."
"It belies the convoluted sense of justice of this administration in its overhyped drug war, where the suspected drug lords escape prosecution while the suspected poor pushers are killed," Baguilat said.
Another opposition congressman, Gary Alejano of Magdalo, said the clearing of Espinosa and Lim means that Duterte's drug list "is unfounded and unreliable."
"Many have already died in the administration's anti-drug war because of the President's list. The father of the now-absolved Kerwin Espinosa was among these many deaths. It turns out these were arbitrary killings," he said. – Jess Diaz