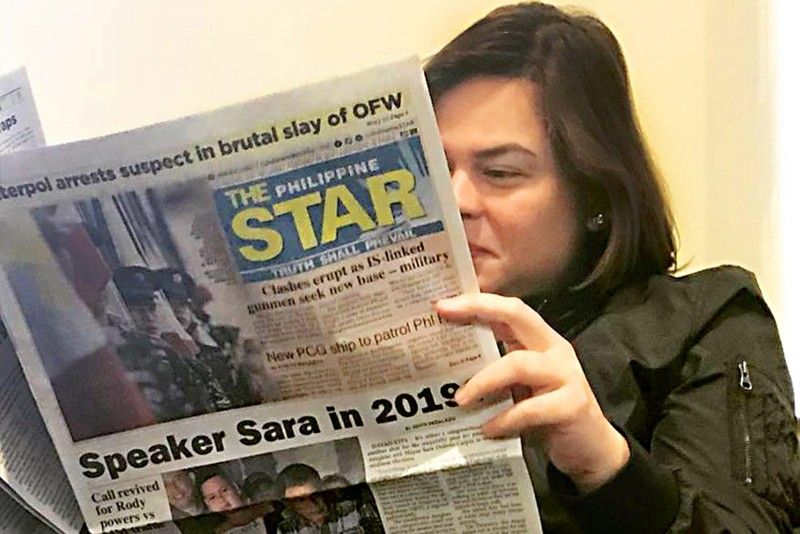 Sara Duterte-Carpio reads a copy of The STAR at the airport yesterday. Photo via Jefry Tupas
Speaker clams up on feud with Sara
Jess Diaz
(The Philippine Star) - February 25, 2018 - 12:01am
MANILA, Philippines — Speaker Pantaleon Alvarez has clammed up on his bitter feud with President Duterte's daughter, Davao City Mayor Sara Duterte-Carpio.
Alvarez did not respond to text messages from The STAR yesterday seeking comment on the mayor's announcement that she might run for Congress in 2019 and possibly seek the speakership, and on Friday on Carpio's newest tirade against him.
However, ABS-CBN quoted the Speaker as telling reporters in Butuan City on Friday: "I have no more comment. Surrender. Let's not talk about it anymore."
He was asked to react to Carpio's statements that day during the launching of her Hugpong ng Pagbabago alliance composed of local officials in the Davao provinces.
Addressing her newly formed alliance, she repeated the social media posts she made on Thursday: that Alvarez claimed that Hugpong was part of the opposition, that it was a product of political dynasties and that Hugpong did not have the blessing of the President, who is titular head of the administration party PDP-Laban.
Carpio indicated that her source was a mayor to whom Alvarez had apparently discussed his misgiving about the formation of the mayor's alliance for change.
"Those things ignited me yesterday (Thursday) morning after I talked to the mayor he talked to. I understand they have a problem in Davao del Norte but I couldn't understand why he is attacking me in Davao City," she told her alliance members.
The President's daughter was referring to the equally bitter feud between Alvarez and his former friend, Davao del Norte Rep. Antonio Floirendo Jr., who was seated among Hugpong members listening to her.
Floirendo is facing a graft case in the Sandiganbayan. He has been ordered arrested but is out on bail. The case stemmed from a complaint filed by Alvarez related to Floirendo's lease of a government property for his family's banana plantation.
Carpio vowed to campaign against the Speaker in his district in the 2019 elections if he ever mentions her name again.
On Thursday, reacting to the mayor's social media posts, Alvarez denied saying the things she claimed he said.
"I really never said that. I don't know where that story came from…she was fed the wrong information," Alvarez said.
"How could the presidential daughter be part of the opposition when she is with the administration?" the Speaker asked.
In her posts, the mayor said in part, "How dare you call me part of the opposition…you messed with the wrong girl."
She quoted Alvarez as saying he could have the President impeached being the Speaker.
"And you call me opposition? Somebody should really tell the President about the truth. Wait for tomorrow, I have another story," she said, referring to her post on Friday calling on senators, accompanied by their photos, to speak up and tell the President what Alvarez was supposedly doing to them.
She has not taken down such posts.
Malacanang expressed belief the administration's priority measures will not be derailed despite the rift between Alvarez and Carpio.
Presidential spokesman Harry Roque also said that Alvarez remains an "ally" of the administration despite the infighting between the two officials.
Roque refused to comment further on the rift as well as Carpio's call on the House to replace Alvarez as Speaker.
Non-issue
For Senate President Aquilino Pimentel III, the conflict between Alvarez and Carpio is a non-issue and one that has been settled already.
"The official interpretation of PDP-Laban is that you can be a member of PDP-Laban, a member of a local party and even a party list. That is not an issue at all. What is not allowed is for you to become a member of another national party," Pimentel, who is president of the party, said over dwIZ.
Pimentel said the conflict between the two is over now after Alvarez has stopped commenting on the matter and has stated that he has surrendered.
Meanwhile, Pimentel warned members of the PDP-Laban that they will be suspended if implicated in the illegal drug trade, and once confirmed, they will be expelled.
Pimentel made the statement in support of the President's declaration on Thursday that membership in the ruling party will not help politicians who are part of the drug trade.
"There is zero tolerance for politicians who use their position to spread harm among the people, even if they are members of the party," Pimentel said.
Pimentel explained there could be some politicians involved in the illegal drug trade who might think that they could clear their names or secure protection by becoming a member of PDP-Laban.
"What we are saying is that if you are involved in drugs, you are not welcome in the party," Pimentel said.
"The continued existence of the illegal drug trade is contrary to the principles of the party. You are not a true member of PDP-Laban if you defy our chairman's campaign against illegal drugs," he added.
According to Pimentel, party vice chairman, Energy Secretary Alfonso Cusi will spearhead efforts to purge the party's ranks of corrupt elements.
"As the President and our chairman said, if you are unfairly linked to the drug trade, you will be given the chance to clear your name. However, no help will come to you if we can confirm the allegations," he said. – With Marvin Sy, Christina Mendez