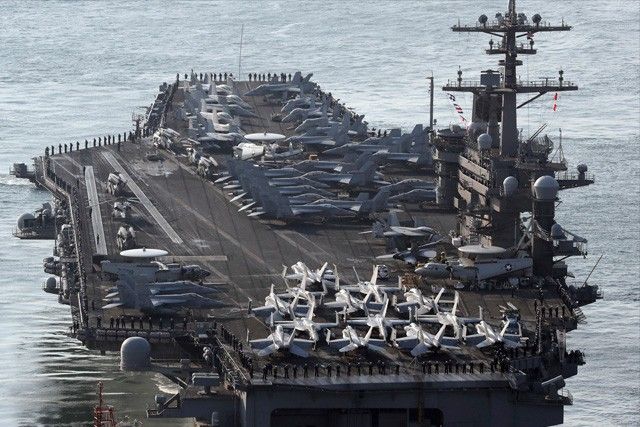 In this March 15, 2017, file photo, U.S. Navy aircraft carrier, the USS Carl Vinson, approaches Busan port in Busan, South Korea, to participate in an annual joint military exercise called Foal Eagle between South Korea and the United States. The American aircraft carrier heading toward the Korean peninsula is conducting a joint exercise with Japanese naval ships in the Philippine Sea. A U.S. Navy news release says that two Japanese destroyers joined the USS Carl Vinson carrier and two other U.S warships on Sunday, April 23, 2017, as they continued their journey north in the western Pacific Ocean.
Jo Jung-ho/Yonhap via AP, File
Lacson: Presence of US aircraft carrier in South China Sea a 'breath of fresh air'
MANILA, Philippines — "A breath of fresh air."
That was how Sen. Panfilo Lacson described the presence of one of the US Navy's longest-serving active carriers in the contested South China Sea, control of which is at the heart of a maritime dispute between the Philippines and China.
"Not being pro USA and anti-China, the presence of USS Carl Vinson in the West Philippine Sea is a breath of fresh air for those of us, pro Philippines," Lacson tweeted Friday.
"It is called, balance of power," he added.
USS Carl Vinson arrived in Manila on Friday for a routine port visit during its Western Pacific deployment.
More than 5,500 sailors from the aircraft carrier and guided-missile destroyer USS Michael Murphy will participate in community service projects while in Manila.
READ: US carrier strike group docks in Manila for port call
Carl Vinson was deployed in the South China Sea amid Beijing's installation of military facilities and capabilities in its artificial islands in the region.
"US presence matters. I think it's very clear that we are in the South China Sea. We are operating," Rear Admiral John Fuller told reporters aboard Carl Vinson.
Ties between the Philippines and China have significantly improved under President Rodrigo Duterte, who has set aside a ruling from a UN-backed tribunal that invalidated Beijing's maritime ambitions.
Meanwhile, Washington, Manila's traditional treaty ally, has been infuriating Beijing for repeatedly sending warships close to Chinese-controlled reefs in recent years.