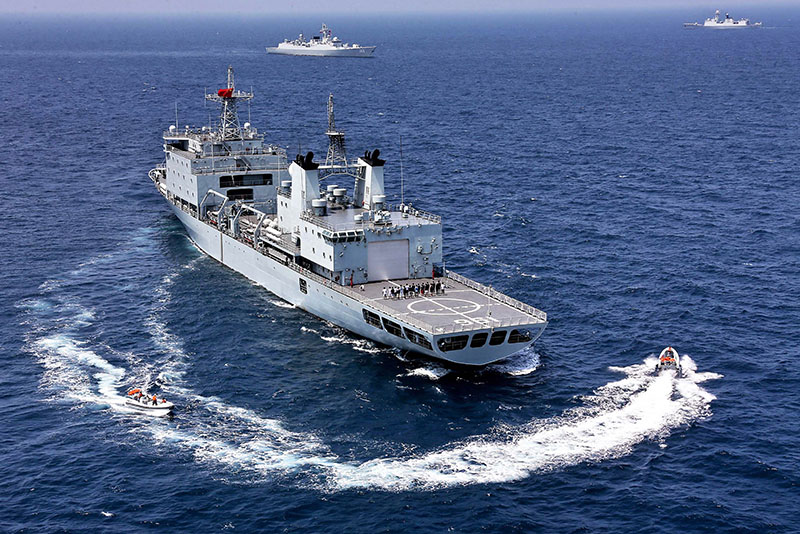 n this Friday, Sept. 16, 2016 photo released by Xinhua News Agency, Chinese Navy fleet replenishment ship Junshanhu, center, and Chinese Navy destroyer Guangzhou, top left, are seen in a joint naval drill at sea off south China's Guangdong Province. The Chinese and Russian navies launched eight days of war games in the South China Sea, in a sign of growing cooperation between their armed forces against the backdrop of regional territorial disputes. Zha Chunming/Xinhua via AP, File
Chinese newspaper questions Britain's 'provocative signals' in South China Sea
MANILA, Philippines — British Defense Secretary Gavin Williamson's confirmation that a UK warship will sail in the South China Sea sends provocative signals to China, a Chinese state-run tabloid said.
Earlier this week, Williamson confirmed that British warship HMS Sutherland will sail through the South China Sea next month to assert freedom of navigation in the region.
In an interview with The Australian newspaper, Williamson said that the Sutherland will sail through the contested waters to make it clear that their navy "has the right to do that."
"We absolutely support the US approach on this, we very much support what the US has been doing," Williamson told The Australian.
Sutherland will sail within 12 nautical miles of China's artificial islands in the region like the what US ships do, according to the British Defense Secretary.
"The US is looking for other countries to do more. This is a great opportunity for the UK and Australia to do more, to exercise leadership," Williamson said.
The Chinese Foreign Ministry noted that all countries are entitled to freedom of navigation and overflight in the South China Sea.
Chinese Foreign Ministry spokesperson Geng Shuang, however, appealed to "non-regional countries" to respect the efforts of regional countries in maintaining peace and stability in the region.
"As I said last week, when the South China Sea is enjoying gentle breezes and calm waves, there shall not be any attempt to set winds blowing and waves rolling," Geng said in a press briefing Tuesday.
Chinese state-run tabloid Global Times, on the other hand, called Britain's policy on Beijing "double-faced" for deepening trade and cooperation while acting "capriciously" against China.
"By acting tough against China, Britain's Ministry of Defence is trying to validate its existence and grab attention," Global Times said in its editorial on Tuesday.
The Chinese state-run newspaper also stressed that "China has never irritated Britain on security."
Williamson's rhetoric on China may be surprising to many Chinese since British Prime Minister Theresa May had agreed to "embrace an enhanced version of the 'Golden Era' of relations."
"China is facing a split Britain, with May and Williamson perhaps representing different diplomatic approaches to Beijing. This is typical Western diplomacy toward China. Beijing is aware and is adapting," the newspaper said.