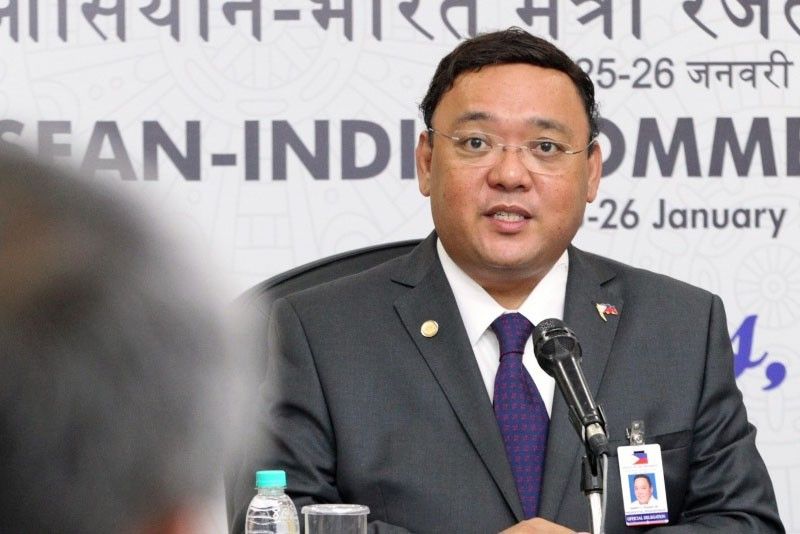 Presidential spokesperson Harry Roque speaks at a press briefing at the International Media Center in New Delhi, India on Jan. 25, 2018.
PPD/Yancy Lim
Palace: Suspension order vs Carandang immediately executory
MANILA, Philippines — Malacañang on Tuesday insisted that its suspension order against Overall Deputy Ombudsman Melchor Arthur Carandang for disclosing alleged bank records of President Rodrigo Duterte was "immediately executory."
That was despite the Supreme Court, in a decision in 2014, ruling that the administrative authority being exercised by the Office of the President over the deputy ombudsman is unconstitutional.
"Without a TRO (temporary restraining order) from a court, it's (suspension order) immediately executory," Presidential Spokesperson Harry Roque said in press conference in Lanao del Sur.
"We will implement the order. If he (Carandang) wants to go to court, because I understand he's saying it's unconstitutional, let him," Roque added.
On Monday, Roque said the Office of the Executive Secretary has formally charged Carandang with grave misconduct and grave dishonesty for misuse of confidential information and disclosing false information.
The deputy overall ombudsman was also accused of divulging confidential information to unauthorized persons and releasing them ahead of the authorized release date.
The suspension stemmed from a complaint filed by lawyers Manolito Luna and Elijio Mallari, who accused Carandang of "falsely and maliciously claiming" that the Anti-Money Laundering Council had released a report on Duterte's alleged bank deposits.
READ: Palace suspends deputy ombudsman Carandang
Duterte earlier said he will not submit to the jurisdiction of the ombudsman looking into his wealth, as he accused the anti-graft agency of fabricating evidence against him.
"We will not go to court because our reading is the Office of the President has the power to discipline him," Roque said in the same press briefing on Tuesday.
By a vote of 8-7, the High Court, in the case of Gonzales III vs the Office of the President, ruled that Section 8(2) of Republic Act 6770 or The Ombudsman Act of 1989 was unconstitutional by granting disciplinary jurisdiction to the president over a deputy ombudsman as it violates the independence of the Office of the Ombudsman.
Roque earlier said the Palace wants to revisit the 2014 court ruling, adding that the Office of the President is "confident it can reverse anew [the decision]."
EXPLAINER: Can the Office of the President suspend Deputy Ombudsman Carandang?