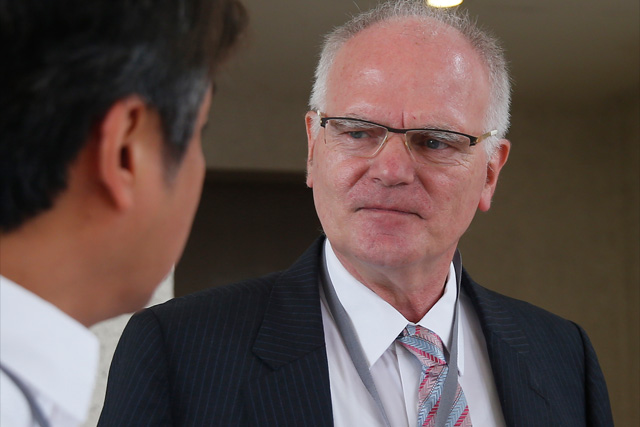 Franz Jessen, right, European Union's Ambassador to the Philippines, talks with opposition Senator Francis Pangilinan following a human rights forum at the De La Salle University in Manila, Philippines Tuesday, May 23, 2017. AP / Bullit Marquez, File
EU envoy confirms Philippines' rejection of P382-M aid
(Philstar.com) - January 25, 2018 - 11:20am
MANILA, Philippines — The Philippines has formally rejected trade assistance worth at least P382 million, or 6.1 million euros, European Union Ambassador Franz Jessen confirmed Wednesday.
The fund that was canceled was supposed to have been implemented under the EU-Philippine Trade Related Technical Assistance (TRTA) in 2017.
"It was formalized in the sense that we have, for example, in the TRTA, a document that actually had to be signed by the end of the year. And that has been returned to us unsigned," Jessen said during the Kapihan sa Manila Bay forum.
In addition to the TRTA, the Philippines is also expected to reject another P2.4 billion or 39 million euros worth of aid in sustainable energy projects.
Despite the rejection, the head of the EU delegation to the Philippines said that they respect the decision of the government.
"We respect the decision. It is important for us that we don't have misunderstanding. It's, at the end of the day, for them to decide," Jessen said.
In May 2017, Executive Secretary Salvador Medialdea confirmed that the Philippines had rejected aid from the EU to "prevent them from interfering with our internal affairs."
The announcement came months after the European Parliament called for an investigation into state-sanctioned killings linked to the anti-illegal drug campaign.
In October last year, DFA Secretary Alan Peter Cayetano accused the EU of using the aid package as an "excuse" to criticize Manila, particularly President Rodrigo Duterte's so-called war on drugs.
READ: Cayetano: Philippines will not accept new EU grants | Cayetano: Rejecting conditional foreign aid 'a policy to all countries'
"If you're going to give us conditionalities that will affect our sovereignty to give you the right to interfere into our domestic affairs, we will not accept that donation," Cayetano said.
Despite the Philippine government's hostility, the EU had offered to spend 100 million euros for the rehabilitation of Marawi City. The regional bloc also offered its assistance to victims of tragedies and natural calamities in December. — Patricia Lourdes Viray