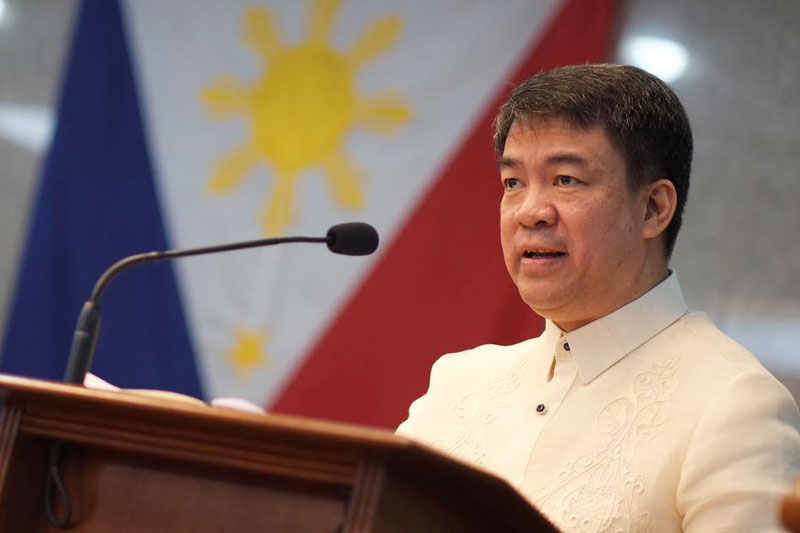 In interviews over the weekend, Alvarez indicated that his Senate counterpart has an obligation to show up at a House con-ass as president of the administration party PDP-Laban and as son of former Senate president and PDP-Laban founder Aquilino Pimentel Jr. Senate PRIB/Joseph Vidal, File
Speaker: Koko should attend con-ass
Jess Diaz
(The Philippine Star) - January 21, 2018 - 12:00am
MANILA, Philippines — Speaker Pantaleon Alvarez expects Senate President Aquilino Pimentel III to attend the constituent assembly (con-ass) the House of Representatives would convene soon to draft a federal constitution.
In interviews over the weekend, Alvarez indicated that his Senate counterpart has an obligation to show up at a House con-ass as president of the administration party PDP-Laban and as son of former Senate president and PDP-Laban founder Aquilino Pimentel Jr.
"We expect him to attend because he is the president of our party, which is advocating federalism, and con-ass is a step toward shifting the nation to the federal system," the Speaker said.
"Why wouldn't he support the advocacy of our party?" he asked.
He said Pimentel owes it to his father to be part of a House con-ass and push for federalism.
Alvarez noted that it was the elder Pimentel who first advocated the shift to the federal system when he founded PDP-Laban.
"I and President Duterte joined the party because we believe in this advocacy," he said.
He said if the Senate president could not bring his colleagues to a House con-ass, he could come alone "and that would be enough for us."
Alvarez said senators want to shy away from Charter change (Cha-cha) because they are eyeing the vice presidency or the presidency in future elections.
Pimentel has said he and other senators have decided in caucus that they would not agree to a "joint assembly and joint voting."
They have also agreed to the proposal of Sen. Panfilo Lacson that any senator who shows up at a House con-ass would be expelled.
Expulsion would take place even before the member sets foot at the House premises at the Batasan complex in Quezon City, Lacson said.
Aside from Pimentel, congressmen are expecting Manny Pacquiao and Juan Miguel Zubiri to participate in a House con-ass. The three senators are from Mindanao and are Duterte supporters.
Congressmen hope that the three, or at least one of them, would attend their con-ass so they could claim that both the House and the Senate are involved in Cha-cha in case their effort is questioned before the Supreme Court.
With one or three senators in attendance, the House could proceed to muster the needed "three-fourths vote of all members of Congress" for any constitutional amendment.
But even without the participation of any senator, Alvarez has vowed that the House would proceed with con-ass and Cha-cha by obtaining the required vote with only House members voting.
Pimentel has proposed that the Senate and the House first agree on con-ass and Cha-cha, and then meet separately and vote separately.
"We can quarrel at the end when the job is done, instead of colliding and quarreling now even before we could start," he said.
He said ultimately, it is the Supreme Court that would decide whether the House alone could do Cha-cha and whether voting is joint or separate.
In a related development, Bayan Muna chairman Neri Colmenares said one amendment the House is proposing is the inclusion of the phrase "through suffrage" as in, "Sovereignty resides in the Filipino people (through suffrage), and all government authority emanates from them."
He said the insertion of "through suffrage" means that people power would be banned and that sovereignty could be exercised only during elections.
He also said congressmen are rushing Cha-cha this year so they could cancel the 2019 elections and extend their term of office up to at least 2022.
If the House does not achieve its 2018 timeline, it would be difficult to scrap next year's elections and there would be no term extension, he added.
Related video: