Duterte to join ASEAN leaders for India's Republic Day
January 19, 2018 | 12:21pm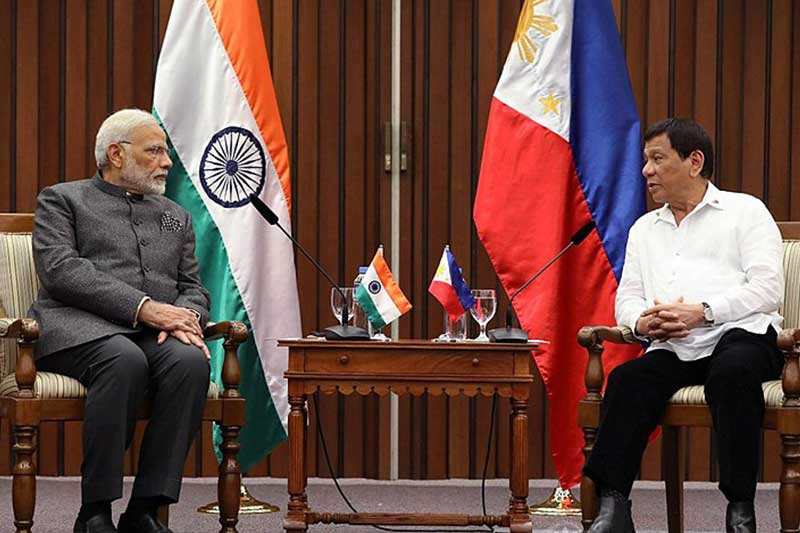 MANILA, Philippines — President Rodrigo Duterte and his ASEAN counterparts will be the state guests of honor for India's Republic Day celebrations on January 26.
In his first visit to India and his foreign trip for this year, Duterte will attend the ASEAN-India Special Commemorative Summit on January 25 and participate in the country's Republic Day the following day.
The retreat session of the ASEAN leaders and Indian Prime Minister Narendra Modi will focus on maritime cooperation and security while the plenary session will revolve around the summit's theme "Shared Values, Common Destiny."
DFA Assistant Secretary Hellen Dela Vega on Friday said that they are still awaiting confirmation on the possible bilateral meeting between Duterte and Modi.
RELATED: Duterte eyes cheap medicine from India
In their bilateral meeting at the sidelines of the ASEAN Summit in Manila last November, Duterte discussed possible stronger trade relations with Modi. Duterte expressed his hope that Indian investors would be interested to produce cheap medicine in the Philippines.
The DFA said that the interest on the pharmaceutical industry will be among the agenda in the possible meeting of Duterte with Modi next week.
Republic Day is celebrated in India in commemoration of the Constitution of India coming into effect, completing the country's transition into an independent republic.
India has been inviting heads of state as state guest of honor for Republic Day celebrations. Among their previous chief guests were Queen Elizabeth II in 1961, South Africa President Nelson Mandela in 1995, Russia President Vladimir Putin in 2007, Japan Prime Minister Shinzo Abe in 2014 and United Arab Emirates Crown Prince Mohammed bin Zayed Al Nahyan in 2017.
"For 2018, India has decided to invite all 10 leaders of ASEAN so that demonstrates the importance that India attaches to ASEAN," Dela Vega said in a press briefing.
For the first time in history, India invited 10 chief guests to attend the Republic Day Parades. Aside from Duterte, Brunei Sultan Hassanal Bolkiah, Cambodia Prime Minister Hun Sen, Indonesia President Joko Widodo, Laos Prime Minister Thongloun Sisoulith, Malaysia Prime Minister Najib Razak, Myanmar President Htin Kyaw, Singapore President Halimah Yacob, Thailand Prime Minister Prayuth Chan-o-cha and Vietnam Prime Minister Nguyen Xuan Phuc are expected to attend the festivities.
The ASEAN leaders and Modi are expected to release a "Delhi Declaration" at the conclusion of the ASEAN-India Special Commemorative Summit.
India is one of ASEAN's top 10 trading partners in 2016 with total trade volume worth $58.45 billion. It is also one of ASEAN's top five partners in development assistance with funded projects.