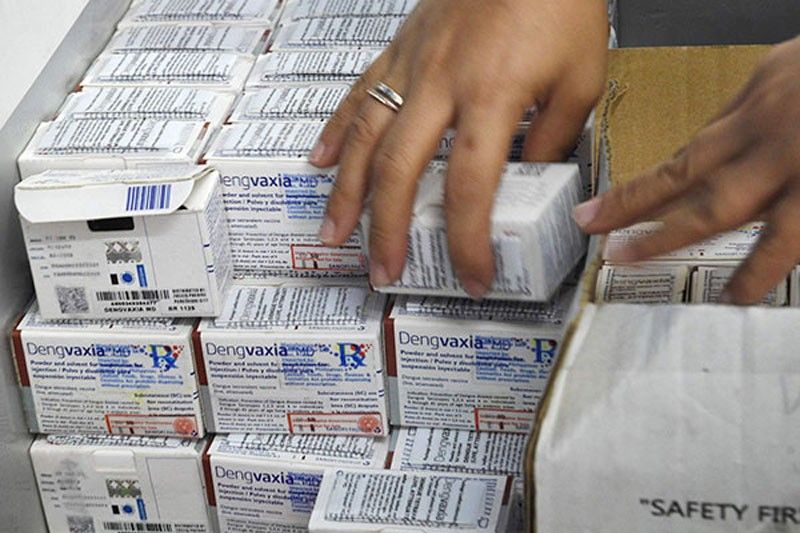 Health Secretary Francisco Duque III said the decision to have the remaining stocks returned to the manufacturer was made after the DOH's steering committee met with Sanofi Pasteur officials led by Joselito Sta. Ana, the firm's operations chief in the Philippines and Indonesia. AFP, File
DOH: Inventory of Dengvaxia vaccines underway
MANILA, Philippines — The Department of Health (DOH) is conducting an inventory of all the remaining stocks of the anti-dengue vaccine Dengvaxia in the local government units as manufacturer Sanofi Pasteur has committed to take back the unused vials until Friday.
Health Secretary Francisco Duque III said the decision to have the remaining stocks returned to the manufacturer was made after the DOH's steering committee met with Sanofi Pasteur officials led by Joselito Sta. Ana, the firm's operations chief in the Philippines and Indonesia.
"There is an ongoing inventory in some local government units. In our earlier press releases, we announced that the immunization program would only be school-based. However, it was also implemented in the communities," Duque told journalists.
Malacañang said Sanofi Pasteur's move to refund the government P1.4 billion for the unused vaccines will not prejudice the possible filing of criminal charges against the firm for the Dengvaxia-related deaths.
"The refund will not in any way affect the investigation, which will determine whether or not there is criminal culpability on the part of Sanofi," presidential spokesman Harry Roque said yesterday.
Roque welcomed the move of the pharmaceutical company, describing it as a positive step. He backed DOH's call for a full refund amounting to P2 billion.
In a statement released on Monday, Sanofi Pasteur said it is giving in to Duque's request for reimbursement of the unused vaccines.
It expressed hope the decision would allow the government and the company to work more openly and constructively in addressing the negative tone toward the anti-dengue vaccine.
The immunization program was initially implemented among Grade 4 students in public elementary schools in the National Capital Region, Central Luzon and Calabarzon (Cavite, Laguna, Batangas, Rizal and Quezon). It was later expanded to some communities in Cebu. More than 830,000 children were vaccinated under the program.