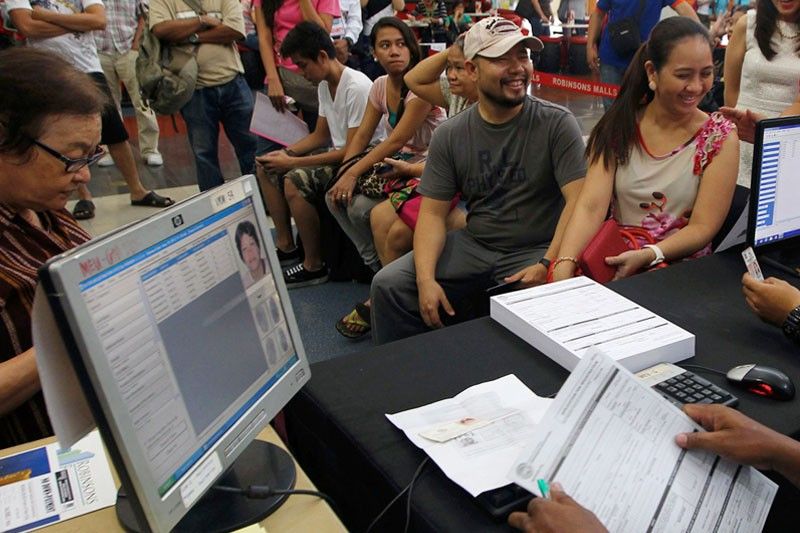 Based on Commission on Elections Resolution 10246, which prescribes the Calendar of Activities for the coming polls, the Comelec said those interested to run for any position would have to file their certificates of candidacy (COCs) between April 14 and April 20. File
Filing of COCs for barangay polls set in April
MANILA, Philippines — Those planning to run in the May 14 barangay and Sangguniang Kabataan (SK) polls still have three months to decide.
Based on Commission on Elections Resolution 10246, which prescribes the Calendar of Activities for the coming polls, the Comelec said those interested to run for any position would have to file their certificates of candidacy (COCs) between April 14 and April 20.
Those allowed to run would be given nine days to campaign beginning on May 4 and ending on May 12. Campaigning is not allowed on the eve of election day.
Comelec spokesman James Jimenez noted that during this period, the giving of donations or gifts, in cash or in kind, is prohibited.
The period also prohibits the appointment or use of special policemen or confidential agents; construction or maintenance of barangay funded roads and bridges; the appointment or hiring of new employees; creation of new position; promotion; and the giving of salary increases, remuneration or privileges, among others. ?Jimenez also noted that during the election period, which will run from April 14 to May 21, Comelec prohibits the "alteration of precincts or establishment of new precincts; carrying of firearms or other deadly weapons; use of security personnel or bodyguards by candidates; transfer of officers and employees in the civil service; and suspension of any elective local officer."?Casting of votes in polling precincts will be from 7 a.m. to 3 p.m. on May 14.?Jimenez said the Comelec would use the official ballots originally printed for the Oct. 23, 2017 elections, which was moved to this May. More than 59 million of such ballots will be used for voters in the National Capital Region (NCR), Luzon and the Visayas.
However, the Comelec would be printing new and additional ballots for at least 843,588 Filipinos who filed their applications during the Nov. 6-30 registration period last year. ?The Election Registration Boards (ERBs) have yet to verify, certify and seal the List of Voters on Feb. 7.
To avoid confusion, Jimenez said the new ballots would still bear the date Oct. 23, 2017 and that only those for Mindanao will bear the date May 14, 2018.?"No official ballot and other forms were printed for the entirety of Mindanao following the postponement of the elections there, as per Comelec resolution EM No. 17-003 promulgated on Sept. 5, 2017," Jimenez pointed out.?He added that the Omnibus Election Code does not prescribe the form and contents of the official ballots nor does it require that the date of the election be specified.