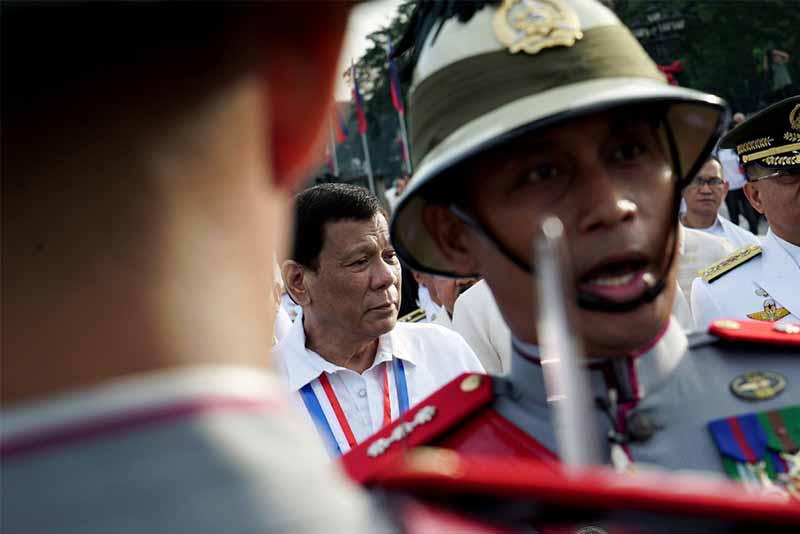 President Rodrigo Duterte, who is accorded with foyer honors upon his arrival at the Rizal Park in Manila for his attendance to the 121st Anniversary of Dr. Jose Rizal's Martyrdom on December 30, 2017, is set to fire erring government officials and police officers this week. Accompanying the President is Armed Forces of the Philippines Chief of Staff General Rey Guerrero. King Rodriguez/Presidential Photo
President Duterte to fire cops accused of corruption
MANILA, Philippines — President Rodrigo Duterte is set to fire several cops accused of committing graft and corruption while in service, presidential spokesman Harry Roque said Tuesday.
According to Roque, the investigation into these cops, who include some colonels, is finished, and the announcement is expected to be made this week.
"Aside from the high-ranking official, the president has already said that several policemen including colonels will be removed from office," Roque said in a radio interview.
Roque announced on Monday that another official would be axed on Wednesday, and he is expected to provide details in a press conference Wednesday.
The presidential spokesman said that Duterte wanted to fire the official on Sunday, but he was able to convince the chief executive to defer the announcement to give the government official time to celebrate the holidays.
The president has vowed not to tolerate corruption in his government and has announced that even a "whiff" of graft was enough a reason to fire an official.
Duterte has fired former Interior Secretary Ismael Sueno following an allegedly anomalous fire truck deal with an Austrian firm and former National Irrigation Administration chief Peter Laviña, who was accused of soliciting money from contractors.
However, despite the chief executive's tough posturing on corruption, he has still retained officials in the government accused of committing irregularities.
Recently, Duterte appointed former Customs chief Nicanor Faeldon to the Office for Civil Defense despite being accused of receiving millions in pesos in welcome gift when he assumed the post last year.
Faeldon was also charged with a drug case following then entry of P6.4 billion worth of crystal methamphetamine, locally known as shabu, into the country under his watch. The case, filed by the Philippine Drug Enforcement Agency, has since been dismissed by the Department of Justice.
Roque said that the impending presidential announcements were proof that Duterte was serious in ridding the government of graft.
He added that this campaign would spare no one, including the allies and supporters of the president, a former Davao City mayor who won the presidency last year on the back of a strong anti-crime and anti-corruption platform.
"The president is not afraid to fire anyone even his friends, classmates and shooting-mates. If you've done something illegal, you will be fired," he said.
Roque added that presidential appointees could be fired anytime if the chief executive had seen enough reason to do so as they served at the pleasure of Duterte.
"Career officials, those covered by the Civil Service Law, need to be accorded due process," Roque stressed.
Related video: