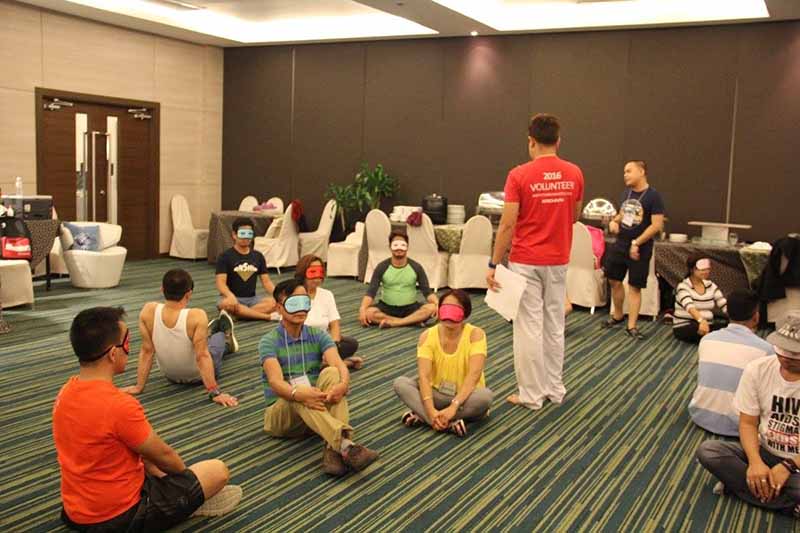 Peer educators train during a workshop. Vera Files
Sex, drugs and disease: The deadly mix (Part 2)
Part 2: A perilous phenomenon
Karl Reiner Agbulos, a researcher from De La Salle University whose masteral thesis was "Chemsex: The Episodic Influence of Drug Use on Sexual Behavior among MSM (men who have sex with men) in Metro Manila" said according to international studies, the term "parteE' and play" was first used in Europe because the partiers started with Ecstasy (E) as their major drug of choice before they tried other stimulants. "Chemsex" also became a byword due to the combination of chems (drugs) and sex.
"PnP is a complicated phenomenon, a kind of sexual behavior among different kinds of MSM of different age groups. Their views, social and sexual networks, motivations, intentions and reasons for drug use in the context of sex are unique and specific to each individual," he said.
The altering effect of PnP was reflected in the responses of the 20 interviewees who thought drugs are dangerous and unlawful, but changed their views after they joined parties, saying "there is nothing wrong if drugs are used recreationally or as a means to escape." Their first try, which they noted with "euphoric, pleasurable feelings," was out of curiosity and was voluntary, not peer pressure.
READ: Sex, drugs and disease: The deadly mix (Part 1)
One of Agbulos' interviewees, a 31-year-old male who has been a drug user and partier for four years, said: "The first time I got high it felt like, 'Oh wow!' It's five times better than what you usually feel during normal sex. I can't forget that moment the first time I took the chem. So after that one, I got addicted because of the great sex. It's really horny."
This 31-year-old partier is HIV-positive, as were eight other interviewees. The others had syphilis, gonorrhea, chlamydia, herpes, boils, warts and sore eyes. Most of the 20 males have two or more of the sexually transmitted infections, which they all said they acquired through their participation in parties.
Dr. Jose Narciso Melchor Sescon, a reproductive health specialist and assistant director of Sta. Ana Hospital in Manila, said PnP carries all the dangers leading to disease and death. "Party and play is a warning that once you use drugs and you're high, it impairs your judgment because you won't be able to think well, so condoms for protection will be out of the picture."
For those living with HIV, he said drug use can further weaken the immune system that defends the body from infections, and can lead to resistance to antiretroviral drugs that slow down HIV infection from progressing into AIDS, its fatal phase. A partier also has the highest risk of contracting sexually transmitted infections other than HIV in every sexual encounter especially if he does not know the health status of his partner.
Sescon called particular attention to the risks of anal sex. "The anus is a very fragile and sensitive part of the body that has a very rich blood supply. If it is torn, blood vessels are exposed, increasing more the risk for HIV transmission and other infections."
Four respondents in the Agbulos study described vividly the kind of sex they do in the drug-fuelled PnPs where "intense sex levels up" through "fisting" or inserting the fist inside one's rectum, or with any object that can take the place of a penis.
The most bizarre, one said, was the use of a baseball bat. "I was so high but I saw one use it on his partner. I didn't want that. I have been fisted and I fisted my partner too, and with other objects. But baseball bat – I think that's the worst," he said.
Agbulos' findings showed some partiers were utilizing the anus in administering the drugs, called "booty bump" where a drug is inserted into the rectum for faster absorption and effect prior to sexual contact.
Possible interventions
Dr. Rolly Cruz, HIV coordinator of the Quezon City health office, deplores the reality that PnP is done by MSM "as frequently as you and I meet our friends for coffee" and without the use of condoms, still the best barrier for infections. "What complicates this concern is that no government intervention has been introduced so far," he said.
In Quezon City, campaigning for the distribution and use of condoms and lubricants and for more accessible information and health services is done through Klinika Bernardo, the sundown clinic that caters to males seeking discreet and confidential medical checkups, tests and counseling after office hours.
Because the problem is pervasive, Cruz said Quezon City turned to the same platform that powers PnP -- social media. "Through peer education, we do outreach and promote condom use through chatting, although the intervention can only reach up to that point, because we lose them," he said. "But we don't leave it there because we ask them to have themselves tested for HIV and other infections."
Jhun Oliveros, peer educator and advocacy officer of the AIDS Society of the Philippines, said it is difficult for peer educators to gain access into PnP to encourage safe sex. "You have to be a participant to be able to educate," he said.
"But even if you have introduced and provided them their supply of condoms, you can't be assured that they will use them because everyone will be high on drugs," he added.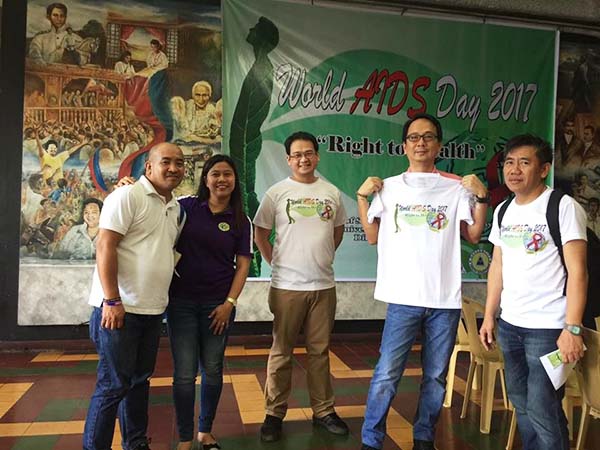 Jhun Oliveros (L) and Dr. Rolly Cruz (4th from L) with other HIV advocates. Vera Files
The behavioral studies academic said he knows of some groups whose gatekeepers require condom use. "First, they have an understanding and sharing of health perspectives. Participants know their non-negotiable rules -- 'I don't do drugs, I don't have sex without condoms' – and then enjoy sex and see the health component of what they're doing," he said adding that "Sexual pleasure can even be equal for both the 'power' top (the one who penetrates his partner's anus) and 'power' bottom (the one who is penetrated)."
He said this setup has been proposed for the Department of Health to consider in its strategic policies for MSM and transgenders, but it is far from ideal.
For now, Cruz and Oliveros said condom use, a protracted campaign for responsible sexual behavior in the area of HIV awareness and prevention, has yet to be a norm among MSM with risky sexual behavior. Drug use is even more difficult to curtail.
Some local governments such as Quezon City and Mandaluyong City have identified their PnP hotspots in hotels, condominiums and an entire barangay where the practice is rampant, but where interventions are also focused. They find their strength in nongovernment organizations that work on the ground and link MSM clans and groups to health services.
Oliveros even took it upon himself to have condoms in his personal care for distribution to MSM whom he knows will participate in PnP. "I just think that if one of them used a condom during a party, there is a possibility that he will use a condom in the next encounter," he said.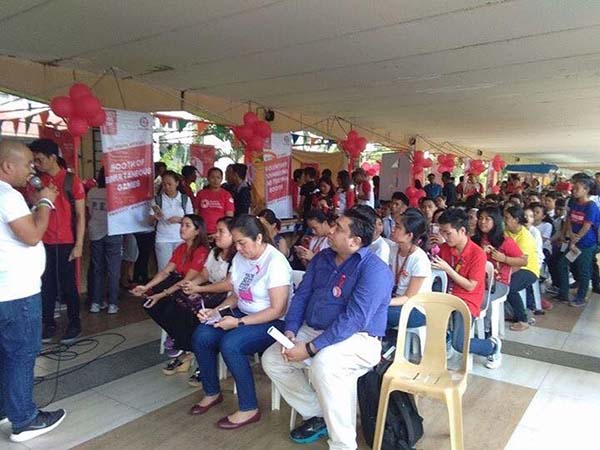 Peer educator and advocacy officer Jhun Oliveros giving a talk during World AIDS Day. Vera Files
The Duterte government's bloody anti-drugs campaign has made partiers lie low. A prospective interviewee who responded only through texts declined to be interviewed due to security. "Some of my friends and some who did not gain access to the parties I hosted in my place informed the police," he said.
Another respondent said he stopped partying for a while because the "drug suppliers who also supply drugs to cops were pressured into identifying drug users among partiers."
While the profile of majority of those killed in the government's drug war are unlike that of Kenjo and Migo who have money to spend for their PnP and can maintain the secrecy of their encounters, they are somehow affected. "The scare I get is when I see guys I encountered in the most recent party. But when there's a new invitation somewhere, I just go," said Kenjo.
Dr. Sescon said their experiences might have changed their sexual identities and expressions, but PnP participants must know that "they alone are responsible for the harsh, irreversible consequences of what they do."
VERA Files is put out by veteran journalists taking a deeper look at current issues. Vera is Latin for "true."