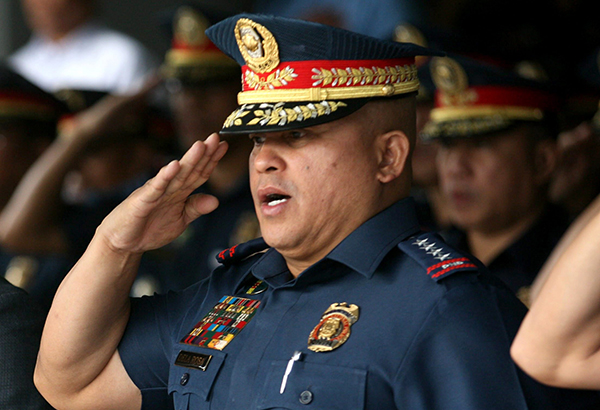 "I have the discretion to extend (the term of office) even beyond retirement age. I still have a lot of things to do. I want to do some things in Mindanao of utmost importance and I need to extend the tour of duty of General Dela Rosa to something like two to three months," Duterte said in a press briefing yesterday at Fort Bonifacio in Taguig. Michael Varcas, File
Bato dela Rosa gets 3 more months before BuCor post
MANILA, Philippines — President Duterte will extend the term of Philippine National Police (PNP) chief Director General Ronald dela Rosa by two to three months before naming him as director of the Bureau of Corrections (BuCor).
Duterte said Dela Rosa has to deal with some unfinished tasks, including matters related to police camps.
"I have the discretion to extend (the term of office) even beyond retirement age. I still have a lot of things to do. I want to do some things in Mindanao of utmost importance and I need to extend the tour of duty of General Dela Rosa to something like two to three months," Duterte said in a press briefing yesterday at Fort Bonifacio in Taguig.
"It's mainly infrastructure and maybe the physical setting of the headquarters of the armed forces and the police to suit the demands of the moment," he added.
Duterte declined to elaborate but revealed the projects would involve the transfer and creation of new camps.
Dela Rosa, a member of Philippine Military Academy Class of 1986, will reach the mandatory retirement age of 56 on Jan. 21, 2018. Duterte has promised to give Dela Rosa "the most challenging job in the government" after the police chief hangs up his uniform.
Duterte said Dela Rosa would be named BuCor chief once he completes his remaining tasks as head of the 170,000-strong police force.
"Once the projects are in place or operational or functional, then he goes to the BuCor… We have a lot of problems in the penal colonies and other places," the President said.
A BuCor official said Dela Rosa will have a hard time managing the penal facility once he assumes the post.
The official said Dela Rosa will be facing the convicted drug lords who are discreetly directing illegal drug operations from the New Bilibid Prison (NBP).
BuCor made headlines last year after it was revealed that the illegal drugs trade proliferated in the NBP during the previous administration.
Duterte has accused his critic Sen. Leila de Lima of allowing the narcotics trade to flourish at the national penitentiary when she was justice secretary.
The BuCor, which maintains the NBP, is under the justice department.
De Lima, now in jail over drug-related charges, has denied the allegations and has accused the Duterte administration of political persecution.
Duterte said he has not picked a successor for Dela Rosa, adding that he would just let the PNP Senior Officers' Placement and Promotion Board submit its recommendation on the next police chief.
"I usually do not interfere. I don't know, they have a sort of an entity… tasked with reviewing the senior officers' promotion," Duterte said.
Previous reports said Duterte would appoint PNP deputy chief for administration Deputy Director General Ramon Apolinario as Dela Rosa's successor. – Perseus Echeminada, Cecille Suerte Felipe