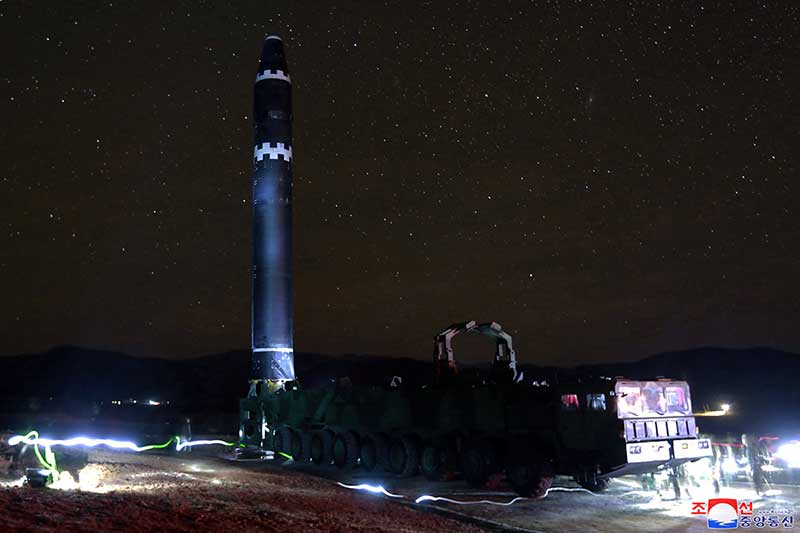 This Nov. 29, 2017, image provided by the North Korean government on Thursday, Nov. 30, 2017, shows what the North Korean government calls the Hwasong-15 intercontinental ballistic missile, in North Korea. Independent journalists were not given access to cover the event depicted in this image distributed by the North Korean government. The content of this image is as provided and cannot be independently verified. Korean language watermark on image as provided by source reads: "KCNA" which is the abbreviation for Korean Central News Agency. Korean Central News Agency/Korea News Service via AP
Philippines vows to work with US in addressing North Korea's threat
MANILA, Philippines — Senior officials of the Philippines and the United States discussed their shared concerns in the region during the bilateral strategic dialogue between the two countries in Washington last week.
Both the Philippines and the US pledged to work together to put an end to North Korea's ballistic missile and nuclear programs, which are unlawful, the DFA said in a statement released Tuesday.
Washington also welcomed the Philippines' compliance with the United Nations Security Council Resolutions relevant to the issue.
Along with the US, the Philippines had been calling on North Korea to stop its weapons testing which increases tensions on the Korea Peninsula.
Last week, Pyongyang launched an intercontinental ballistic missile that traveled about 1,000 kilometers before landing near Japan's coast.
READ: Philippines laments North Korea's continued weapons use
Manila and Washington also reaffirmed their commitment to uphold freedom of navigation and overflight in the disputed South China Sea. The two countries stressed the importance of resolving maritime disputes in accordance with international law, particularly the UN Convention on the Law of the Sea.
The joint statement, however, made no mention of China's island-building activities in the disputed waters, as well as the landmark ruling of the UN-backed tribunal based in The Hague, Netherlands which invalidated Beijing's historic nine-dash line claim.
DFA Undersecretary Enrique Manalo and DND Undersecretary Ricardo led the Philippine delegation in the seventh bilateral strategic dialogue from November 30 to December 1. Meanwhile, Acting Assistant Secretary of State Susan Thornton and Acting Assistant Secretary of Defense David Helvey co-led the US delegation.
The annual dialogue between the two countries is a venue for discussing political, security and economic cooperation between the Philippines and the US.
Other topics discussed in the dialogue were issues of mutual interest such as maritime security, humanitarian assistance and disaster response, cybersecurity, transnational drug trafficking, countering terrorism and drug prevention.
The delegations from the two nations used the joint statement released after the meeting of President Rodrigo Duterte and President Donald Trump in Manila as a guide during the dialogue. — Patricia Lourdes Viray
RELATED: Philippines, US agree to boost bilateral ties in human rights, other areas