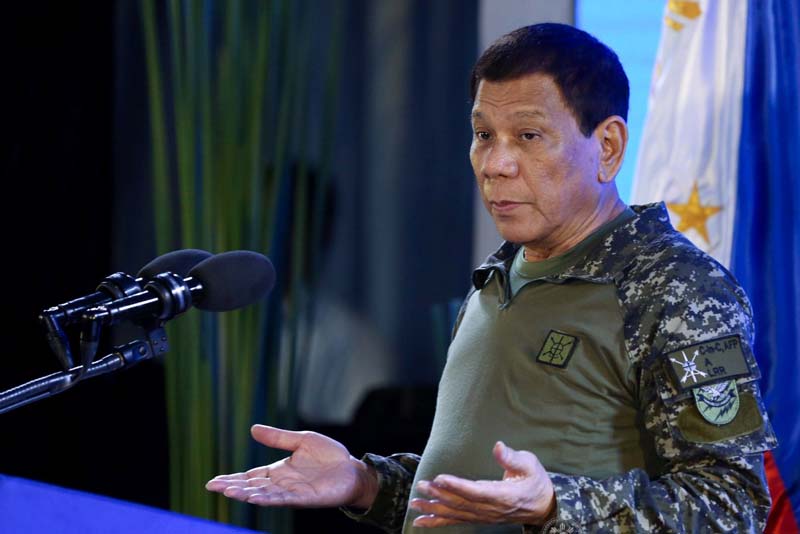 Duterte earlier frowned on the idea of reforming criminals, saying they are "monsters" who have "lost the essence or existence of a productive person." Presidential photo/Richard Madelo
Duterte says criminals don't deserve kindness
(Philstar.com) - November 28, 2017 - 11:03am
MANILA, Philippines — "Why should I be kind to criminals?"
President Rodrigo Duterte posed this question on Tuesday, saying the funds for the rehabilitation of drug dependents should just be channeled to projects that aim to generate more jobs.
"Bakit ako mag-rehabilitate ng criminals? Eh kasalanan mo. T****na wag mo ko b***s**t dyan," Duterte said in an impromptu speech during the Anti-Corruption Summit 2017.
(Why should I rehabilitate criminals? It's their fault why they're like that. Son of a b***h. Don't give me that b***s**t.)
"Ako, kapag criminal ka, criminal ka talaga (For me, if you are a criminal, you are really a criminal) ... why should I be kind to criminals?" he added.
Duterte, who easily won the race to Malacañang last year on a brutal law-and-order platform, has stoked international alarm over his administration's anti-drug campaign.
Human rights watchdogs say most of fatalities in the crackdown were extrajudicial killings committed by cops—a claim that the government had vehemently denied by insisting that police were only killing in self-defense.
Duterte earlier frowned on the idea of reforming criminals, saying they are "monsters" who have "lost the essence or existence of a productive person."
READ: Palace agrees building a mega rehab center a miscalculation | Few takers for drug rehab, says DOH
According to the Universal Declaration of Human Rights, of which the Philippines is a signatory, "all human beings are born free and equal in dignity and rights."
The same declaration holds that all people are entitled to rights and freedoms "without distinction of any kind, such as race, colour, sex, language, religion, political or other opinion, national or social origin, property, birth or other status", including being suspected of involvement in a crime.
The 1987 Constitution likewise declares that the state "values the dignity of every human person and guarantees full respect for human rights."
The constitution also holds that "no person shall be deprived of life, liberty, or property without due process of law, nor shall any person be denied the equal protection of the laws."
Duterte had repeatedly berated the European Union for supposedly proposing a "health-based solution" to the drug problem that involved dispensing methampetamine, locally known as shabu.
The maverick leader had branded the supposed EU recommendation a "government-sponsored idiotic exercise."
"The sons of bitches, they want us to build clinics, then we should, instead of arresting or putting them in prison like in other countries, you go there and if you want shabu they will inject you or give you shabu," he said in a previous speech before Filipino-Chinese businessmen.
According to the EU, it was working with the Department of Health and World Health Organization in implementing a program that "aims to support recovery from addiction, while keeping families together and facilitating development of social and job skills."