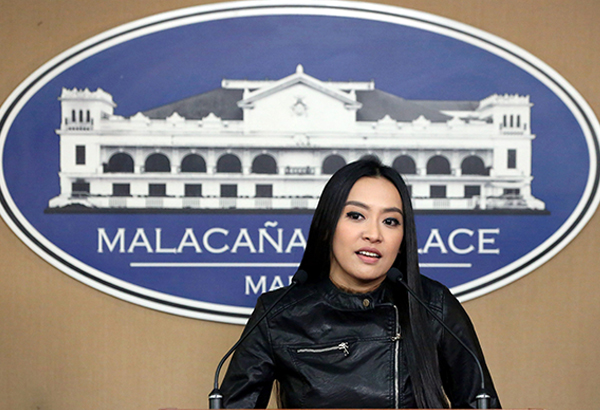 Asked if he has spoken to House Speaker Pantaleon Alvarez about the possible senatorial ticket, President Rodrigo Duterte said: "Let the people decide. It's not a one-man story or critique." File
Duterte on Mocha as Senate bet: 'Let the people decide'
MANILA, Philippines — President Rodrigo Duterte is leaving it to the public to judge his party's possible 2019 senatorial line-up announced last week by House Speaker Pantaleon Alvarez.
A partial list of the
possible senatorial bets of the ruling PDP-Laban party
contained the names of Presidential Communications Assistant Secretary Mocha Uson, Presidential Spokesman Harry Roque, presidential political adviser and former Metropolitan Manila Development Authority Chairman Francis Tolentino, Davao City Rep. Karlo Nograles, Bataan Rep. Geraldine Roman and Negros Occidental Rep. Alfredo Benitez.
PDP-Laban President and Senate President Aquilino "Koko" Pimentel III has clarified that the ruling party has not yet made a final decision on the matter.
Asked last Saturday if he has spoken to Alvarez about the possible senatorial ticket, Duterte said: "Let the people decide. It's not a one-man story or critique. Let the people decide. If they like it that way, then that's it. It will be honored by all, including the military and the police."
"If that's the choice of the Filipino, you might not like her; her ways might not suit your values. But if that guy or woman is elected by the people, then you have to honor that choice," he added.
Pressed if he had a personal choice to become candidate for senator, Duterte said he wanted someone who can help Filipinos by lowering food prices and ensuring adequate food supply.
"Whoever can help his fellow Filipino and who has the best of the ideas, I might get them or I might also nominate them. It's a party decision so maybe just a give and take there," he added.
Duterte went on to mention Agriculture Secretary Emmanuel Piñol and Agriculture Undersecretary Bernadette Romulo-Puyat as possible senatorial candidates. The two were with Duterte during last Saturday's launch of the Tienda farmers and fisherfolk outlets in Davao City.
Piñol said Duterte floated his name as a possible senatorial bet in jest.
"He (Duterte) was just joking. Also, I told him I would like to remain as agriculture secretary and retire after his presidency," Piñol told The STAR in a text message Sunday.
Roque has said that he does not have the resources to launch a senatorial campaign. Uson has admitted being offered to run for senator but maintained that only Duterte could convince her to do so.