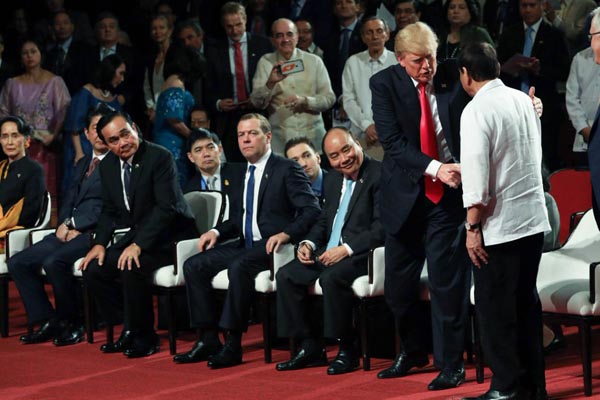 The chairman statement, released after the 31st ASEAN Summit, recognizes that drug problem does not only affect countries in the regional bloc but also the dialogue partners. Presidential Communications Operations Office
ASEAN: Countries should decide own approach in solving drug menace
(The Philippine Star) - November 16, 2017 - 9:14am
MANILA, Philippines — The Association of Southeast Asian Nations, under chairmanship of the Philippines, said it welcomes the help of countries outside the region in addressing the drug problem.
But it maintained that ASEAN-member states still have the authority to decide on the matter.
The chairman statement, released after the 31st ASEAN Summit, recognizes that drug problem does not only affect countries in the regional bloc but also the dialogue partners.
"We welcome the assistance of dialogue partners and other external parties in addressing this problem through capacity-building, intelligence information sharing, and other forms of cooperation," the chairman statement, released after the 31st ASEAN Summit, said.
It stressed that assistance "must be consistent with relevant international laws and all the while preserving the sovereign right of countries in deciding the most appropriate approaches to address their national drug situations."
This stand appears to reflect the regional bloc's bedrock principle of non-interference. ASEAN is often criticized for its concept of non-intervention as it forbids states from what would see as a meddling in their neighbors' affairs.
READ: ASEAN non-intervention hinders discussion on rights issues — experts
The statement, moreover, said that member-states have reaffirmed their commitment to an aspiration of a Drug-Free ASEAN.
President Rodrigo Duterte's war on drugs, which has claimed over 12,000 lives according to rights watchdog, has received strong criticisms at home and abroad.
New Zealand media reported that Prime Minister Jacinda Ardern said that the number of deaths linked to drug war merits "investigation and oversight."
Canadian Prime Minister Justin Trudeau disclosed that he discussed the extrajudicial killings with Duterte and "impressed upon" the Philippine leader the need to respect the rule of law in combating illegal drugs.
Trudeau said Duterte was "receptive," but the tough-talking president—who is sensitive to criticisms—said that he considered it "a very serious… personal and official insult."
On Tuesday, Duterte said he raised the issue of reported extrajudicial killings in his drug war with the European Union President Donald Tusk, whom he claimed was indifferent to his opinion.
The firebrand leader had repeatedly berated the EU and accused the bloc of bias, hypocrisy and interference for expressing concern about the spate of killings during his fierce war on drugs.
He had also cursed at the United Nations several times.
READ: Duterte: EU chief 'not at all interested' in discussing EJKs