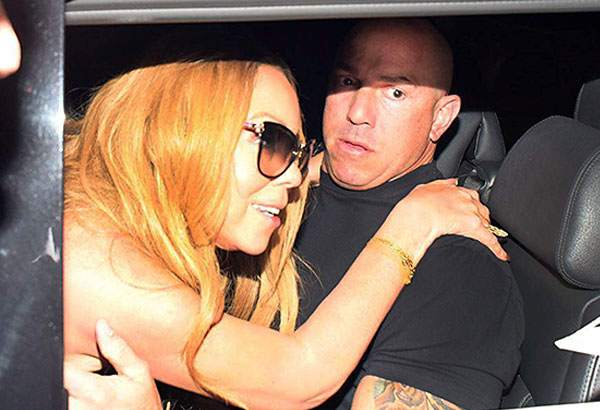 Undated photo from the OK! magazine website shows singer Mariah Carey with her bodyguard Michael Anello.
Mariah accused of sexual harassment by bodyguard
(The Philippine Star) - November 10, 2017 - 4:00pm
MANILA, Philippines — Mariah Carey's security guard has threatened to sue the singer for humiliation and sexual harassment.
Michael Anello, in the draft lawsuit reported by TMZ, claimed the multi-awarded singer constantly berated him by calling him a Nazi, skinhead, KKK member and white supremacist.
In the draft prepared by Anello's lawyer, it was pointed out that the security company worked for Mariah from June 2015 to May 2017 and got stiffed on the balance by more than $221,000. The security company was also allegedly promised another two years, which would have added $511,000 to the tab.
Mariah "wanted to be surrounded with black guys, not white people," Anello was quoted saying in the TMZ report.
The draft lawsuit also makes allegations of sexual harassment, claiming Mariah committed "sexual acts with the intent that they be viewed by Anello."
The security officer claims that during a trip to Cabo San Lucas, Mariah asked him to come to her room to move some luggage and when he got there, she was wearing a see-through negligee that was open. He says he tried leaving but she insisted he move the luggage.
Anello clarified though that he left the room and that there was no physical contact.
Mariah's people said they were in touch with Anello's lawyer Monday and were agreeable to pay certain invoices, but were told Anello is not satisfied with the amount.
Her camp has no information on the sexual harassment claim and Anello's lawyer said the lawsuit is now on hold, presumably because settlement negotiations are in progress.