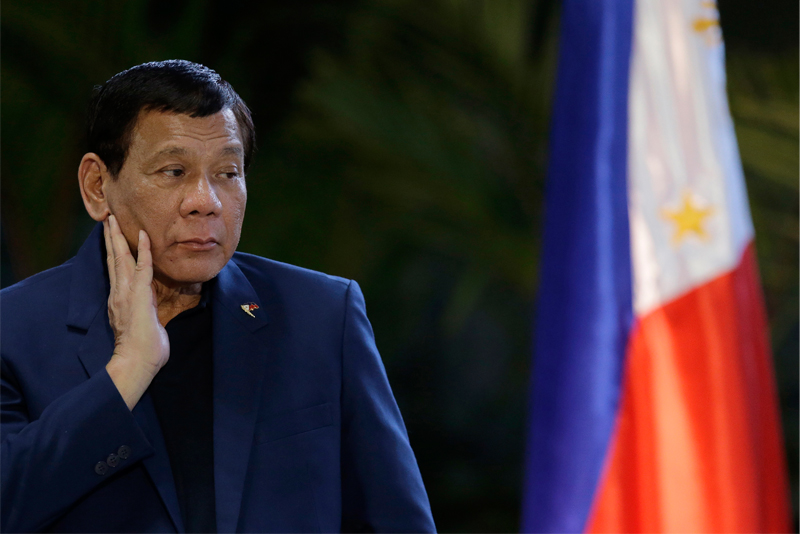 Based on Pulse Asia data culled from 1999 to 2017, President Rodrigo Duterte obtained a net trust rating of +74 in its September 2016 or its first survey since he assumed office. AP/Aaron Favila, File
Pulse: Rody gets top ratings among last 4 presidents
Helen Flores
(The Philippine Star) - November 10, 2017 - 4:00pm
MANILA, Philippines — President Duterte has received the highest approval and trust ratings among the last four chief executives of the country, according to comparative data released by Pulse Asia on Thursday.
Based on Pulse Asia data culled from 1999 to 2017, Duterte obtained a net trust rating of +74 in its September 2016 or its first survey since he assumed office.
Duterte is more trusted than Benigno Aquino III who obtained a net trust score of +70 in August 2011.
Gloria Macapagal-Arroyo recorded a higher net trust score of +23 in April 2002 or a little over a year since she was catapulted to the presidency after Joseph Estrada was ousted from office in January 2001.
Estrada obtained a +11 net trust rating in the December 1999 survey.
In September this year, Duterte obtained an 80 percent trust and approval rating, higher than any rating earned by the last three presidents.
Duterte's approval rating is higher than Aquino's average of 74.6 percent between October 2010 and November 2011.
Arroyo, had an even lower first-year average approval rating of 56.2 percent from March 2001 to April 2002.
Estrada, meanwhile, had an average approval rating of 58 percent between May 1999 and July 2000.
Aquino ended his term with a 45-percent approval rating, making for an average of 65.3 percent from October 2010 to July 2016.
Now Pampanga Representative Arroyo, for her part, ended her nine-year term with a 16-percent approval rating, obtaining an average of 37.1-percent rating from March 2001 to July 2010.
Estrada, now Manila mayor, ended his term with a "below-majority" 45-percent approval rating, making for an average of 55-percent rating between May 1999 to December 2000.
Pulse Asia released the data ahead of the 31st ASEAN Summit and Related Summits next week, where Duterte will meet world leaders, including United States President Donald Trump.
Palace welcomes data
Malacañang welcomed the release of Pulse Asia data.
"We are pleased with the people's verdict giving President Rodrigo Roa Duterte 80 percent approval rating and 80 percent trust rating – the highest since the time of former president Joseph Ejercito Estrada," presidential spokesman Harry Roque said in a statement.
"The President accepts this public appreciation with all humility," he added.
Roque said Duterte would continue to promote the interest of Filipinos regardless of the survey results. – With Alexis Romero