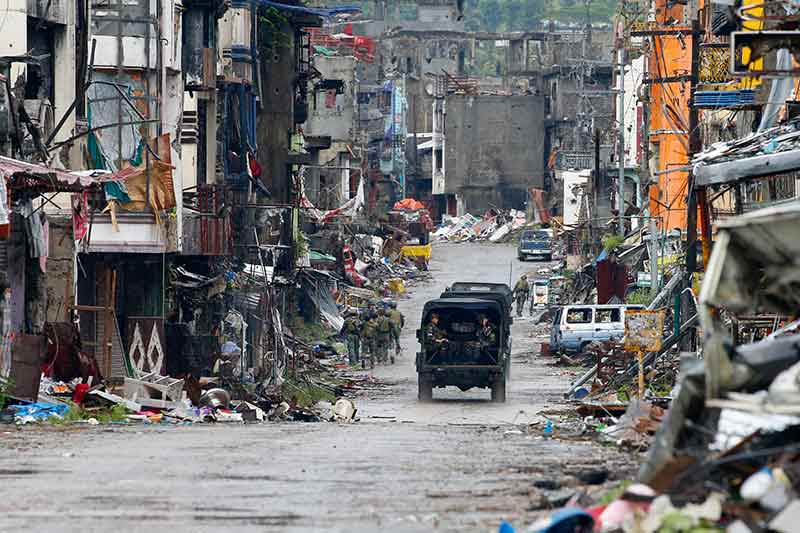 Under Administrative Order 9 he issued last Oct. 27, the chairman of the Housing and Urban Development Coordinating Council (HUDCC) will head the task force and would have operational control, supervision and overall responsibility to ensure that objectives are accomplished. AP/Bullit Marquez, File
Rody focuses on Marawi rehabilitation
MANILA, Philippines — President Duterte has reorganized Task Force Bangon Marawi, shifting its focus from defending Marawi City to recovery, reconstruction and rehabilitation.
Under Administrative Order 9 he issued last Oct. 27, the chairman of the Housing and Urban Development Coordinating Council (HUDCC) will head the task force and would have operational control, supervision and overall responsibility to ensure that objectives are accomplished.
The secretary of the Department of National Defense, who previously served as task force chairman, together with the secretary of public works will serve as co-vice chairpersons.
The group's sub-committee on housing, which was formerly under the Office of the Cabinet Secretary, was also transferred to the HUDCC. This subgroup is "primarily responsible for the immediate rehabilitation and construction of temporary or permanent shelters, and the restoration of water, electricity and other public utilities."
Duterte also ordered the defense and interior secretaries to co-chair the subcommittee on security to restore and maintain peace and order and ensure the continuity of public services in the ruined city.
He declared Marawi, the country's prime Islamic city, as freed from the terrorist Maute and Abu Sayyaf groups last Oct. 17. The liberation came after terrorist leaders Omar Maute and Isnilon Hapilon were killed by soldiers.
More than 200,000 people have been displaced and at least 1,000 were killed after the terrorists seized Marawi on May 23. Of those killed, 165 were law enforcers.
Upon his arrival at the Davao International Airport on Tuesday night from his official trip in Japan, Duterte said Defense Secretary Delfin Lorenzana should be the one to oversee all the rehabilitation efforts.
He thumbed down several proposals for the creation of different committees, saying these will only drain government funds and ordered, instead, to have the process streamlined. – With Edith Regalado