NUJP blasts Panelo for accusing journalists of twisting sexual joke
October 28, 2017 | 3:44am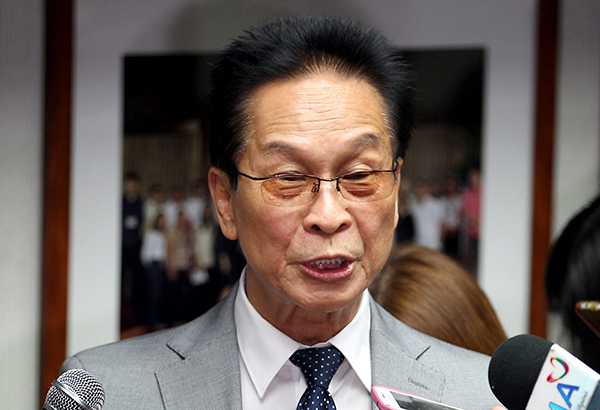 MANILA, Philippines — The National Union of Journalists of the Philippines on Friday slammed Chief Presidential Legal Counsel Salvador Panelo for cracking sexual jokes in a recent media interview and for accusing two female journalists of twisting his quip.
Panelo told Swiss National Public Radio and Television's Karin Wenger and freelance Filipino journalist Ana Santos that he was "better in bed" and claimed to have been told that he "f***s like an 18-year-old" when he was still a bachelor.
After receiving jeers, Panelo later said he was just interplaying words to make his interviewers laugh as he slammed both Wenger and Santos—who made public the details of the interview—for supposedly taking his joke "wrongly to suit your anti-administration sentiment."
Reacting to the Palace official's claims, the NUJP lambasted Panelo and described his accusations as "as deluded as his appreciation of his comic talents."
"It is bad enough that chief presidential legal counsel Salvador Panelo should blame the unwilling recipients of his — to put it very, very kindly — utterly tasteless humor for failing to discern what, to him anyway, passes for wit," the guild of working journalists said in a statement.
In an interview with ANC's Headstart this week, Panelo took the occasion to clarify his remarks and asserted that he did nothing wrong in making his jokes.
"It should be, 'I pack my clothes, P-A-C-K.' They spelled it incorrectly and apparently they didn't get the joke...When you pronounce 'pack' with an F, that's the joke," he said.
"I told them, 'I'm telling you this to make you laugh,' but apparently these writers are obviously anti-administration. They didn't write about the essence of the interview," he added.
But the NUJP did not buy Panelo's explanation and argued that even if the president's top lawyer indeed mispronounced his words, the "context" of his joke nonetheless sends sexual references.
"How then can he explain this in the context of his being 'better in bed'? Because he 'packs like an 18-year old'? How does that even begin to make sense?" the NUJP said.
"So, yes, Mr. Panelo, you are right in saying Ms. Wenger and Ms. Santos didn't get the joke. Neither do we," it added. "And we stand with our two colleagues in denouncing your crass display of lechery and misogyny."
Aside from Panelo, Presidential Communications Secretary Martin Andanar early this week was also criticized for saying that officials of the European Union who are critical of President Rodrigo Duterte just have too much sex.