International community vows aid for Marawi rehab
October 27, 2017 | 4:00pm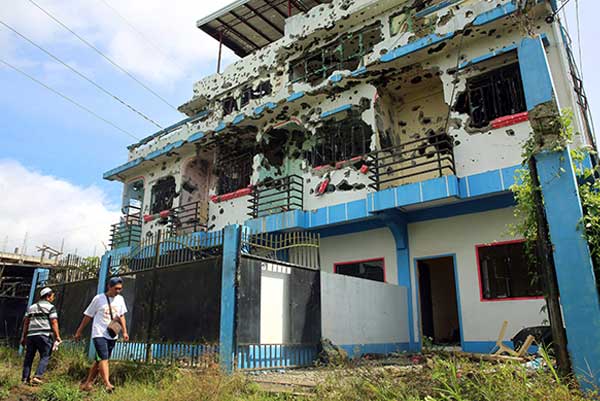 MANILA, Philippines — Aid has started pouring in from the international community, including countries and organizations regularly lambasted by President Duterte, for the task of rebuilding Marawi.
The military has dissolved its primary group spearheading tactical offensives against the Maute group to allow the rehabilitation and rebuilding of the war-torn city of Marawi, as the international community has begun sending aid and relief.
"Now that Joint Task Force Marawi, the mission of which has been accomplished, which is to liberate Marawi itself, (has been) dissolved, we are now going into full blown rehabilitation, reconstruction and rebuilding of Marawi and our long road to normalcy of the city," Armed Forces of the Philippines (AFP) spokesman Maj. Gen. Restituto Padilla said yesterday.
Padilla said the pullout of troops from Marawi signaled the start of the much-awaited rehabilitation of the war-torn Islamic City.
He said the dissolution of Joint Task Force Marawi would put in place Joint Task Force Ranao to kickstart the government's rehabilitation and rebuilding program.
Officials said the government has received assistance from Canada, China, Germany, Korea, India, Thailand, Singapore, United States Agency for International Development (USAID) and the ASEAN Coordinating Center for Humanitarian Assistance on Management for the early recovery and rehabilitation efforts in Marawi City and other affected areas.
Kristoffer James Purisima, deputy administrator of Office of Civil Defense (OCD), said the multi-agency created for Marawi has received additional pledges from Australia, Japan, the United States, European Union, Asian Development Bank, World Bank and United Nations Development Program.
"The details shall be provided soonest as the financial and resource management support group is firming up the details and commitments," Purisima said.
Government agencies such as the National Economic and Development Authority (NEDA), Department of Finance (DOF) and the Department of Budget and Management (DBM) are tasked to review every offer of aid to ensure the acceptance will be governed by the policy set by President Duterte, Purisima said.
Duterte has been vocal against Western countries and the EU criticizing his war against illegal drugs.
"We're studying this within the framework of the task force and under the finance and resource mobilization (group)," Purisima told a press briefing in Malacañang yesterday.
"The agreement among the agencies of the task force that any pledge or any aid that we are to receive or there are offer of donations, they will all pass through the task force," he said, referring to TF Ranao.
All agencies are mandated to refer to the task force any country or organization which goes to them in connection with helping Marawi.
At this point, the task force will "discuss whether to accept it," Purisima said.
"First of all, of course, the need and the kind of aid that will be given. And of course, the policy direction," he said.
"We understand that there are certain pronouncements made by the President regarding certain manners. Of course we're duty-bound to follow those policies but these are going to be evaluated in that support group."
Purisma said the office will release periodic reports, in the spirit of transparency, to let the public know how foreign donations are used for Marawi.
"We commit to our stakeholders, both private and public, that we will be transparent and accountable as to the donations we receive or the pledges we accept, and moving forward, the costs that we will incur in the rebuilding, rehabilitation and recovery of Marawi," he said.
Military operations have cost P5 billion and the government estimates it could be 10 times that much to rebuild Marawi.
Aside from claiming the lives of 920 militants, 165 troops and 47 civilians, according to government figures, thousands of buildings were destroyed, with entire districts turned into piles of rubble.
Bakwits
Task Force Ranao is headed Brig. Gen. Roseller Murillo, the commander of the Army's 1st Infantry Division.
Murillo will command three composite engineering battalions that will help the various government agencies in rebuilding Marawi.
To ensure the safety of returning residents, Padilla said the military is still in the process of clearing the city of booby traps and unexploded bombs.
"And until such time that our troops who are doing all of these efforts are confident that not a single unexploded bomb, ordnance or any IED is in the area will we declare it safe for return or the visit of residents of the city itself," Padilla said.
After Marawi was liberated on Monday, Padilla said the government is still accounting for all the people killed in the five months of fighting between government forces and the Islamic State militants.
"The task of gathering or locating cadavers is also part of that effort, so we are not finished yet," he said.
The government, along with local officials, started the cleanup operations of areas outside of what remained of the main battleground.
"So, if the roadways are cleared later on, it will be because Joint Task Force Ranao has opened up the inner battle areas, roadways for cleanup. But the buildings itself will remain to be a matter of clearing, subject of clearing of our troops," Padilla said.
Padilla appealed anew for more understanding from the residents who have been longing to return to their homes.
More than 350,000 people in and around Marawi were displaced because of the conflict.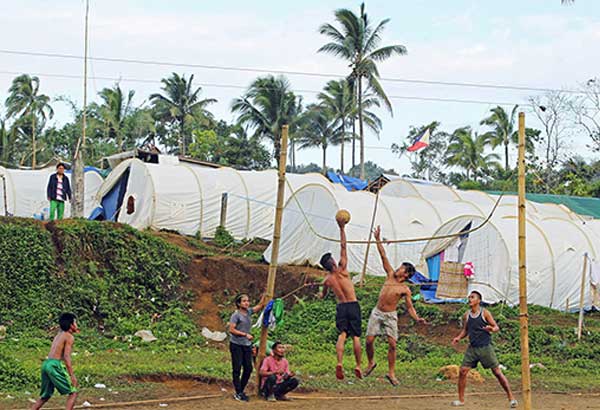 Evacuees from Marawi City play volleyball at an evacuation center in Saguiaran town in Lanao del Sur last Sunday. KRIZJOHN ROSALES
With the eastern half of Marawi almost totally destroyed and worries over bombs planted by the militants, authorities have said it could be months or even years before most people would be able to return.
"We don't know if our house is still there," said Jomalia Pindaton, a 29-year-old mother who had been living at an evacuation center in Balo-i town, some 20 kilometers from Marawi.
"It is difficult here. We don't have income and can only rely on relief," she said.
About 10,000 Marawi residents have been allowed to return so far, mostly those who lived near the Mindanao State University that was outside the battle zone, according to local officials.
About 33,000 others whose homes are in so-called "controlled areas" that were spared the worst of the war, are set to follow next week, regional social welfare chief Zorahayda Taha said.
Many of the displaced are living with relatives and friends, but tens of thousands without such support networks like Pindaton have been forced to live in makeshift evacuation centers.
Signaling how long it will take to rebuild Marawi, the government is building new low-cost housing for "bakwits," the local term for evacuees.
It has also launched cash-for-work schemes and given families a P200 daily cash allowance to help them out with groceries.
Pindaton's husband, a former construction worker, has been planting corn on government land in one of the cash-for-work schemes. But she said he would only be paid when the corn went to market, leaving them totally reliant on handouts.
Purisima said some 6,436 evacuees from nine barangays in Marawi City have started returning.
"To ensure that the returning (evacuees) are legitimate Marawi City residents, ID cards are being issued by their respective barangays based on available data," he said.
He added the local government of Marawi City is conducting the restoration of basic facilities and services. To date, the Lanao del Sur Electric Cooperative has restored power in more than 50 percent of the outlined barangays.
Purisima said the OCD has completed its damage and loss assessment of the 49 barangays of Marawi.
He said the OCD is now in the process of consolidating the findings and observations on the assessment.
For the remaining barangays in the main battle area, Purisima said the OCD is waiting for the military to wrap up its clearing operations.
Sen. Gregorio Honasan, chairman of Senate special committee on Marawi, said it will take the "entire nation" to rebuild the battle-scarred city.
Honasan also chided what he called "self-proclaimed experts" on the rehabilitation of Marawi City, saying they do not know anything about managing violence or helping those traumatized in armed conflicts.
"We need all hands to rebuild not only Marawi but the entire nation because of institutional damage. Less talk and partisanship, more affirmative action. Our children, the next generation of citizens and leaders, are watching and learning. Let us teach them by living example," Honasan said.
"Until you have been on both ends of a gun barrel, felt a bullet or shrapnel tear through your body, gone for days without food or water, held a wounded or dying comrade or child in your blood-soaked arms, you don't know anything," he said. – AFP, Paolo Romero