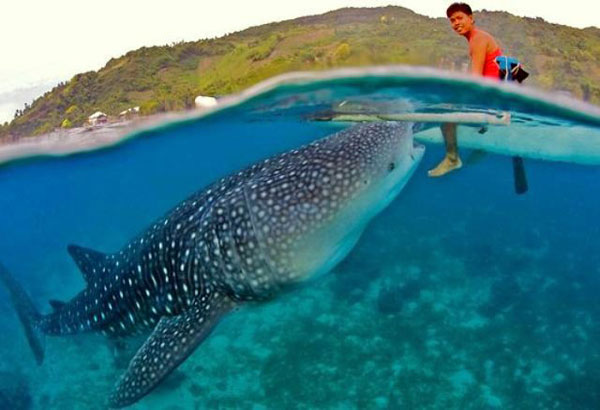 Whale sharks are covered since 1999 under Appendix 2, which refers to species that have unfavorable conservation status and require international agreements and commitments for conservation and management. Janey/Flickr, File
Phl to push migratory species protection in wildlife confab
(The Philippine Star) - October 22, 2017 - 4:00pm
MANILA, Philippines — The Department of Environment and Natural Resources will push for greater protection and conservation of migratory species, including the whale shark, in this week's wildlife conference.
Environment Secretary Roy Cimatu said the Philippine delegation to the 12th Meeting of the Conference of the Parties (COP) to the United Nations Convention on Migratory Species (CMS) would lobby for the inclusion of five migratory wildlife species – whale shark (Rhincodon typus), Christmas frigatebird (Fregata andrewsi), White-spotted wedgefish (Rhynchbatus australiae), Black Noddy (Anousminutus) and the Yellow Bunting (Emberiza sulphurata) – to its appendices.
The Philippines has been eyeing the inclusion of whale shark in Appendix 1, which refers to species in danger of extinction and require national conservation actions to ensure survival.
Whale sharks are covered since 1999 under Appendix 2, which refers to species that have unfavorable conservation status and require international agreements and commitments for conservation and management.
The CMS bans the commercial capture and use of species listed under Appendix 1 and requires parties to develop management strategies to protect species listed under Appendix 2 from overexploitation.
Cimatu said they are pursuing a global ban on whale shark hunting, noting that the "gentle giant" has boosted tourism in some provinces.
The whale shark, commonly known as butanding, attracts many tourists as it migrates to Legazpi City in Albay, Donsol town in Sorsogon and Oslob town in Cebu.
Earlier, the DENR said it wants to regulate ecotourism areas frequented by migratory species to ensure that natural migration patterns, habitats and populations are not negatively affected.
The Philippines will host the CMS event, the world's largest, from Oct. 23 to 28. More than 900 delegates from 124 member countries are expected to attend. CMS or Bonn Convention is an international environmental treaty that provides an expert legal framework in coordinating worldwide conservation measures for a wide range of endangered migratory animals.
Israel and Sri Lanka also vowed to work with the Philippines by submitting a proposal to include whale sharks under Appendix 1.
– With Pia Lee-Brago