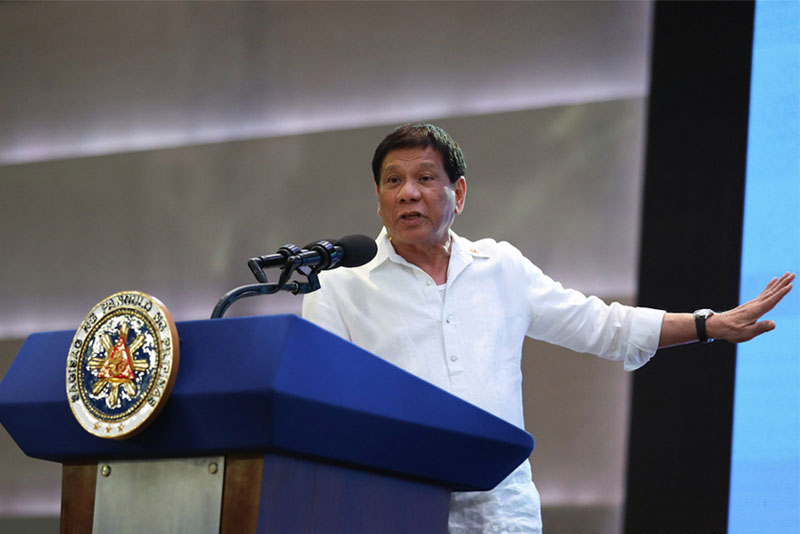 If the government will be in peril due to the efforts of the Left and his critics, President Duterte said he would not hesitate to declare a revolutionary government to quell destabilization moves against his administration. PPD/Robinson Niñal
Can Duterte declare a revolutionary government?
MANILA, Philippines — In a television interview in 2015, then Davao City Mayor Rodrigo Duterte first mentioned a plan to set up a revolutionary government if elected.
In the course of floating the idea, Duterte — not even a candidate at the time — indicated that he would padlock Congress and the judiciary through extraconstitutional means. He said he would establish a federal-parliamentary type of government that would devolve powers to the regions.
"You have to close everything. It is anti-democratic, but how do you change society?" he said.
READ: If elected, Duterte will set up revolutionary government
Fast forward to 2017, President Duterte has raised concerns of a looming dictatorship after threatening to establish a revolutionary government to quell a supposed conspiracy by communists, Liberals and other factions to destabilize his administration.
The military and Defense officials have said more than once that they have not monitored any destabilization plots. Duterte allies, including Justice Secretary Vitaliano Aguirre II, have, however, repeatedly brought up the existence of supposed plots.
READ: National Security Adviser Esperon dismisses destabilization talks
A lawyer who formally studied the constitution prior to the 1987 version, the 72–year-old Duterte noted that his hands would not be tied in case he declares a revolutionary government until the end of his term—unlike in declaring martial law, which would require congressional approval.
Once the revolutionary government is established, Duterte said, he would order the security forces to arrest all destabilizers and go on a full-scale war against communist rebels.
"I will clear the streets and I will declare all government positions vacant," Duterte remarked.
Chief Presidential Adviser Salvador Panelo, who incorrectly floated the idea in 2016 that the president could declare martial law to address the country's drug problem, has said declaring a revolutionary government is one of the president's options to protect the government.
"If there is any move that will bring down the government, then the Constitution directs him, instructs him...to do something about it," Panelo said in an Oct. 17, 2017 GMA News Online report.
Cory Aquino's revolutionary government
Interestingly, on both occasions where Duterte expressed his idea for a revolutionary government, he cited the precedent set by late President Corazon Aquino, who briefly exercised revolutionary powers as the supposed quickest route to democracy.
Soon after being the figurehead of the People Power uprising in 1986 that toppled the Marcos regime, President Aquino issued a proclamation implementing reforms in the government, including the adoption of a provisional charter as she junked the 1973 constitution.
She also shut down Congress and axed all elected officials, but ensured an "orderly transition" to a government under a new constitution that established checkpoints limiting future presidents from imposing martial law with the same ease as Marcos did.
Among Aquino's justifications for doing so was that "the new government was installed through a direct exercise of the power of the Filipino people assisted by units of the New Armed Forces of the Philippines" and that this "heroic action of the people was done in defiance of the provisions of the 1973 Constitution."
Her revolutionary government ended when a new constitution was approved and a new Congress was elected in 1987.
To prevent a repeat of a dictatorship, the 1987 Constitution limits presidents to a single six-year term.
Despite drawing jeers from his critics, Duterte early this week said that his threat to set up a revolutionary government was not intended to prolong his stay in power because he was not happy being president.
"Their claims that I would set up a revolutionary government because I would like to cling to power, son of, if possible I would have walked away. It's just dishonorable," he said.
His spokesperson, Ernesto Abella, meanwhile, said that the chief executive's pronouncement might happen as it was the leader's "alternative plan" should the alleged plots to oust him lead to "anarchy."
Illegal, unconstitutional but possible
Sought for comment, lawyer Tony La Viña, former dean of the Ateneo School of Government, said that while any president can declare a revolutionary government, doing so would be "illegal and unconstitutional."
La Viña also warned that the country would return to one-man rule if the military and the people back Duterte's revolutionary government.
"Congress can impeach him and remove him from office. The military and the whole bureaucracy can legally withdraw support for him — and, in fact, should do that," La Viña said in an interview.
"But if Congress, the military, the bureaucracy, and the people in fact support a revolutionary government, then that becomes our government and we will have one-man rule from then on," he added.
According to a global Pew Research Center survey, five in 10 Filipinos — half of the country — are still open to an autocratic form of government despite strong satisfaction with the way democracy works.
READ: Half of Filipinos favor autocratic rule, Pew poll says
Strong backing for military rule exists among the less educated in the Philippines at 47 percent, according to Pew.
Filipinos also favor direct democracy, a system in which citizens, not elected officials, vote directly on major national issues, Pew said.
A little less than seven in 10 Filipinos see direct democracy as good while only 29 percent deem it bad, it said.
Lack of protest, acquiescence
Asked what mechanisms would legitimize a hypothetical revolutionary government, La Viña said that can be done by "acquiescence" and a lack of protests against the move would be an indication of that.
"The Supreme Court can declare it so, if he has not abolished it. Eventually, [it would have to happen] through a plebiscite of a new constitution," he explained.
The leadership at the Commission on Elections, the government body tasked with holding polls and plebiscites, has recently been dogged by controversy. Last week, the House of Representatives voted to impeach Comelec chief Andres Bautista shortly after he announced his decision to resign at the end of this year.
The president will get to appoint a new Comelec chairperson, who would have a fixed term.
Many Filipinos continue to support Duterte, who easily won the race to Malacañang last year on a brutal law-and-order platform. He still enjoys overwhelming support in both chambers of Congress as does the government's war on drugs despite rising concerns on extrajudicial, or summary, killings.
But with his warning to set up a revolutionary government and his repeated threats to enforce martial law—members of the opposition, which is composed of different and unallied groups—fear that Duterte is moving to bring the country back into a dictatorship so he can implement his bloody drug war with more ease.
"He wants to further dismantle whatever little is left of the systems checks and balances provided by a rubberstamp Congress, a Supreme Court dominated by his and former Pres. Arroyo's appointees, and easily intimidated Constitutional bodies like the Office of the Ombudsman and Commission on Human Rights," Movement Against Tyranny, one of the opposition coalitions, said.
"The same old oligarchic interests will remain, with Duterte's family and friends as the favored cronies. The same old kowtowing to foreign interests. The same old corruption and criminality except cornered by Duterte clique, the Davao group and even the ascendant mafia in the illegal drug business," it also said as it compared the move to the rule of ousted dictator Ferdinand Marcos.
"Only a paranoid and insecure little man afraid of losing power will rationalize the need to impose a revolutionary government upon the people," Tindig Pilipinas, a separate opposition group, said in a statement.
Philstar.com has sought the comment of congressional leaders regarding Duterte's plan to found a revolutionary government but they have not responded as of this reporting.
For its part, the Armed Forces of the Philippines—which supported Marcos until the last days of his dictatorial rule—declined to comment on the matter saying it is a hypothetical situation.
According to the Articles of War that govern the Armed Forces of the Philippines, however, military personnel are sworn to "support and defend the Constitution of the Philippines" and "obey the orders of the President of the Philippines."
A law professor who spoke on condition of anonymity, said that if Congress and the courts are shut down and the military supports the new order, then that would be the de facto government.