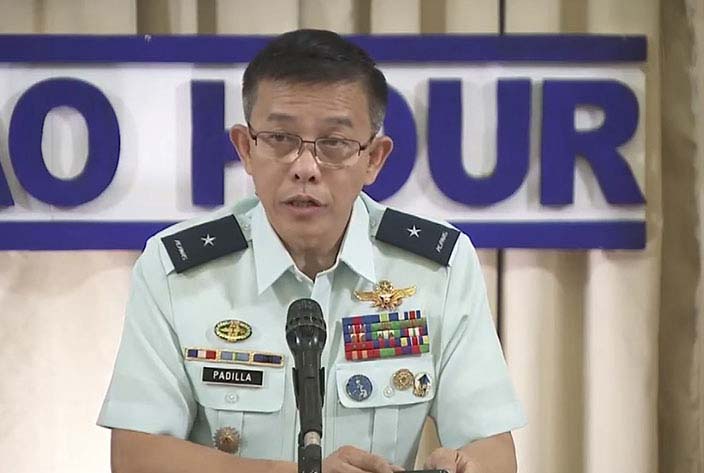 AFP Spokesperson Maj. Gen. Restituto Padilla Jr. said that any destabilization plot against the government will not come from the ranks of the Armed Forces of the Philippines. PCOO/File photo
Destabilization plots won't come from military — AFP spokesman
(philstar.com) - October 6, 2017 - 9:37am
MANILA, Philippines — Any destabilization plot against the government will not come from the ranks of the Armed Forces of the Philippines, its spokesperson said a day after President Rodrigo Duterte told the military to kick him out of Malacañang if he is found guilty of corruption.
"At kung ito'y ili-link natin sa mga usapang destabilisasyon, 'yung usapan na 'yan na naririnig natin, hindi ho manggagaling sa hanay ng Armed Forces 'yan," AFP Spokesperson Maj. Gen. Restituto Padilla Jr. said in a press conference on Friday.
"The Armed Forces, as you have seen in these past few years and recent months, has exhibited its very constitutionally-based activities or actions," he added.
Padilla then thanked Duterte—who has been visiting military and police camps in the country to promise them higher pay and better armaments—for his announcement last Thursday to increase the salary of soldiers.
"Because we know that... we have a commander-in-chief who has malasakit for every soldier and is doing his end of the bargain of taking care of every uniformed men who are doing their job," Padilla said.
Duterte recently accused the Liberal Party of conspiring with the Communist Party of the Philippines to oust him from office, and vowed to pursue the impeachment of Chief Justice Maria Lourdes Sereno and Ombudsman Conchita Carpio-Morales.
READ: 'Yellow conspiracy' out to oust me – Rody
The president's threat came days after the Office of the Ombudsman announced that it would investigate Duterte's bank accounts, which allegedly contain millions of pesos that he did not declare in his statement of assets, liabilities and net worth.
Supporting the conspiracy angle, the Office of the Solicitor General has vowed to exhaust all legal remedies to put Duterte's critics behind bars.
READ: Calida: People from different colors, not just yellows, plotting to oust Duterte
Asked if the AFP has monitored such movements from LP and CPP, Padilla said the military is still watching over the "security landscape," adding that Duterte has more access to information.
While it is not the job of security forces to track political oppositions, Padilla also said the military is monitoring "armed elements" like leftist fighters and other rebel groups in Mindanao that might be planning to overthrow Duterte.
"Most of our agencies submit to the president information. And we submit to him as well what only comes from our part," the military spokesman said.
"'Yung sa side ng politics, may iba pong nagmo-monitor. At sa amin pong side, hindi po namin nakukuha ito kadalasan," he added.
"The objective of the NPA (New People's Army) is actually to take hold of the whole Philippines," he also said, referring to the CPP's armed-wing.
Both LP senators and Reds recently denied conspiring to oust Duterte.
READ: LP senators, Reds deny conspiracy to oust Duterte
According to them, Duterte had been accusing his critics of destabilization attempts or plotting to oust him every time he needed to divert public attention from scandals hounding his administration.
On Thursday, Defense Secretary Delfin Lorenzana and AFP Public Affairs Office chief Col. Edgard Arevalo said they have not monitored any destabilization plans.