Half of Filipinos favor autocratic rule, Pew poll says
October 18, 2017 | 12:15pm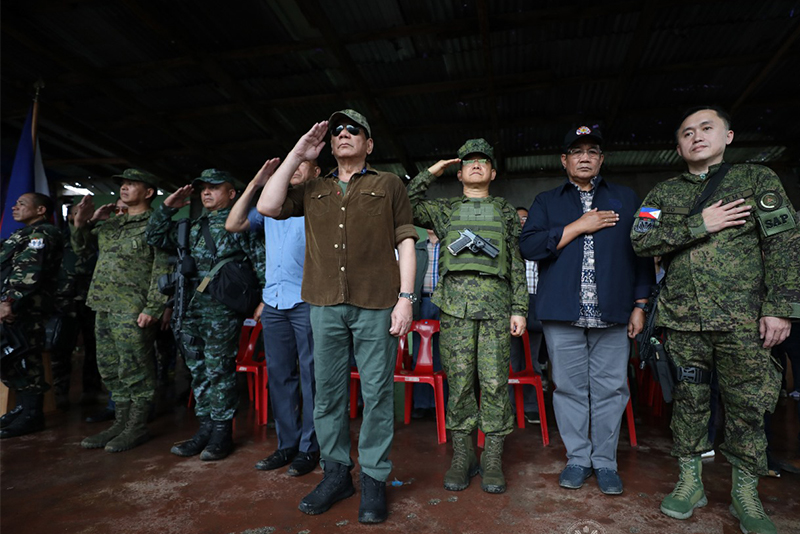 MANILA, Philippines (Update 2 9:24 p.m.) — Despite strong satisfaction with the way democracy is working, five in 10 Filipinos are still open to an autocratic form of government, a global Pew Research Center survey found.
According to Pew Research, 50 percent of Filipinos favor autocracy, bucking a global trend in which only around three in 10 people support a system with a strong leader who can make decisions without interference from parliament or the courts.
Almost half of the Filipinos polled think that rule by a strong leader will be bad, and of this figure 21 percent opine that such as system will be "very bad."
"In Asia, 55% of Indians, 52% of Indonesians and 50% of Filipinos favor autocracy. Such support is particularly intense in India, where 27% very strongly back a strong leader," Pew said in a report released this week.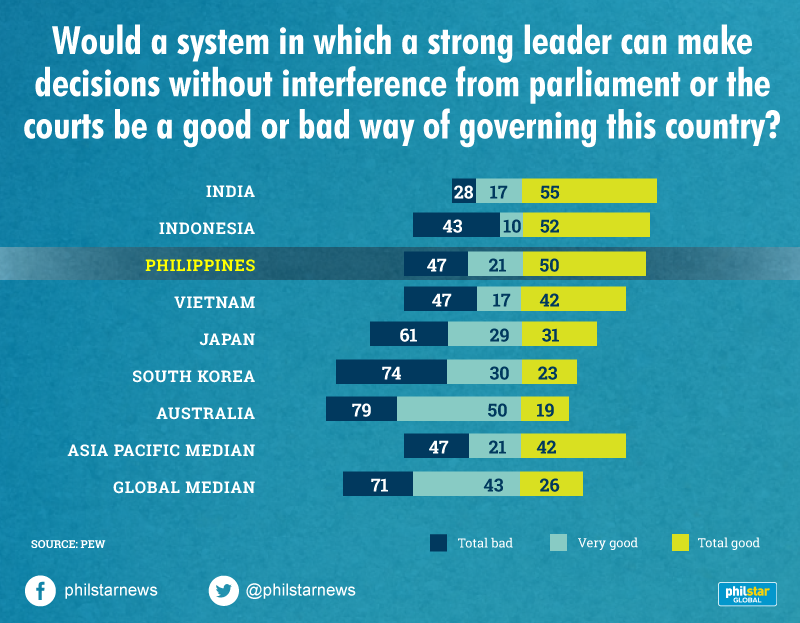 One factor that could determine support for military government is education, according to Pew.
Although lower than the support for autocracy, 47 percent among the less educated in the Philippines think that a military government will be good for the country, in contrast to around 56 percent who say that a system run by generals will be bad. In contrast, 37 percent of those surveyed with more education support an administration run by generals.
"Particularly strong backing for military rule also exists among the less educated in Vietnam (76%), Nigeria (57%), Kenya (49%) and the Philippines (47%)," Pew said.
Mindanao, the second largest island in the country home to around 22 million Filipinos, is currently under martial law as security forces continue to battle a small band of Islamic State-inspired militants still occupying a small area of Marawi City which has been under siege since May.
President Rodrigo Duterte said martial law is needed to completely quash the threat posed by Islamist militants who tried to establish a local province of ISIS in the region. Critics, however, contended that military rule would result in an erosion of civil liberties and commission of human rights violations.
Views on technocracy, democracy
Countries in Asia Pacific, including the Philippines, also see the merit of a government ruled by experts or technocracy, according to the polling agency.
Sixty-two percent of Filipinos think that a government run by experts will be good while only 34 percent say otherwise.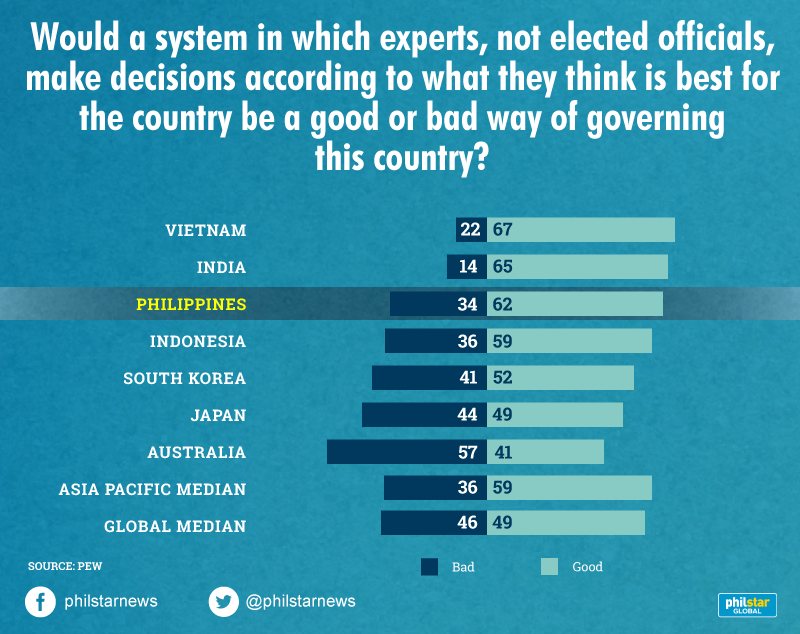 Despite these tendencies, Filipinos polled are still found to be supportive of representative democracy, with 82 percent of those surveyed saying that such a government system is good while only 16 percent said it is bad.
This is higher by two percentage points than the global median for support for representative democracy, Pew said.
According to survey firm, representative democracy refers to a system of governance in which representatives elected by citizens decide what becomes law and is the mode of government in one form or another in most of the 38 countries surveyed.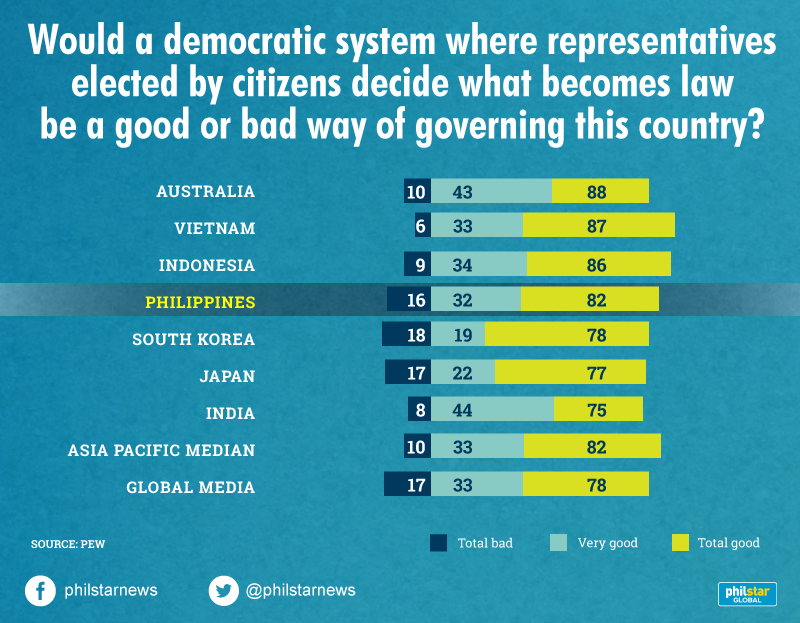 Filipinos also favor direct democracy, a system in which citizens, not elected officials, vote directly on major national issues, Pew said.
A little less than seven in 10 Filipinos see direct democracy as good while only 29 percent deem it bad, it said.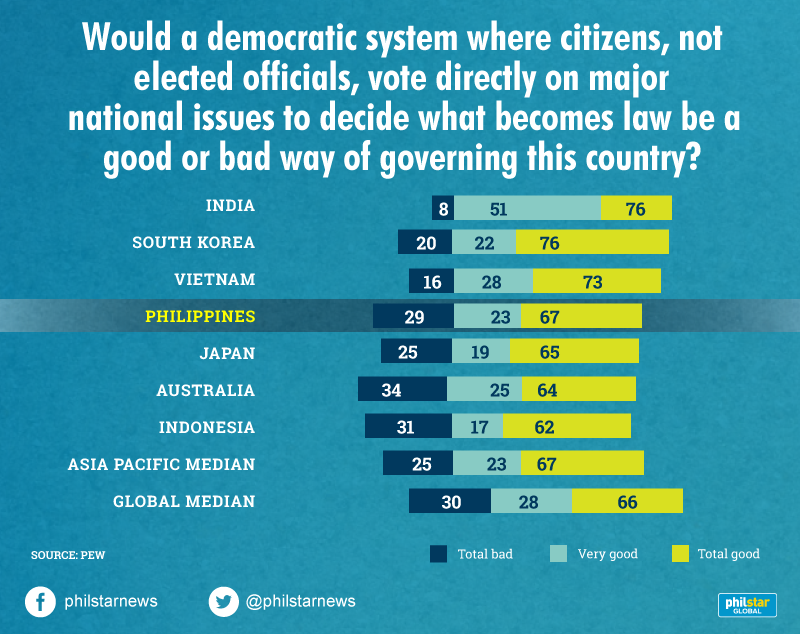 Filipinos who participated in the survey are also generally satisfied with the way democracy is working in the country.
Seven in 10 Filipinos say that they are satisfied with the country's democracy while only 31 percent say otherwise.
"Overall, people in the Asia-Pacific region are the most happy with their democracies. At least half in five of the six Asian nations where this question was asked express satisfaction," Pew said.
In terms of trust in the government, 36 percent of those polled have a lot of trust in the government while 44 percent say they somewhat trust the administration.
According to Pew, support for the party in power and the country's economic growth are some of the important drivers of its people's trust and satisfaction with its government.
"Publics that have experienced a higher level of economic growth over the past five years tend to have more confidence in their national government to do the right thing for their country," it said.
The Pew Research Center was conducted in 38 countries with 41,943 respondents from February 16 to May 8 this year.