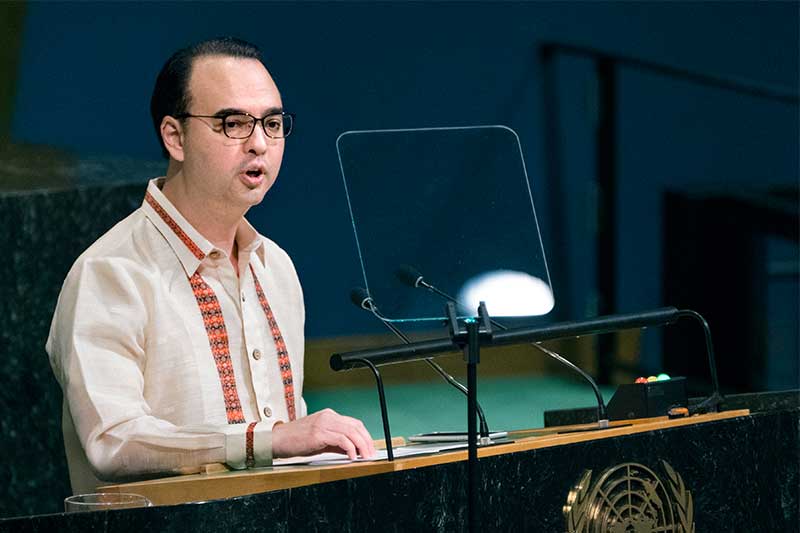 Philippine Foreign Affairs Secretary Alan Peter Cayetano addresses the United Nations General Assembly, Saturday, Sept. 23, 2017, at U.N. headquarters. AP/Craig Ruttle
Cayetano defends bloggers in UN: How do we get our message out?
MANILA, Philippines — The Philippines' top diplomat on Thursday justified the presence of bloggers during his trip to the United States for the past month.
Foreign Affairs Secretary Alan Peter Cayetano delivered a speech on behalf of President Rodrigo Duterte before the 32nd session of the United Nations General Assembly in New York last September 23.
"It was a major policy speech. Kung wala 'yung bloggers, paano 'yung coverage namin?" Cayetano told reporters at the sidelines of the ASEAN High Level Forum in Pasay City.
"I'm saying nga whether wala kayong budget or wala kaming budget for everything, the reality is 'pag oposisyon ang pumunta doon you see all the TV cameras... So anong laban namin? How do we get our message out? It's through you guys and through the bloggers," he added.
Cayetano also said that the Philippine government is facing criticism from the international community.
"Sobra ang paninira sa atin around the world and then kulang na kulang 'yung coverage," he said.
Despite Cayetano's claims that there was a lack of media coverage for his participation in the UN assembly, his speech was streamed live. The full transcript of his speech was also uploaded online, making it accessible for Philippine media.
Philstar.com, for example, released several stories regarding Cayetano's speech alone.
READ:
Cayetano: Drug war 'necessary instrument' for Filipino human rights
AFP will regain Marawi, Cayetano assures UN
Cayetano hikes figure of drug addicts to 4-7 million
Things Cayetano said at 32nd UN general assembly
Mocha, Thinking Pinoy
The Foreign Affairs chief also explained why bloggers Mocha Uson and RJ "Thinking Pinoy" Nieto were also present in New York.
"Asec. Mocha is not only a blogger. She's assistant secretary of PCOO so that's the real story," Cayetano said.
Nieto, on the other hand, is a consultant for the DFA Office of Migrant Workers' Affairs.
"He was part of the DFA and actually napansin ko when he blogs about it, mas marami rin sumusulat about it," the secretary said.
Cayetano revealed that many bloggers had offered to help him, including Sass Sasot, who reportedly spent her own money to attend a forum with OFWs in Geneva, Switzerland last May.
The secretary said that he does not see anything wrong with the DFA or with other top officials of the government to engage with bloggers.
"We're not saying that everything they say is gospel truth but it's important for this government, which is sometimes misunderstood, to have our own mechanisms of direct conversation," Cayetano said.
RELATED: 'Thinking Pinoy' blogger asks DFA to end consultancy contract