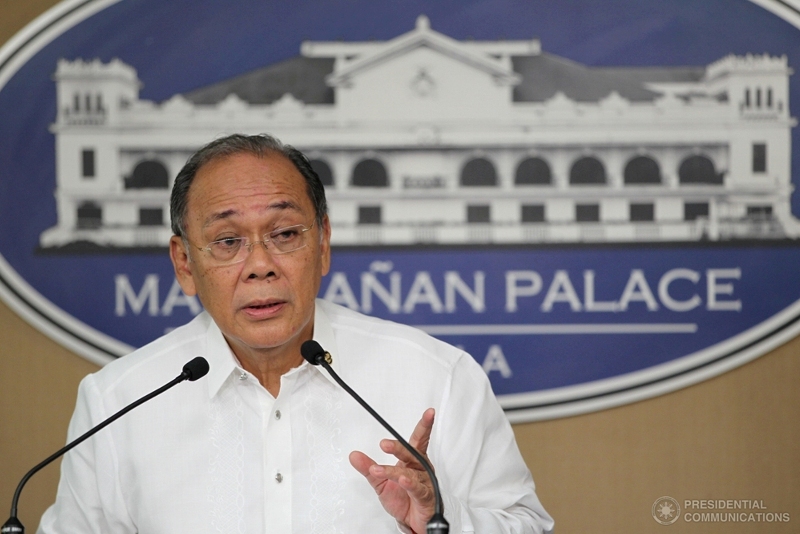 President Rodrigo Duterte's remarks asking European Union ambassadors to leave in 24 hours was an expression of outrage over the perceived interference of some in the country's internal affairs, according to presidential spokesman Ernesto Abella. Presidential Photo/King Rodriguez, File
Palace rushes to explain as Duterte mistakenly aims ire at EU
MANILA, Philippines (First published at 8:43 p.m. on Oct. 12) — Malacañang on Thursday scrambled to clarify President Rodrigo Duterte's warning to European Union ambassadors to leave the country in 24 hours, saying that the presidential remarks were directed at a statement of a group of parliamentarians who, the Palace admits, did not represent the bloc's mission in Manila.
According to presidential spokesperson Ernesto Abella, the president was reacting to the seven-member delegation of the International Delegates of the Progressive Alliance, which the bloc clarified was not an EU mission as "falsely reported" in the media.
READ: Duterte warns EU ambassadors: 'You leave my country in 24 hours'
In the statement released just after Duterte's threats, Abella admitted that the delegates were not an EU mission and emphasized that the parliamentarian's statement "demean[s] our status as a sovereign nation."
"The president's expression of outrage is in reaction to statements by a 7-member delegation of the International Delegates of the Progressive Alliance which has falsely portrayed itself as an EU mission," Abella said.
"This delegation's irresponsible statements protesting the alleged killings under the Duterte administration demean our status as a sovereign nation," he added.
READ: Duterte dares groups, countries to remove Philippines from UN
Abella, who in the past also clarified controversial statements by Duterte, said that the chief executive only wanted "undue interferences in our domestic affairs" to stop to preserve the integrity and dignity of the country as a sovereign nation.
Duterte's spokesperson said that the president's challenge for the envoys to leave should be understood in this context.
On Monday, the group of parliamentarians and civil society workers warned Manila that it might lose its preferential trade deal that allowed 6,200 of its products to enter the EU duty free if it would fail to stop drug-related killings and the political persecution of critics.
The EU said in a statement that it was not part of this organization nor involved the planning of the visit.
The Delegation of the European Union in the Philippines nor the European Union institutions in Brussels did not also have anything to do with that mission, the statement added.
"The statements made by the Progressive Alliance during its visit to the Philippines were made solely on behalf of the Progressive Alliance and do not represent the position of the European Union," it said.
The EU gave assurance that its delegation continued to "operate and function normally" and was working "constructively and productive with the Philippines for the benefit of the population."
The bloc also emphasized the gamut of areas where the EU and the Philippines had a close partnership.
"The cooperation covers a very wide range of subjects, including trade, where this year the Philippines made extraordinary progress on its exports to the EU," it said.