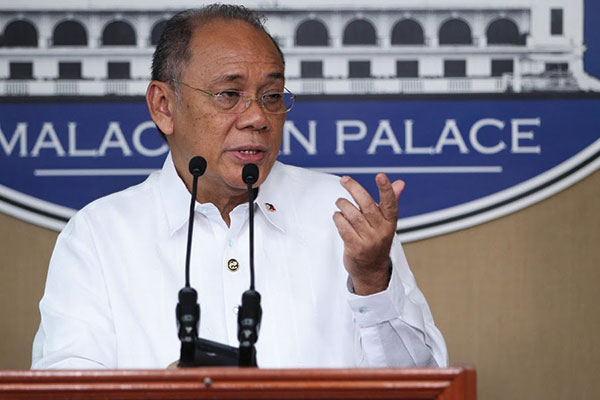 "We hope the church exercises due diligence as there are drug protectors, kidnappers, kotong and ninja cops who want to destroy the campaign against illegal drugs," Abella said in a statement yesterday. Presidential Photographers Division/Ace Morandante/Released
Palace cautions Church in backing cops
MANILA, Philippines — While the Palace welcomes the efforts of the Catholic Church, Presidential spokesman Ernesto Abella has urged religious officials to exercise due diligence in helping rogue policemen mend their ways.
"We hope the church exercises due diligence as there are drug protectors, kidnappers, kotong and ninja cops who want to destroy the campaign against illegal drugs," Abella said in a statement yesterday.
Casting doubt on the true intent of some police officers who want to turn witnesses, Armed Forces of the Philippines spokesman Gen. Restituto Padilla urged members of the Church to be discerning in helping certain individuals.
"It could be possible that not all those who seek the help of the Church may not be who they say they are. Maybe some of them just want to use the Church so they can escape and go back to their old ways," Padilla said.
Since priests are generally true to their calling, Padilla said some are not as he cited the case of a parish priest in Marikina City who was accused of child abuse.
The Philippine National Police (PNP) is willing to hear the statements of officers who allegedly want to confess their involvement in extrajudicial killings, according to PNP chief Director General Ronald dela Rosa.
"We are ready to listen. Maybe a lot of things have been happening on the ground," Dela Rosa in an interview over dzBB.
He was referring to the government's war against drugs, wherein at least 3,900 drug suspects have been killed in police operations.
Dela Rosa said they want the truth to come out about members of the police force involved in summary executions of suspected drug offenders and other criminals.
He vowed to address legitimate concerns of these supposed contrite police officers.
"If they have problems, then the PNP is ready to help them," he said.
Several policemen tagged in extrajudicial killings are reportedly seeking protection from the Church.
Dela Rosa had dared the Catholic Bishops' Conference of the Philippines (CBCP) to produce the police officers who are allegedly willing to reveal their participation in the killings.
"I don't know what's their basis but I hope they won't do a fishing expedition. If it's true, then present these people before the Senate," he said.
Dela Rosa said he did not mind if the PNP would be put in a bad light for long as the allegations are based on facts.
DILG's help sought
Local government officials have been urged to contribute to the war against illegal drugs by implementing community-based rehabilitation programs.
Department of the Interior and Local Government officer-in-charge Catalino Cuy said local chief executives must assist low- and mid-risk drug surrenderees who do not need to undergo the standard six months to one year rehabilitation treatment.
Cuy said personnel of the anti-drug abuse councils should assess drug surrenderees to determine their risks and morbidities.
Republic Act 7160 or the Local Government Code of 1991 requires local government units to adopt measures toward the prevention and eradication of drug abuse, he said.
Cuy lauded the contribution of the Quezon City government to the anti-drug campaign, wherein more than 500 former drug dependents have been rehabilitated.
The government said there are at least 1.2 million drug surrenderers as of last month.