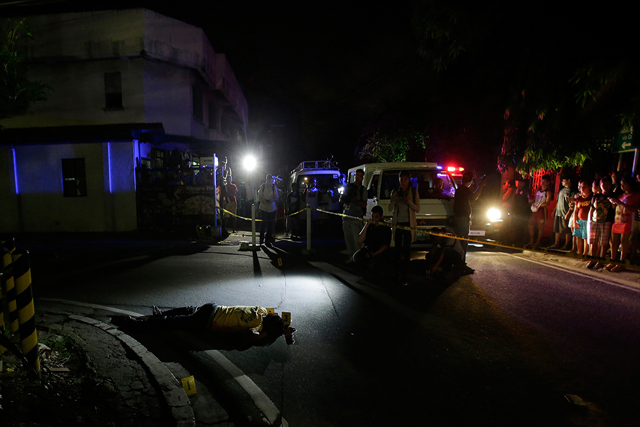 Ninety-two percent of Fiilipinos think it is vital that authorities capture drug suspects alive. Only 11 percent do not mind if drug personalities are killed in police operations. AP/Aaron Favila, File
SWS: Vast majority of Filipinos think drug suspects should be captured alive
(The Philippine Star) - October 5, 2017 - 9:21am
MANILA, Philippines — Nine out of 10 Filipinos believe it is important that drug personalities should be captured alive amid the government's intensified crackdown against illegal drugs.
Ninety-two percent think it is vital that authorities capture drug suspects alive, with 68 percent saying "very important" and 22 percent saying "somewhat important."
Although the percentage remains high this quarter, it is lower compared to 92 percent in March 2017 and 94 percent in both the September and December 2016 surveys.
Only 11 percent do not mind if drug suspects are killed in police operations.
President Rodrigo Duterte's administration has been criticized for its bloody drug war.
According to the government's #RealNumbersPH campaign's release as of August 29, there were 3,811 drug personalities who died in anti-drug operations since July 1, 2016.
However, human rights groups estimate a higher death toll, with more than 12,000 individuals killed in the course of the administration's anti-narcotics campaign.
READ: SWS: Majority of Filipinos think 'nanlaban' victims didn't really fight back
The same survey revealed that seven out of 10 Filipinos are worried they might be victims of extrajudicial killings.
Seventy three percent of Filipinos are anxious that they, or anyone they know, might become EJK victims, with 41 percent saying they are "very worried" and 32 percent saying they are "somewhat worried."
Only 13 percent and 14 percent answered "not too worried" and "not too worried" to the question: How worried are you that you or anyone you know will be a victim of extrajudicial killing or EJK?
Filipinos in all areas are worried about getting victimized by EJK, with the highest proportion coming from Visayas (77 percent), followed by Mindanao (75 percent), Metro Manila (73 percent) and Luzon (70 percent).
READ: SWS: 60% believe only poor killed in drug war
Moreover, 63 percent of Filipinos think that the administration is serious in solving the EJK problem, with 33 percent answering "very serious" and 30 percent answering "somewhat serious."
Thirty percent were undecided while 14 percent did not find administration's efforts to solve the killings serious.
A total of 1,200 adults—300 each in Metro Manila, Luzon, Visayas and Mindanao—were surveyed using face-to-face interviews in the study that was conducted from June 23 to 26.
The survey had sampling error margins of ±3% for national percentages and ±6% each for Metro Manila, Luzon, Visayas and Mindanao.
SWS reiterated the surveys on the administration's campaign against illegal drugs and on EJKs are non-commissioned.