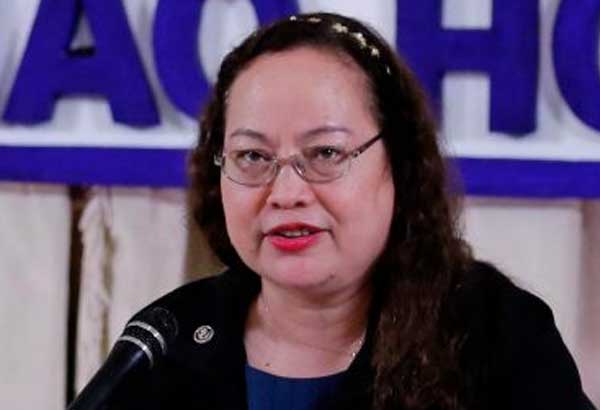 Bypassed twice, Ubial tried to justify her continued stay at the helm of the DOH before the CA committee on health yesterday. But this was met with even more questions, both from her critics and the members of the CA. PCOO/Released, File
Ubial to CA: Judge me by track record
Marvin Sy
(The Philippine Star) - October 3, 2017 - 4:00pm
MANILA, Philippines — Facing the Commission on Appointments (CA) for the second time yesterday, Health Secretary Paulyn Ubial appealed to members of the powerful body to judge her not on what her detractors are saying about her, but on what she has done as head of the Department of Health (DOH).
Bypassed twice, Ubial tried to justify her continued stay at the helm of the DOH before the CA committee on health yesterday. But this was met with even more questions, both from her critics and the members of the CA.
Ubial failed to secure her confirmation yesterday and would have to wait another week before a decision is made regarding her fate.
Ubial stressed that she never charged her patients for her professional fee because she did not believe in profiting from the misery of others.
Ubial said that she has always believed in following the letter of the law and not cutting any corners, which she said may be why she has earned a lot of enemies. She noted that no case has been filed against her before the Office of the Ombudsman or the Civil Service Commission in all her years at the DOH.
She stressed that if she was incompetent as alleged by her critics, she would not have been able to achieve so much in all of the offices that she handled over the years.
Ubial said she is not afraid of hard work and getting her hands dirty, which she has proven by going to disaster-hit areas such as Tacloban and Marawi City.
Ubial also denied that the DOH sacked 7,000 nurses from the agency's rural health programs. On the contrary, the DOH will hire 7,000 nurses for its health facilities and programs.
Earlier, the DOH said the Nurses Deployment Program (NDP) reduced the number of hired nurses by 6,970 this year, but those already hired will not lose their jobs.
The DOH clarified that the "nature of such hiring is on a contractual basis, not a permanent one." It also explained that the proposed 2017 budget for the program raised salaries and the adjustments resulted in fewer hires.
CA secretary Hector Villarcorta reported that Surigao del Norte Rep. Robert Ace Barbers and ACTS OFW party-list Rep. Aniceto John Bertiz III have withdrawn their opposition to Ubial's confirmation.
But Ubial's confirmation is still being opposed by Kabayan party-list Rep. Harry Roque, lawyer Restituto Mendoza and hospital owner Potenciano Malvar.
The CA also also received a position paper from former health secretary Janette Garin regarding the implementation of school-based dengue immunization program, which led to a conflict between her and Ubial.
Ubial was also confronted by Senate Majority Leader Vicente Sotto III regarding allegations that she recorded a significant number of foreign and domestic trips in her short period in office and that in some instances, she brought along members of her family.
According to Ubial, all her travels were by the book as these were authorized and part of her functions as secretary of health.
She pointed out that half of her foreign trips were paid for by international agencies who invited her while the rest were paid for by the government.
Unlike her predecessor, Ubial said that she always traveled economy class and stayed in budget hotels as directed by President Duterte.
Ubial also assured Sotto that she has no plans of pushing through with her previous plan of distributing condoms to high school students.
Sen. Gregorio Honasan suspended the consideration of Ubial's confirmation after several of the CA members sought to ask more questions in the next hearing.
Congress is going on a one-month break starting Oct. 14, so if Ubial is not confirmed by that time, she will be considered bypassed for the third time.
Under the rules of the CA, a nominee bypassed three times would have to be subjected to a vote on whether they would be confirmed or rejected.
Last week, Senate Minority Leader Franklin Drilon said that an agreement was reached among members of the CA that the appointments of the two remaining Cabinet officials, Ubial and Environment Secretary Roy Cimatu, would be acted upon before Oct. 14.
Fishers group opposes DENR chief
A fishers group is also objecting to the appointment of Cimatu.
The Pambansang Lakas ng Kilusang Mamamalakaya ng Pilipinas (Pamalakaya) submitted to the CA a position paper objecting to Cimatu's appointment because of his pronouncement to continue reclamation projects that will turn fishing hubs and communal waters into commercial business districts (CBDs) and other projects that "only benefit private interest while leaving the fisherfolk and other coastal settlers homeless."
Pamalakaya chairman Fernando Hicap warned that reclamation projects entail socioeconomic cost such as ecosystem imbalance and reduction of marine productivity. Over the years, reclamation projects have been proven to cause "destruction to marine ecosystems" like seabed, corals and mangrove areas.
"With more than 100 reclamation projects covering almost 40,000 hectares of fishing waters approved throughout the archipelago, millions of fisherfolk and coastal settlers are under threat of widespread community displacement in exchange for eco-tourism hub, CBDs and even government projects that only benefit the private sector," Pamalakaya said.
"The retention of Cimatu at the environment department would speed up the issuance of environmental compliance certificates to reclamation projects. Any reclamation project needs to acquire ECC from the Department of Environment and Natural Resources to proceed." – With Ding Cervantes, Sheila Crisostomo