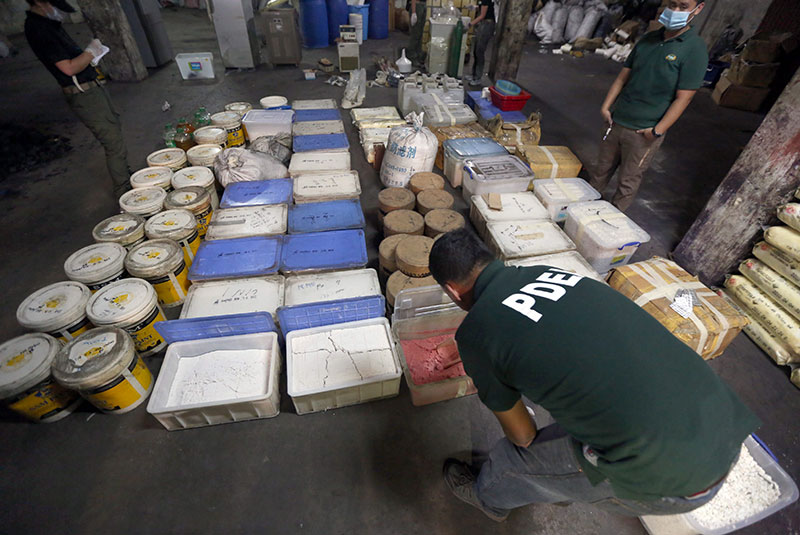 PDEA agents inspect raw materials and equipment for making shabu that were found in a Quezon City warehouse. Boy Santos, file
PDEA names triads behind shabu supply in Philippines
BAGUIO CITY, Philippines — Three of the most powerful triads are the country's top suppliers of shabu, the Philippine Drug Enforcement Agency said.
PDEA said these are the United Bamboo Gang (Bamboo Triad), 14K Triad or Hong Kong Triad, and Sun Yee On Triad.
These triads, who have their roots in dialect groups, trade guilds or political movements, are now responsible for much of the world's drug trafficking and vice establishments, Director Derrick Carreon, PDEA spokesperson, said, quoting PDEA Director General Aaron Aquino.
Aquino said the Taiwan-based Bamboo Triad was formed in the 1950s and its "members are engaged in almost every illegal activity imaginable, from prostitution, gambling, extortion to gunrunning, human trafficking and illegal drug smuggling on a worldwide scale."
The triad operates in the US, Canada, Britain, France and Australia, as well as virtually every country in Asia, including the Philippines.
PDEA said the 14K Triad was reportedly founded in Guangzhou, China in 1945 as an anti-communist task force. Four years later, Aquino said, the 14K Triad moved to Hong Kong and now exerts considerable influence over West Kowloon, Yuen Long and Kwun Tong. The 14K is engaged in large-scale drug trafficking around the world.
Sun Yee On Triad reportedly started in Hong Kong in 1919 but is now based in mainland China and Macau. It has more than 55,000 members worldwide. Sun Yee On Triad is said to be the most organized and wealthiest triad society.
The 14K and Sun Yee On Triads are archrivals with a propensity for violence, the PDEA claimed.
It also said both groups supply Mexico's Sinaloa Drug Cartel — a dangerous and powerful international drug trafficking organization based in Mexico City — with raw materials needed to manufacture shabu, as demand skyrockets.
Ties between these triads and Sinaloa cartel were outlined in a report by the Mexican Attorney General's Office in 2013, PDEA said.
Sinaloa in the Philippines
PDEA caught Horacio Herrera Hernandez, a high-ranking member of the Sinaloa Drug Cartel, in a buy-bust operation in front of a restaurant along Makati Avenue, Barangay Poblacion, Makati City on January 11, 2015.
The agency also found the Sinaloa Drug Cartel's connection in the country when PDEA and police seized P420 million worth of shabu in a Christmas Day raid in 2013 at a game fowl ranch in Lipa City, Batangas.
The ranch, Aquino added, was leased by Mexican nationals, who are alleged members of the drug cartel.
On January 6 and 13, 2012, three clandestine shabu laboratories were dismantled in Ayala Alabang Village, Muntinlupa City.
Unfinished shabu and controlled precursors and essential chemicals (CPECs) used in producing shabu worth P53 million were seized. Government intelligence reports indicate the participation of 14K Triad in the dismantled shabu laboratories based on various financial documents such as money transfer receipts, bank accounts, deposit slips to various banks and telegraph transfer receipts to Mexico recovered in the operation.
How triads bring drugs into the Philippines
The three transnational drug syndicates can ship up to three tons of shabu into the country either through shipside smuggling in the high seas, or airports and seaports, PDEA said.
"In shipside smuggling, these DTOs (drug trafficking organizations) cook their shabu in the high seas, dumpe their contraband overboard and retrieve them afterwards through nets as evidenced by the discovery of a floating shabu laboratory off the coast of Zambales on July 12, 2016. To recall, two tons of cocaine bricks were reportedly thrown overboard into the waters of Eastern Samar by a Chinese vessel in 2009," Aquino said.
The triads also deliver illegal drugs to nearby coastal areas and bury them to be recovered by their local contacts, Aquino said, citing 180 kg of shabu worth P900 million that were unearthed in Barangay Culao, Claveria, Cagayan on July 3, 2016.
According to PDEA, the Chinese triads found the Philippines a feasible market and transshipment point for shabu because of the country's vulnerability, particularly its porous borders and vast coastlines, a factor in the undetected movement of illegal drugs through shipment.
"These three drug triads are making the Philippines their playground. They are resorting to drug smuggling, either finished product or raw materials, and cook shabu in high seas because of the dismantling of several major shabu laboratories offshore lately," the PDEA chief said.
The Ninoy Aquino International Airport Inter-Agency Drug Interdiction Task Group (NAIA-IADITG), which is led by PDEA, is on alert on its efforts to intercept the trafficking and transit of illegal drugs in the country's major airports.
While trying to curb drug smuggling through the ports, PDEA has decided to establish seaport interdiction units in its regional offices and enhance cooperation with the Philippine Navy and Philippine Coast Guard to seal off Philippine waters from illegal drugs.