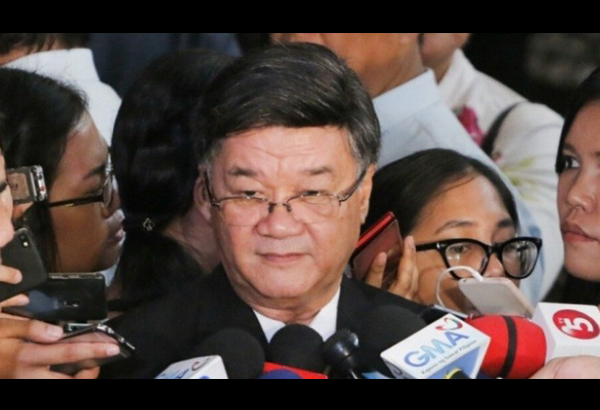 Justice chief Vitaliano Aguirre II and PAO chief Persida Acosta lauded the newly formed Citizen National Guard that vows to fight "enemies of the state" including "yellowtards." PhilStar.com/Efigenio Toledo IV
Aguirre, Acosta laud group that will fight "enemies of the state"
(Philstar.com) - October 2, 2017 - 4:00pm
MANILA, Philippines—Two top Justice officials have signified their support to a newly formed group, Citizen National Guard, that seeks to battle "yellowtards" among other "enemies of the state."
Justice Secretary Vitaliano Aguirre II and Public Attorney's Office chief Persida Acosta have attended the launch of Citizen National Guard that seeks to protect the government from perceived enemies of the state that are:
ISIS-inspired terrorism
Communist party of the Philippines-New People's Army
Drug cartels
Seditious political opposition (Yellowtards)
Foreign intelligence agencies generation international support for regime change
Both gov't officials lauded the Citizen National Guard which aims to protect administration from "enemies of the state" l @PhilippineStar pic.twitter.com/wz3pBKor7T

— Romina Cabrera (@romina_marie) October 3, 2017
The PAO is an agency under the DOJ.
Aguirre lauded the group, adding that he too has created a similar body that aims to counter the said "enemies of the state."
"This is extra official. In our own little way, we want to help them," he added.
President Rodrigo Duterte won the chief executive position promising war against drugs. Thousands have been killed under the bloody drug war, but critics have pointed out that drug lord has yet to be put behind bars.
Early last August, the National Democratic Front of the Philippines revealed an alleged plot of the US Central Intelligence agency to kill communist leader Joma Sison and Duterte. The Malacañang however dismissed the reports saying that it has "no basis," and is "pathetic."
Duterte, since the start of his term, have repeatedly cursed at the US—a long-standing ally of the Philippines—for supposedly meddling with his running the country. He has, however, adopted a friendlier stance recently recognizing the Washington had a hand in the Philippines' liberation.
The term "yellowtard" is thrown around by internet users referring to loyal supporter of the Liberal Party, the political party of Duterte's predecessor, Benigno Aquino III. It is a play between the yellow, the color associated to the moribund party, and retard, which indicates a delay in progress.- with reports from Romina Cabrera
SOJ Aguirre and PAO chief Acosta attend the launching of the "Citizen National Guard" l @PhilippineStar pic.twitter.com/1R1njomwrY

— Romina Cabrera (@romina_marie) October 3, 2017