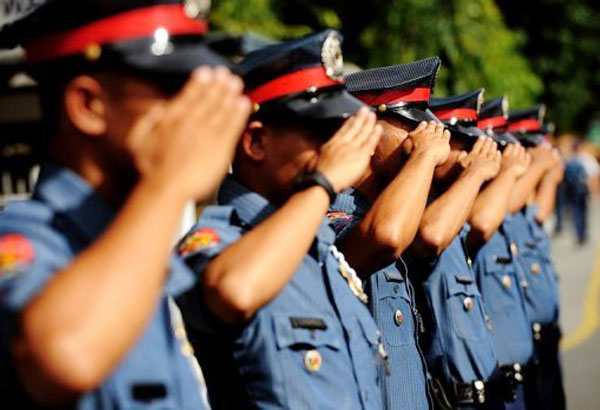 More members of the police force face murder raps. File
MPD cops face murder, planting of evidence raps
(philstar.com) - September 28, 2017 - 11:38am
MANILA, Philippines — Parents of two victims killed during the police anti-illegal drugs operations filed Thursday criminal complaints against seven officers of the Manila Police District.
Assisted by the National Union of People's Lawyers, Denisse David filed murder and planting of evidence raps against Police Chief Inspector Leandro Gutierrez, Police Officer 3 Joel Pelayo, PO3 Ponciano Barnedo, PO2 Osmond Pring and PO1 Edgardo Lacson in connection with the killing of his son John Jezreel David on January 20.
In a separate complaint, Normita Lopez charged Police Senior Inspector Jojo Salanguit, PO3 Gerry Geñalope and three John Does also of murder and planting of evidence over the death of her son Djastin Lopez on May 18.
The seven cops are members of the Station Drug Enforcement Unit of Police Station 7 in Tondo, Manila and the Station Anti-Illegal Drug-SOTU of Police Station 11 in Binondo, Manila.
A separate administrative complaint of gross misconduct, grave abuse of authority, grave oppression and conduct unbecoming of police officers was also filed against the seven cops and three other unidentified men.
Victim's pa: My son never made it home from work
Based on the complaint, Jezreel, 21, a room boy at a motel in Pasay City, went missing on January 19. He was on his way home on his motorcycle, with a friend riding as passenger, from work but never made it back.
READ: Report: Patterns in drug killings suggest planning, police involvement
Jezreel later figured in a supposed police buy-bust operation in Del Pan Street, Manila with his friend and a third man.
"The three appeared to have been accosted at different places, and then killed in Del Pan. To further their allegations, the policemen filed frustrated homicide and drug charges against the three deceased, which were eventually dismissed," the NUPL said in a statement.
In his complaint, Denisse said some residents living in Del Pan Street told him that several policemen wearing plain clothes and masks conducted the operation.
Witnesses say young man shot while having seizure
Meanwhile, in her complaint, Normita said her son Djastin, 23, was an epileptic and was having a seizure when a policeman slapped him and shot him several times, as recounted by several witnesses.
Based on the complaint, Djastin was just hanging out with his friends at Hermosa-Pilar rail tracks in Tondo when policemen came swarming and accosting everybody in their way.
Djastin supposedly collided with one of the police officers who then slapped and shot him.
"Mahina ang katawan at sakitin ang anak ko. Siya ay may sakit na epilepsy. Dahil sa kanyang kalagayan, hindi kakayanin ng anak ko na lumaban," Normita's complaint read.
Denisse and Normita both denied having any involvement in illegal drug trade. Both parents also denied that their sons were using or selling illegal drugs.
The complaint came on the heels of the continuing probe of the Department of Justice against several members of the Caloocan police force for suspected murder and torture of teenagers while the authorities were carrying out Oplan Galugad.
Thousands have been killed in the government's drug war, but the authorities, including President Rodrigo Duterte, have always maintained that there is no extrajudicial killing in the country.