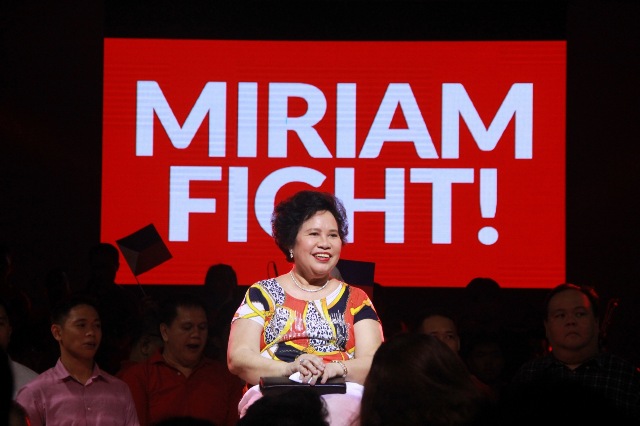 "Bestowing upon Santiago the Quezon Service Cross will ensure that her legacy of dedicated, outstanding and selfless public service will endure for Filipinos to emulate," Sen. Grace Poe said. Philstar.com/Efigenio Toledo IV
Palace welcomes moves to confer honors on Santiago
(philstar.com) - September 28, 2017 - 8:03am
MANILA, Philippines – Malacañang on Thursday said it favors the plan to confer the country's highest civilian service award on the late Sen. Miriam Defensor-Santiago.
"The Office of the President welcomes moves to confer the late Senator Miriam Defensor-Santiago the Quezon Service Cross. The late senator's contribution to the country is beyond question," Presidential Spokesperson Ernesto Abella said in a press conference.
"The President highly respects the lady. We look forward to receiving the resolution of the Senate," Abella added.
Senators Sonny Angara and Grace Poe recently filed separate Senate resolutions seeking to posthumously bestow the Quezon Service Cross on Santiago.
Both houses of Congress must approve the nomination of the late legislator for the award, which has only been given to five people since its creation.
The past recipients of the awards are former Interior Secretary Jesse Robredo (November 2012), former Sen. Benigno Aquino Jr. (August 2004), former President Ramon Magsaysay (July 1957), former President Emilio Aguinaldo (June 1956) and former President Carlos Romulo (April 1951).
Created in 1946, the Quezon Service Cross is awarded to a person "for exemplary service to the nation in memory of the late President Manuel L. Quezon."
In her 46 years of service in the government, Santiago worked as presiding judge of the Quezon City Regional Trial Court, Immigration commissioner, Agrarian Reform secretary and senator for three terms.
In 1988, she received the Ramon Magsaysay Award, dubbed as Asia's version of the Nobel Prize, for her exemplary government service.
She was the first Filipino and first Asian from a developing country to be elected judge of The Hague-based International Criminal Court. In 2016, she became a member of the International Advisory Council of the International Development Law Organization.
During her term as chair of the Senate foreign relations committee, Santiago sponsored the Rome Statute of the International Criminal Court, United Nations Convention Against Corruption, International Labor Organization Convention on Migration for Employment, Japan-Philippines Economic Partnership Agreement, Revised Kyoto Convention, Association of Southeast Asian Nations Charter, ASEAN Agreement on Disaster Management and Emergency Response, and ASEAN Agreement on Transboundary Haze Pollution.
Santiago passed away on Sept. 29, 2016. She was diagnosed with late-stage lung cancer in 2014.
To mark her first death anniversary, a special program organized by Santiago's Youth Volunteers will be held at the Loyola Memorial Park on September 29 at 8:30 a.m. The event is open to public.