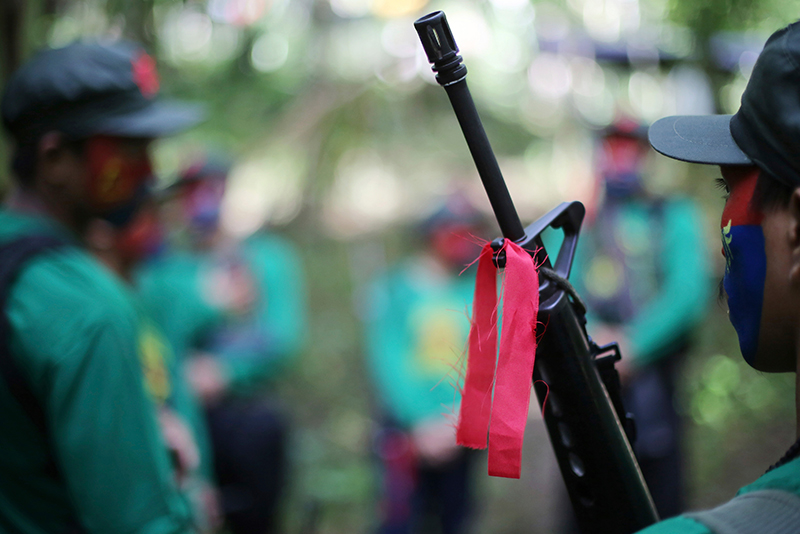 Hundreds of residents left their houses on Sunday to avoid being caught in the crossfire after government troops clashed with communist guerrillas in Barangay Talumpok Silangan in Batangas City. AP/Aaron Favila, File
Troops clash with NPAs in Batangas
Ed Amoroso
(The Philippine Star) - September 25, 2017 - 4:00pm
CAMP VICENTE LIM, Laguna, Philippines — Hundreds of residents left their houses on Sunday to avoid being caught in the crossfire after government troops clashed with communist guerrillas in Barangay Talumpok Silangan in Batangas City.
The encounter lasted for about 40 minutes, resulting in the killing of one suspected member of the New People's Army (NPA) while several rebels were wounded, police officials said.
Senior Supt. Randy Peralta, Batangas police director, said government forces reportedly overran yesterday morning a rebel camp on Mt. Banoy in Batangas City.
The evacuees included 365 residents of Sitio Tibig in Barangay Talahib Pandayan near Mt. Banoy and more than 500 residents from Barangay Masagitsit and Banalo of Lobo town. Around 70 others fled to villages in Batangas City.
"The evacuees still remained at the evacuation centers despite the firefight having ended yesterday morning after government troops invaded the encampment of the rebels while clearing operations are ongoing," Peralta told The STAR.
Classes in 12 public schools in Batangas City were suspended yesterday due to clashes between troopers and NPA rebels.
Jesus Lorenzo Mateo, Department of Education undersecretary for planning and field operations, said nine elementary schools and three high schools suspended classes.
Mateo said that none of the 12 schools was used as an evacuation center for residents who fled their homes.
Peralta said the encounter started at around 8:50 a.m. at the vicinity of Mt. Banoy in Barangay Talumpok Silangan where at least 30 NPA guerrillas encountered members of the Air Force and local police.
The Army's 202nd Infantry Brigade reported that elements of the 730th Combat Group of the Air Force and the Batangas police Provincial Public Safety Company were conducting security operations when they encountered the rebels who had set up camp on Mt. Banoy.
Troops also found strings tied around the perimeter of the camp supposedly intended to detonate improvised explosive devices.
Maj. Gen. Rhoderick Parayno, Commander 2nd Infantry Division, said that the NPA were monitored in the area by civilians who helped in the intelligence gathering that led to the discovery of the rebel camp.
Peralta said troops were deployed in the area following reports that rebels had established a makeshift camp on Mt. Banoy.
Seized from the NPA's camp were one M16, three magazines, one hand grenade, different ammunition and other valuable items including documents.
Peralta said a rebel not yet identified was also recovered at the site.
Blocking force from the military at possible enemy exit points was established and all chiefs of police from different police stations were ordered to monitor and visit hospitals in their area where a number of wounded communist rebels fled after the clash, Peralta said. With Michael Punongbayan, Rainier Allan Ronda