Jeepney strike fails to paralyze Metro Manila, Bulacan
September 25, 2017 | 4:00pm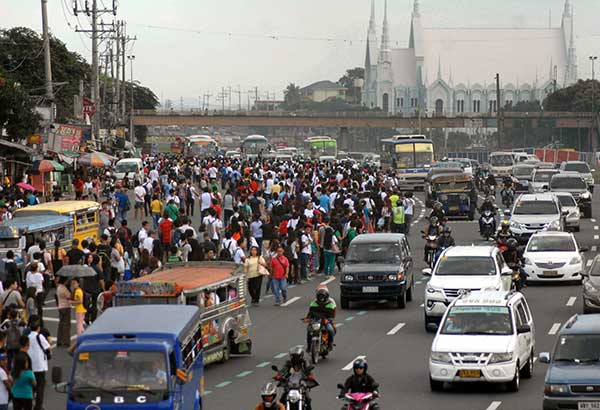 MANILA, Philippines — A transport strike staged yesterday by jeepney drivers and operators protesting the phaseout of old commuter vehicles failed to paralyze transportation in Metro Manila and nearby provinces, transportation officials reported.
Drivers and operators belonging to the Samahan ng Tsuper at Operators ng Pilipinas Genuine Organization (Stop and Go) started the two-day strike to protest the proposed phaseout of old jeepneys.
Edward Gonzales, transport strike commander of the Metropolitan Manila Development Authority (MMDA), said that there were no reports of stranded passengers.
The strike was not felt in the metropolis, Gonzales told The STAR.
He said that in anticipation of a possible reduction of commuter vehicles, the MMDA deployed 57 private buses, five police trucks and one Coast Guard truck to service passengers.
Gonzales also said that the strike did not cause any traffic gridlock in major thoroughfares in the metropolis, with less than 200 protesters involved.
The latest protest action was the third transport strike organized by the Stop and Go Coalition to oppose the planned jeepney modernization program of the government.
Under the modernization program, old-model jeepneys, or those older than 15 years, would be replaced by electric-powered and Euro 4-compliant vehicles.
But Stop and Go said the loan package of P1.6 million being offered to jeepney operators and drivers is too expensive for an ordinary driver.
Board member Aileen Lizada of the Land Transportation Franchising and Regulatory Board (LTFRB) said that only a minuscule percentage of commuters were stranded during the strike in Metro Manila.
Lizada said they assisted 5,600 commuters as of noon yesterday, which constitutes 0.3 percent of the total 10 million jeepney commuters in the metropolis.
"We are talking about 17 cities, but only four areas were affected by the strike and others were in normal situation," Lizada said.
The MMDA and the LTFRB monitored the effect of the strike along Commonwealth Avenue, Litex, SM Fairview and Sandiganbayan, all in Quezon City.
Lizada said that no strike was reported in Mindanao region while a few protests were held in Cebu and Bulacan.
Meanwhile, Lizada warned drivers and operators who have joined transport strikes of losing their privilege to get a franchise in the government's transition to jeepney modernization.
Lizada explained that the behavior of the transport group will be a concern if they are eligible in getting the franchise, especially if they are repeat strikers.
She said the LTFRB will start deliberating next month on the cancellation or suspension of franchises of transport groups.
Asked if the LTFRB has identified the drivers and operators, Lizada said that they are now gathering data to identify the violators.
Lizada said transport strike is a violation under Memorandum Circular No. 2011-004 paragraph 3, which states that operators and drivers "are not allowed to cease operation as a sign of protest or objection to any government policy or decision."
Lizada also warned the transport group "to face the consequences of their actions."
The LTFRB had recently filed charges against Piston president George San Mateo for violation of Commonwealth Act 146.
She said the LTFRB's legal department is studying what charges to file against Stop and Go Coalition president Jun Magno.
Magno claimed early success yesterday, saying they were able to paralyze routes in Regions 3 and 4.
Magno warned that they will reorganize and set up a bigger transport holiday if that is what it takes for President Duterte to listen to their pleas.
Classes suspended
Classes on all levels in Malolos and San Jose del Monte cities, Marilao, Baliuag, Santa Maria, Guiguinto and Bocaue in Bulacan were suspended yesterday due to the jeepney strike.
Chief Supt. Amador Corpus, Central Luzon police director, said the transport strike fizzled out and transportation was not paralyzed in Bulacan.
Officials of Malabon also suspended classes in all levels in anticipation of the transport strike.
Malabon public information officer Bong Padua said the areas affected by the strike were Barangays Hulong Duhat, Concepcion, San Agustin, Tanong, Tonsuya, Potrero, Panghulo, Tugatog, Acacia and Catmon.
Padua said they have dispatched two trucks to ferry stranded passengers to major destinations.
Jeepney drivers in eastern Metro Manila did not join the transport strike.
Chief Supt. Romulo Sapitula, director of the Eastern Police District (EPD), said drivers continued plying their routes in Pasig, Marikina, Pasig and San Juan.
"We have no stranded commuters here as jeepney drivers snubbed the call for them to join the transport strike," said Sapitula.
Parañaque City Mayor Edwin Olivarez said the jeepney strike failed to paralyze transportation in the area and there were no reports of commuters being stranded.
The Manila District Traffic Enforcement Unit (MDTEU) said the strike did not affect public transport in the city.
MDTEU head Chief Insp. Alejandro Pelias said two 6x6 trucks were deployed to assist passengers.
The LTFRB in Region 10 warned drivers and operators that joining the strike is punishable by law.
Many drivers and operators might not be aware of it, but they are not allowed to join any protest action that could disturb the flow of mass transportation as stipulated in their franchise, said LTFRB-10 regional director Aminoden Guro yesterday. – With Non Alquitran, Perseus Echeminada, Rey Galupo, Ghio Ong, Romina CabreraRamon Efren Lazaro, Gerry Lee Gorit