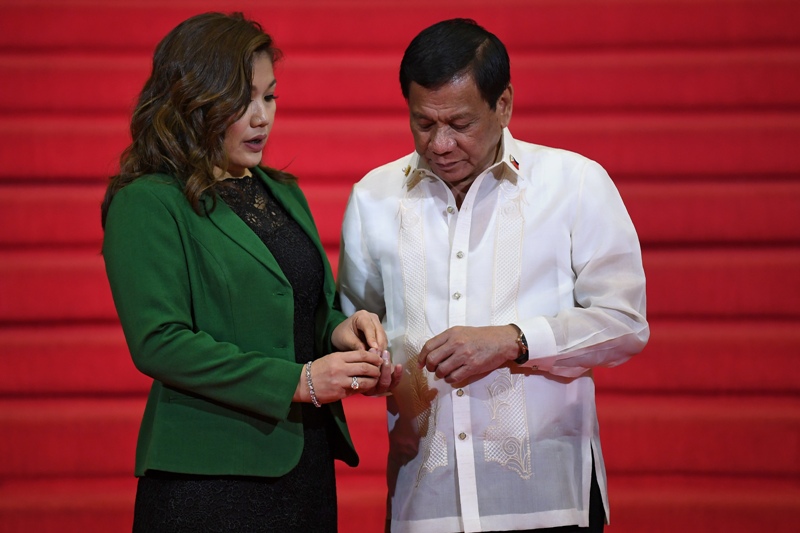 Malacañang sought yesterday to explain the trip of President Rodrigo Duterte's partner Cielito "Honeylet" Avanceña to New York, saying it was "personal" but in response to an official invitation of US First Lady Melania Trump. AFP/Mohd Rasfan, File
'Melania invited Honeylet to NY event'
MANILA, Philippines — Malacañang sought yesterday to explain the trip of President Duterte's partner Cielito "Honeylet" Avanceña to New York, saying it was "personal" but in response to an official invitation of US First Lady Melania Trump.
Avanceña was seen watching a Broadway musical in Manhattan and later leaving in a black limousine.
Presidential spokesman Ernesto Abella said that she was in the US "upon the official invitation" of Mrs. Trump.
Pressed for the official itinerary and if taxpayers' money was used, he said it was "a personal trip."
The Palace refused to provide further replies when asked about the trip, which ran contrary to Duterte's call for public officials to live modest lives to avoid being tempted into corrupt activities.
"Madame Cielito Avanceña is on a personal trip to New York to attend an event upon the invitation of First Lady of the US, Madame Melania Trump," Abella said.
The trip came while the 72nd session of the United Nations General Assembly formally opened in New York last Tuesday. Duterte, who has been critical of the UN rapporteurs' adverse comment on his drug war in the Philippines, did not attend the opening.
In an ABS-CBN video, Avanceña was spotted getting inside a long black limousine as she left the theater with some security escorts.
The Department of Foreign Affairs claimed that Avanceña was not part of the Philippine delegation to the UN event. However, she was allegedly invited to participate in some of the side-meetings due to her advocacy work.
Malacañang did not release information about the advocacies shared by Avanceña with Mrs. Trump, but confirmed that Duterte's top supporter and propagandist Assistant Secretary Mocha Uson and consultant RJ Nieta are part of the Philippine delegation to the UN event.
Uson's presence at the UN assembly came amid reports that the Presidential Communications Operations Office (PCOO) sent a team to the general assembly despite the President's absence. The team includes photographers and staff from Malacañang's Radio-TV Network (RTVM), which is tasked to cover the President's official activities.
Communications Secretary Martin Andanar said it was Foreign Affairs Secretary Alan Peter Cayetano who requested for Uson. He added that it was the "responsibility of the PCOO to cover and promote the activities of Cabinet secretaries."
In January, Avanceña joined Duterte in welcoming Japan Prime Minister Shinzo Abe and his wife, Akie, during an official visit. She also accompanied the Chief Executive on his official trips in China and in several Association of Southeast Asian Nations members.
Duterte is legally separated from his first wife, Elizabeth Zimmerman, the mother of his three children—Davao Mayor Sara Duterte, Vice-Mayor Paolo Duterte and Sebastian. He also has a daughter with Avanceña named Veronica.