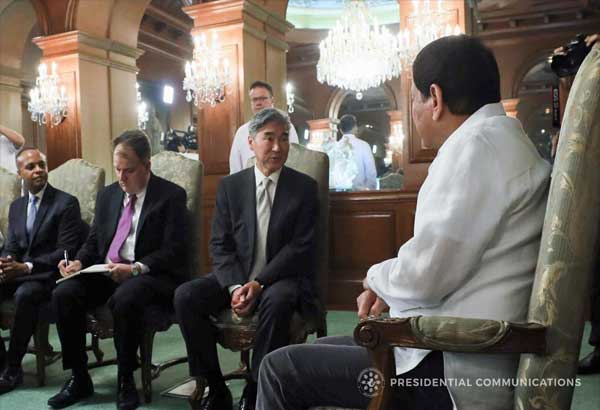 President Rodrigo Roa Duterte meets with US Ambassador to the Philippines Sung Kim in Malacañan Palace on September 20, 2017. ACE MORANDANTE/PRESIDENTIAL PHOTO
Duterte defends drug war in meeting with US envoy
Alexis Romero
(The Philippine Star) - September 21, 2017 - 4:00pm
MANILA, Philippines — President Duterte has defended his war on drugs in a meeting with US Ambassador Sung Kim as the drug crackdown faces public backlash over the deaths of teenagers at the hands of policemen.
Duterte and Kim met Wednesday night at Malacañang to discuss illegal drugs and terrorism in the Philippines, according to a Palace statement released yesterday.
During the meeting, the US envoy cited the need to investigate drug-related deaths "to ensure continued people's confidence in the government."
Duterte responded by saying that the anti-drug raids of the police have always been in line with the rule of law.
He claimed his administration never condoned abusive policemen, citing his order to arrest those behind the killing of 17-year-old Kian Loyd delos Santos, a high school student who was killed in a law enforcement operation in Caloocan City last month. Police officials claimed that the teenager was a drug courier who resisted arrest but witnesses said he was executed.
The President also reiterated his commitment to end the "vicious and toxic" drug problem, which he said could destroy a "fragile Philippine Republic." The anti-narcotics campaign has become the subject of a rift between Duterte and US officials who have raised concerns over the alleged extrajudicial killing of suspected drug offenders.
Duterte had accused the administration of former US president Barack Obama of meddling with the Philippines' internal issues and trying to impose its will on Filipinos. He also claimed that the US has no moral ascendancy to lecture on the Philippines about human rights because of its supposed atrocities in Vietnam and the Middle East. – With Pia Lee-Brago, Edith Regalado