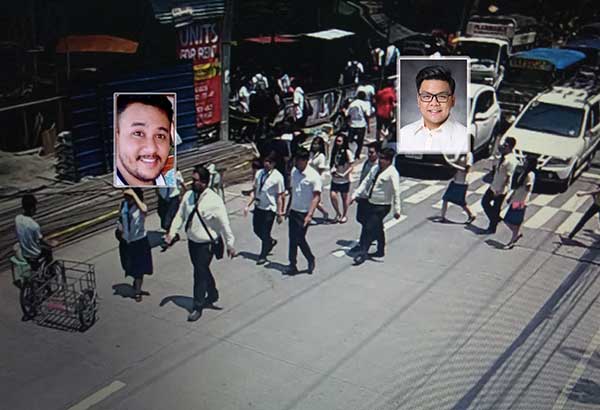 CCTV footage shows John Paul Solano (inset left) and Horacio Tomas Castillo III walking at the corner of Antonio and Dapitan streets in Sampaloc, Manila at 11:45 a.m. on Sept. 16.
UST marks Day of Mourning today
Janvic Mateo
(The Philippine Star) - September 20, 2017 - 4:00pm
MANILA, Philippines — Today is a day of mourning and prayer for victims of senseless killings for the University of Santo Tomas (UST), which has suspended work and classes to give the university community time for its observance.
The university issued the declaration as it mourns the passing of freshman law student Horacio Castillo III, who died allegedly from fraternity hazing injuries. The declaration also coincides with the 45th anniversary of martial law.
"May we always be reminded of the sanctity of life," read an announcement from the UST office of the secretary-general.
Members of the Aegis Juris fraternity of the UST Faculty of Civil Law were the principal suspects in Castillo's death.
Faculty of Civil Law dean Nilo Divina vowed justice for Castillo as he denied knowledge of hazing activities of the fraternity, of which he is an alumnus.
He also said he has been on leave from the group since becoming the law school dean eight years ago.
"As dean of the entire Faculty of Civil Law, I knew that I had to remove any vestige or potential source of negative perceptions of partiality on my part," Divina said in a post on his Facebook account.
"I can honestly say that I have discharged my functions without fear or favor as in fact there have been a number of instances when my decisions went against the fraternity and its members," he added.
Divina also denied having knowledge of a brochure of the fraternity containing his name and photo, saying he never authorized the use of such. – With Helen Flores, Robertzon Ramirez