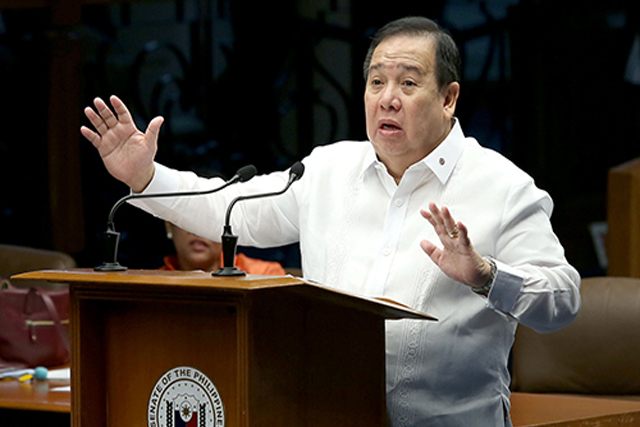 Sen. Richard Gordon on Tuesday slams the delay in the destruction of the hundreds of kilograms of illegal drugs seized last year and threatens to "create a constitutional crisis." Senate PRIB/Albert Calvelo
Gordon: Court sitting on destruction of seized illegal drugs
(philstar.com) - September 19, 2017 - 5:33am
MANILA, Philippines — Sen. Richard Gordon on Tuesday slammed the delay in the destruction of the almost 900 kilograms of illegal drugs seized in San Juan City last December, saying the judiciary is sitting on the case.
An angry Gordon threatened to "create a constitutional crisis" after it was revealed that the seized contraband has not yet been destroyed because an ocular inspection from the court is still pending.
The judge, identified as Juvencio Gascon, had not yet ordered the destruction of seized drugs.
"I will subpoena this judge even if I know I should not subpoena him. So I will create [a] constitutional crisis and the court will say you have no right to interfere with the judiciary. And I will now say that the judiciary is not doing its work," Gordon said during the probe on the smuggling of P6.4 billion illegal drugs from China.
The chair of the Senate blue ribbon committee noted that Gascon should be brought to the ombudsman right away.
Gascon is on a sick leave and will be back on September 28.
Gordon said he is alarmed that the seized drugs could be reused, rechanneled and redistributed.
Philippine Drug Enforcement Agency Metro Manila Director Wilkins Villanueva said the agency cannot destroy evidence without the ocular inspection of the court.
Under the Dangerous Drugs Act, the PDEA should conduct a forensic examination of seized drugs within 24 hours and the court should conduct an ocular examination within 72 hours after the filing of the criminal case. After the ocular inspection, the PDEA should destroy the illegal drugs within 24 hours.
But it has already been nine months since the drugs were confiscated in December last year.
Justice Secretary Vitaliano Aguirre revealed that he raised the delay in the destruction of illegal drugs to Chief Justice Maria Lourdes Sereno when they met in a conference in Cebu last August 25.
"I've been prodding and wondering why this almost 900 kilograms of shabu has not been destroyed. We are very much aware of this seizure since the beginning because we are very much aware that this could be pilfered," Aguirre said, adding he complained why it was taking so long for the judge to order the destruction.
Gordon said he would not tolerate the judiciary's delay in action.
"They [Supreme Court] are not acting and that is why drugs are proliferating in the country. People are being killed and at the same time, Customs is not doing anything, the department has not been able to do anything because the judge is sitting on this case," he said.