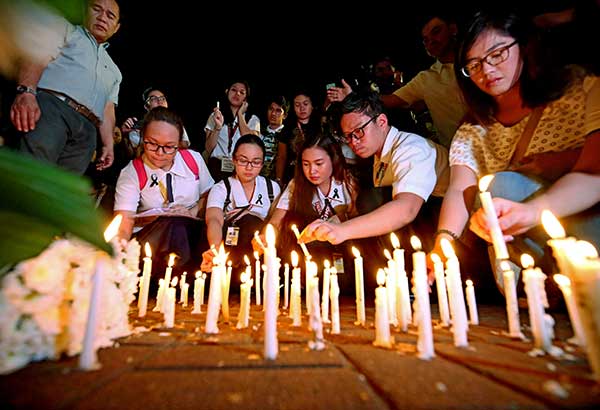 University of Santo Tomas students light candles for law student Horacio Castillo III during a ceremony at the campus plaza last night. MIGUEL DE GUZMAN
UST law freshman dies in frat hazing
Ghio Ong
(The Philippine Star) - September 18, 2017 - 4:00pm
Aegis Juris members suspended
MANILA, Philippines — He went to a "welcome ceremony" of a law fraternity he hoped to join. Early Sunday morning, the freshman law student of the University of Santo Tomas was found dead on a sidewalk in Manila, wrapped in a blanket and bearing injuries believed to be from hazing.
The body of Horacio Tomas Topacio Castillo III of San Lorenzo Village in Makati was found at the corner of H. Lopez Blvd. and Infanta Street in Balut, Tondo at around 7:50 a.m., according to the Manila Police District.
The 22-year-old law student, who had hoped to become a senator, was clad in a white shirt with "Political Science University of Santo Tomas" printed on it. He was in blue jersey shorts and had no footwear.
John Paul Sarte Solano, 27, a medical technologist of San Lazaro Hospital, found Castillo on the sidewalk.
Police said a passing Strada pickup pulled over to help Solano and some bystanders take Castillo to the Chinese General Hospital where Dr. Clarisse Cledera declared him dead on arrival at 9:21 a.m.
The victim, the MPD report noted, had hematoma on his upper arms as well as bruises and marks of candle drippings in different parts of his body.
The MPD added it is "collecting pieces of evidence at the crime scene and gathering CCTV within the vicinity to obtain information in the incident."
Police said they are coordinating with the victim's family and with UST officials to obtain leads regarding the last "whereabouts of the victim."
MPD spokesman Supt. Erwin Margarejo said Castillo apparently died of "massive heart attack" due to his injuries.
"Usually when there are traumatic injuries it would lead to cardiac or respiratory arrest," Margarejo said.
"Based on the testimony given by the mother, the injuries sustained by the victim and the circumstantial facts concerning his activities pointing to the initiation rites... it's more likely hazing," MPD director Chief Supt. Joel Napoleon Coronel said in a statement.
Castillo's parents showed up at the MPD's homicide section, but did not speak to media, who were barred from entering the office.
In a statement, UST condemned the hazing death of Castillo with its law dean ordering the suspension of officials and members of the Aegis Juris fraternity.
"We condemn in no uncertain terms hazing in any form or manner. Violence has no place in an academic institution, particularly in the University of Santo Tomas that values and promotes charity and compassion," UST said.
"We will leave no stone unturned to ensure that the perpetrators be meted the appropriate sanctions and brought to justice," it added.
It said it would launch its own investigation "to ferret out the truth, determine liability and institute the necessary legal actions."
"Investigation will be immediately conducted to determine culpability so that appropriate sanctions may be imposed," it added.
Frat suspended
Faculty of Civil Law dean Nilo Divina issued a memorandum imposing preventive suspension on all officers and members of the Aegis Juris fraternity to ensure "unobstructed investigation" of the incident. Divina is an official of Aegis Juris.
"Members of this group therefore would not be allowed to enter the campus of the Faculty of Civil Law or attend classes until further orders," read the memorandum.
The university said it was saddened by the incident and offered its sympathy and prayers to the family of Castillo.
"No words can describe our sadness for this unfortunate incident. We express our profound sympathy and offer our prayers to his family for their pain and anguish – a pain that we share seeing that the life of our very own student, with all of its aspirations and potentials, taken away because of a senseless act," said UST.
As a royal and pontifical school, the 406-year-old university said it is committed to propagating and preserving Christian values and ideals.
In an earlier message sent to philstar.com, Divina said the "welcome ceremony" supposedly attended by Castillo was not coordinated with the university.
"We are not aware of such event. We do not involve ourselves in activities of any fraternity," Divina said.
The UST Civil Law Student Council scheduled a prayer vigil for Castillo at 6 p.m. yesterday as it condemned the incident.
Meanwhile, the UST Central Student Council (CSC) urged the university administration to thoroughly investigate the incident.
"The UST CSC demands a rigorous investigation on the people and the fraternity involved in the death of Horacio Tomas Castillo III. May he get the justice he deserves," the student council said.
"Fraternities deal with brotherhood, but violence should not be its currency," it added.
Catholic Bishops' Conference of the Philippines-Episcopal Commission on Youth (CBCP-ECY) Fr. Conegundo Garganta said fraternity members involved in Castillo's death "stained their hands with the blood of their kind."
"It is with sadness and pity – sadness for the loss of another life, sadness for the family of the hazing casualty, it will be layers and layers of pain for losing a loved one, pains to meet justice," Garganta said.
"Pity that many young males and their elders continue to ignore the painful lessons of past incidences of death due to hazing activities. Prayers and condolences to the family."The fraternity involved should clear their group about this incident. May justice be served to all," he added.
NBI, CHED probe
Justice Secretary Vitaliano Aguirre II last night ordered the National Bureau of Investigation (NBI) to conduct its own probe on Castillo's death.
"The Department of Justice condemns any act of senseless violence committed against our youth and against any innocent person for that matter," he said in a statement.
Aguirre also condoled with the Castillo family and offered assistance to them.
"As a parent myself, I feel their loss and anguish. We will endeavor to see to it that those who are responsible will be held accountable to the full extent of the law," the DOJ chief said.
Aguirre himself is member of a fraternity, Lex Talionis, of San Beda College law school, along with President Duterte.
The Commission on Higher Education (CHED) also announced its own investigation on the incident.
"CHED chair Patricia Licuanan instructed National Capital Region director Nida Calagui to conduct a formal investigation on the matter," the commission said in a statement sent to The STAR yesterday.
"The chair raised it at the national directorate which is happening (this week)," it added.
Violent hazing or initiation rites of fraternities are criminal offenses based on Republic Act 8049 or the anti-hazing law.
More outrage
Castillo's hazing death also sparked condemnation from senators.
"Another victim of hazing violence. Doesn't make you less/more of a man to have undergone violent initiation. Brotherhood has better tests," Sen. Sonny Angara said in his Twitter account.
Sen. Sherwin Gatchalian called on the leadership of UST to take the lead in seeking justice for Castillo.
"The fact that the fraternity being implicated in this hazing death is recognized by the university itself as a legitimate student organization means that UST cannot pull the same tricks used by other schools in the past to evade responsibility for the criminal actions of their students," Gatchalian said.
"UST has an even greater obligation than ever to uncover the truth of this incident and hold Atyo's killers accountable for their sick crimes," he said.
New hazing law
He also renewed his call for the passage of legislation replacing the Anti-Hazing Law of 1995.
Gatchalian's measure, Senate Bill 199, seeks to repeal RA 8049 and replace it with a more comprehensive and improved anti-hazing law.
Sen. Joseph Victor Ejercito reminded fraternities to conduct themselves in accordance with the law and good morals.
"We will not allow fraternities promoting mafia-like practices and rituals to resurface again. Thus, I call on the police to investigate this thoroughly, hunt and arrest the killers at the quickest possible time," Ejercito said.
At the House of Representatives, lawmakers called on the NBI to investigate the latest hazing death.
"I urge the Department of Justice and the NBI to immediately investigate and criminally charge everyone responsible for the death of Horacio Castillo III," Rep. Bernadette Herrera-Dy of party-list Bagong Henerasyon said.
She lamented that despite the hazing deaths of several young students from various universities, the UST fraternity "has not learned the tragic and painful lessons of previous fatal hazing incidents."
"While no words can express our deep sorrow about the tragedy, I can say that his death and his memory will spur me and my colleagues into even faster and diligent action on our bills on hazing," she said.
Quezon City Rep. Alfred Vargas decried the loss of another promising citizen due to hazing. "Life is very precious. And our youth, as we always say, will be the next generation of leaders. We cannot afford to have incidents like this," he said.
Herrera-Dy said an improved anti-hazing proposal contained in House Bill 3467 carries with it "lessons learned from the hazing deaths of Marvin Reglos and Lenny Villa, including suggestions from the Supreme Court to address gaps current laws do not cover."
Herrera-Dy said that instead of regulating hazing, HB 3467 seeks to ban the practice altogether unless done in the presence of school representatives during initiation rites.
"This way, there cannot be any secret initiation. The school representative is duty-bound to make sure no harm is inflicted upon the recruit, neophyte or applicant," Herrera-Dy said in a statement. – Janvic Mateo, Helen Flores, Paolo Romero, Delon Porcalla, Edu Punay, Evelyn Macairan, Rainier Allan Ronda