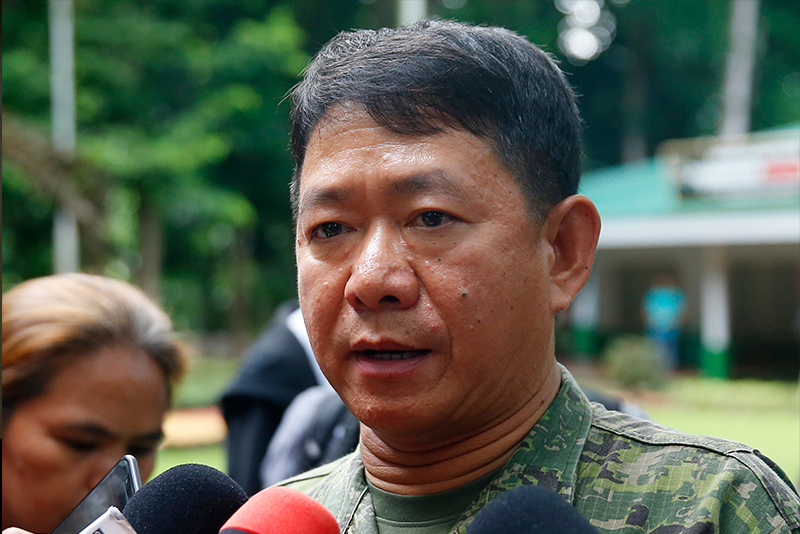 "I will recommend at the minimum three names and then I will submit their names to the President. It's the discretion of the President who among them he will pick," Año said. AP/Bullit Marquez, File
AFP chief preparing list for possible successor
Jaime Laude
(The Philippine Star) - September 16, 2017 - 4:00pm
MANILA, Philippines — Ahead of his retirement, Armed Forces of the Philippine (AFP) chief Gen. Eduardo Año is preparing a shortlist of possible successors for President Duterte to choose from.
"I will recommend at the minimum three names and then I will submit their names to the President. It's the discretion of the President who among them he will pick," Año said.
He declined to identify the three candidates but said all them are all three-star rank.
Año expressed confidence that the fighting in Marawi would be over by the time he retires on Oct. 26.
Año was supposed to take over the helm of the Department of the Interior and Local Government but was prevailed upon by President Duterte to continue as AFP chief amidst the crisis in Marawi.
Fighting still continues in Marawi City with a total of 147 soldiers and more than 600 militants killed in the three months of conflict since May 23.
"I am very positive. I believe so. With the developments there, following the capture of the grand Islamic mosque and the CNB Landbank building and with the decimation or reduction of strength of the enemies, we can end this," Año told the crowd during the launching of livelihood projects of the families of soldiers killed in Marawi at Camp Aguinaldo on Friday.
Defense Secretary Delfin Lorenzana said if he had his way, he wants Año extended as AFP chief.
Lorenzana, however, said the President had already declared that he needs Año to perform other tasks in the government.
Disqualified under the one-year ban for retired military officers, Año will be serving, for the time being, as the President's executive assistant at the DILG.
"He is very good. He knows what he is doing. He is professional... very very firm and he is a thinker who deeply knows his trade. He is an example of a general. If I were to be followed, I will have him extended but the President said he needs him to do other tasks," Lorenzana said.
With Año soon retiring from military service, 21 generals and colonels, including AFP spokesman Brig. Gen. Restituto Padilla, are up for promotion.
President Duterte has endorsed to the Commission on Appointments (CA) the confirmation of their advancement to the next higher rank.
Maj. Gen. Emmanuel Salamat, commander of the Northern Luzon Command (Nolcom), is being promoted to the rank of lieutenant general.
Eight senior officials, Padilla included, are being promoted to two-star rank of major general or rear admiral. – With Jess Diaz, Michael Punongbayan