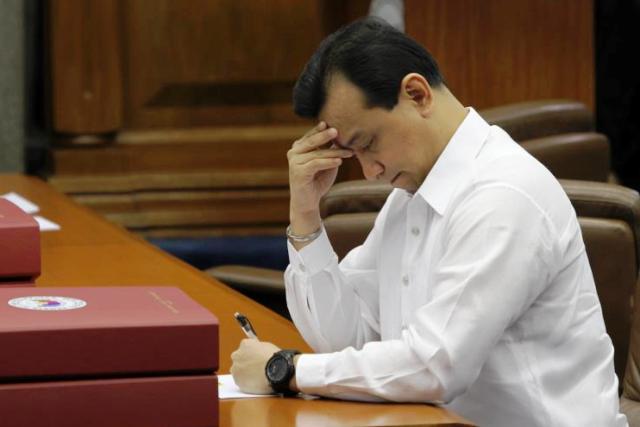 Sen. Antonio Trillanes IV said that he would push through with his plan to sue three supporters of President Rodrigo Duterte despite knowing that the "minions" of Justice Secretary Vitaliano Aguirre II will exonerate them. File
Trillanes to push through with plan to sue Mocha for libel
MANILA, Philippines — Sen. Antonio Trillanes IV on Wednesday vowed that he would still sue Communications Assistant Secretary Mocha Uson for libel despite knowing that Justice Secretary Vitaliano Aguirre II's "minions" would exonerate her.
Trillanes said that he would still sue Uson, broadcast journalist Erwin Tulfo and CNN Philippines contributor Ben Tesiorna after releasing allegedly false information about his purported bank accounts abroad.
"I really couldn't care less whether she resigns or not," Trillanes said in a text message.
The opposition senator on Monday declared that the era of fake news was over after divulging his plan to sue the three pro-President Rodrigo Duterte individuals who released the information on the internet.
The release followed the claim of Duterte last weekend that the foreign bank accounts containing the senator's alleged hidden wealth were "all over."
Following the revelation of the president, Trillanes signed waivers for the 12 bank accounts Uson, Tulfo and Tesiorna claimed were owned by the senator. The waivers would allow the Anti Money Laundering Council and the Office of the Ombudsman to scrutinize the said accounts.
After releasing the waivers, Trillanes challenged the president to also sign a waiver to allow the probe of the P211 million Duterte allegedly owned in a bank in Pasig City which first surfaced during the campaign period last year.
Trillanes has been a nasty thorn in the side of Duterte and his family.
In a Senate investigation into how the billions worth of methamphetamine passed through Manila's port, Trillanes showed dozens of bank accounts allegedly owned by Duterte's son, Paolo, and son-in-law, Manases Carpio.
He alleged that these contained hundreds of millions that the younger Duterte and Carpio owned.
Uson, a staunch supporter of the president, maintains a blog that has millions of followers.
READ: 'Fire Mocha' trends after PCOO asec's latest gaffe
She has been accused of spreading canards to his millions of followers.
Tulfo, meanwhile, is a broadcast journalist at the government-owned PTV-4 and is the brother of Wanda Teo, the tourism secretary.
READ: Duterte camp spent $200000 for troll army, Oxford study finds