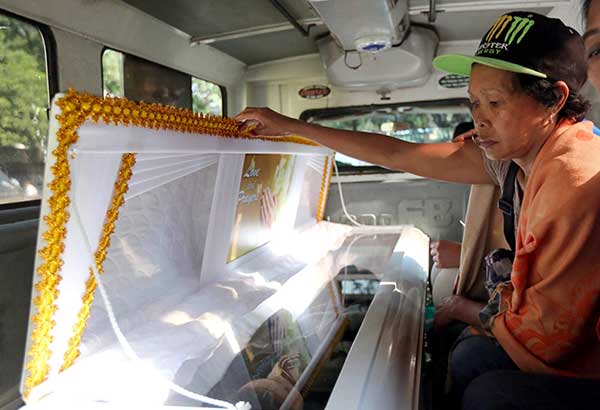 Lina De Guzman insists that the body found floating at a creak in Gapan City, Nueva Ecija is Kulot. BOY SANTOS, File
'Kulot' laid to rest as doubts on identity swirl
(philstar.com) - September 13, 2017 - 2:40am
MANILA, Philippines – Amid doubts cast by DNA tests, relatives of 14-year-old Reynaldo "Kulot" De Guzman came together on Wednesday morning to lay to rest the body found in Nueva Ecija last week that they believe is the missing boy's
The identity of the body that sustained almost 30 stab wounds has been put into question after the Philippine National Police released the results of its DNA test, that they said shows Eduardo and Lina De Guzman's DNA do not match a sample taken from the boy.
The body believed to be Kulot was brought to San Antonio Abad Parish Church in Pasig City for the last burial mass scheduled at 8:00 a.m.
Kulot's parents arrived at the church with security personnel of the Department of Justice. They were made to wear bulletproof vests as part of Witness Protection Program protocol.
Watch: Kulot's parents being guarded by DOJ's security personnel. @PhilippineStar pic.twitter.com/2nyOEXnCvv

— Robertzon Ramirez (@iambertramirez) September 13, 2017
Despite the PNP's DNA findings, Kulot's parents insisted that it is their son they are burying today. The Public Attorney's Office also believes the PNP's findings are inconclusive and are relying on visual identification by the De Guzman couple.
PAO said the police's collection of a DNA sample from the body was irregular and, done in the absence of PAO lawyers, may have been illegal.
PAO said there was no need for the DNA test since "[t]here was no issue at all on the identity of the cadaver and that there are no other claimants."
The Department of Justice has ordered another DNA test done by the National Bureau of Investigation.
The remains are laid to rest at Pasig City Public Cemetery.