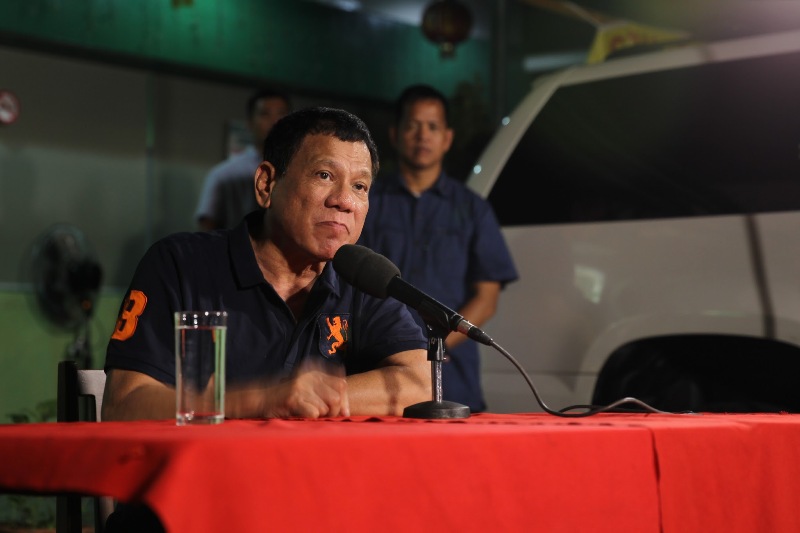 President Rodrigo Duterte warned the communists of the possibility of declaring martial law in the entire country as prospects of the talks between the government and the rebels remain uncertain because of opposing views on a ceasefire, among other issues. PPD/Karl Norman Alonzo, File
Duterte threatens martial law if Reds take to streets
Alexis Romero
(The Philippine Star) - September 10, 2017 - 4:00pm
MANILA, Philippines — He once called the policy "stupid," but President Duterte has floated anew the possibility of declaring martial law in the entire country, saying he may be forced to do so if communist rebels bring their armed struggle to the streets.
Duterte said while he allows leftists to hold meetings and rallies, he would not think twice about arresting those who would cause infighting.
"They are not hiding. Their meetings are in public. I just let them be. Even their leftist organizations are holding meetings. I said let them be. But do not commit the mistake," the President told reporters in Cagayan de Oro last Saturday.
"I am not scaring you. Do not commit the mistake of staging a rebellion, say that there is fighting in the streets. I will not hesitate to impose martial law all throughout the country and order the arrest of everybody," he added.
Duterte placed the entire island of Mindanao under martial law on May 23 after Islamic State-inspired terrorists from the Maute group laid siege to Marawi City.
He had vowed to be harsh against terrorists, even claiming that the martial law he imposed would be no different from the one declared by former president Ferdinand Marcos, whose presidency was tainted by allegations of human rights violations.
Months before the siege, which has so far left more than 800 people dead, Duterte called martial law a "stupid" policy that did not improve the lives of Filipinos.
Duterte warned the communists of the possibility of declaring martial law in the entire country as prospects of the talks between the government and the rebels remain uncertain because of opposing views on a ceasefire, among other issues.
The President scrapped the peace negotiations last July after members of the New People's Army, the armed wing of the rebels, launched a series of offensives against government forces.
"I am not scaring you. But I will really use the armed forces and the police. I do not want to kill but if you do that, I will arrest all of you. All of you. I am not frightening you. I'm just telling you that," Duterte said.
"Do not commit a mistake. You can demonstrate in the streets in the coming days. I am ordering the military to stay in the barracks, but be prepared for war," he added.
Duterte said he does not mind if leftist protesters occupy the city as long as they do not create trouble such as burning or vandalizing properties.
"Ask those in the fields to go down. I don't mind. But I will declare that day a holiday. No government time. Stay at home. Students, if you want to join, you are free (to do so)," the tough-talking President said.
"You can have the city. But do not create trouble. That is my warning. Do not resort to destruction and trouble because I will order the military and the police to go against you.
"Pero huwag kayong magkamali na magsunog dito, mag-vandalism (But do not commit the mistake of burning or vandalizing properties). I will not accept it. Ang kaharap ninyo baril, sigurado 'yan. Sigurado 'yan. (You will face the gun. I'm sure of that)," he added.
Duterte chided the communist rebels anew for attacking government forces, warning them that he is prepared for any eventuality.
"If you want something to happen, let it happen para magkaalaman na ano ba talaga itong bayan natin (so we will know what is in store for this nation). You want to destroy it? Fine. So we can start anew. Let us go into spasm. I don't have any problem with that," the President said.
"You keep on raiding stations. You do not have stations so I have no one to get back at. But I am really waiting for that. An overt act to destroy government and I will decide how far we will go. I am prepared," Duterte said.